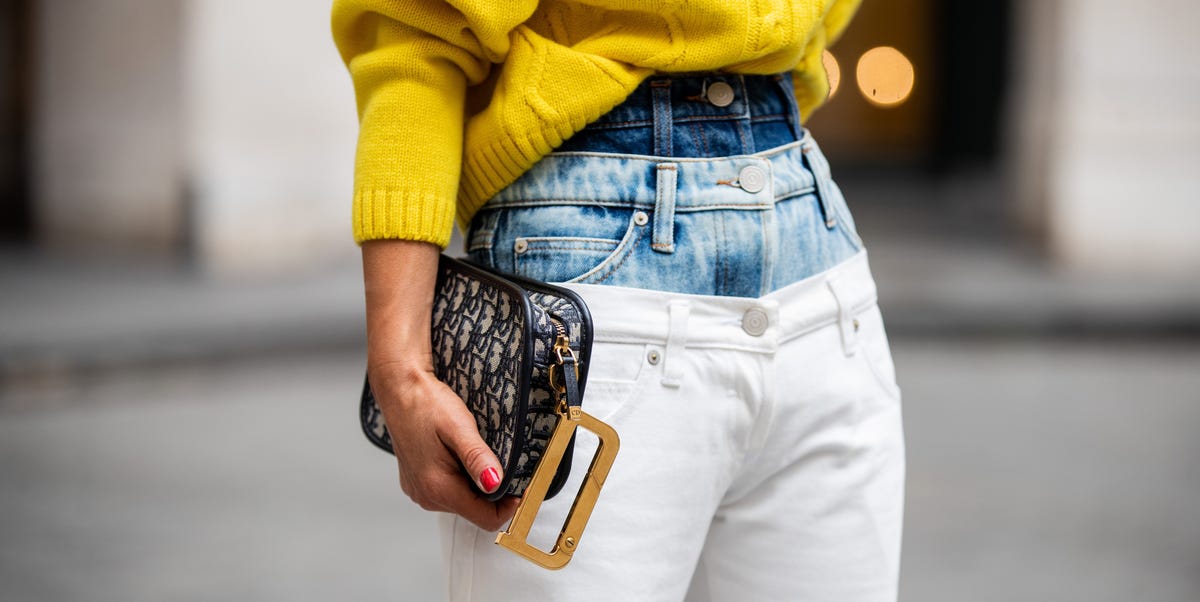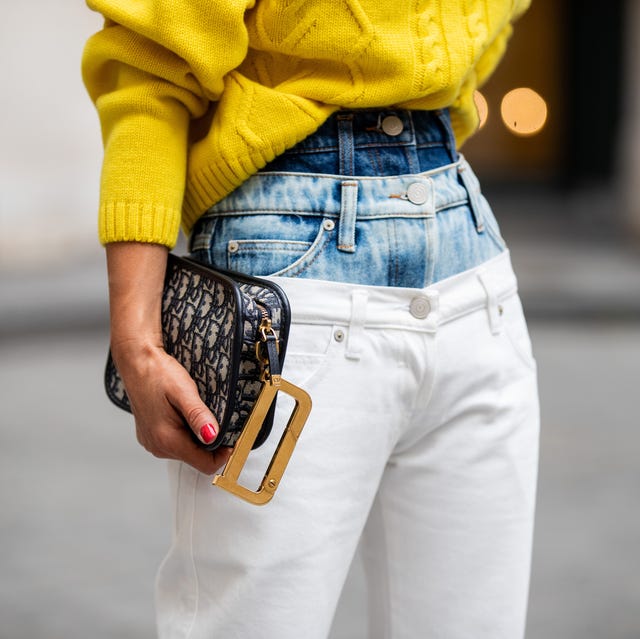 Christian VierigGetty Images
"I had a C-section, so I was nervous to wear jeans at all," said art history professor Meredith Greif. The simple task of finding well-fitting postpartum clothes—beyond a comfy pair of leggings—can be utterly monumental. But (and read this sentence again) it can help ease you into post-baby life.
Begin by proceeding with caution, Sarah Hoover, art historian, and pro-inclusive parenthood writer suggests. "Most important advice: Do not try on your pre-pregnancy jeans for at least three months. Don't set yourself up to be frustrated by your body, which did something miraculous and important. And don't let the patriarchy's pernicious messaging, prioritizing only the bodies it deems "good enough," to bring you down when you just perpetuated the species."
The task can feel daunting if you've never been there, so we asked twelve women who have. From the paper-thin jeans Greif said didn't irritate her scar to structured high-rises Hoover relied on to hold newly-loose zones in, we listed the ultimate mom jeans (for actual moms), here.
Advertisement – Continue Reading Below
Super Stretch Denim
AG Cropped Flare Jeans
"I had a C-section so I was nervous to wear jeans at all. I also lost weight quickly so I typically did not need to buy new clothing post-baby. But I fell in love with the opulent stretch-velvet jeans from AG in super black. The thinner, high-waisted denim with super stretch material didn't irritate my scar."—Meredith Greif, Art History Professor, mom to Max
The High Rise loose-fit jeans
"Immediately buy a pair of ReDone jeans in two sizes larger than normal (at least—the goal is worry free comfort). You want the high rise ones that you can button over your swollen uterus, which has just been through some real shit."—Sarah Hoover, Art Historian and Writer, mom to Guy
Madewell High-Rise Slim Straight Jeans
"I was able to get back into pre-pregnancy jeans two months postpartum and jumped right into my high rise Madewells which felt great! They gave lots of tummy control and I love the part of zipping up the belly and it feeling super snug and secure."—Aliana Lopez, Celebrity Makeup Artist, mom to Isla
Ribcage Support Jeans
Levi's 70's High Rise Flare
"Levi's' High Rise does exactly what it claims: Holds you in up to your ribcage. Post-baby, that's the kind of support I need."—Aya Kanai, Fashion Director, mom to Rei
Sucks You In Jeans
High Rise Ankle Crop
"My favorite jeans are Re/Done x Levi's because of the high waist. It feels like it holds me in!"—Jennifer Galante, Digital Strategy Consultant, mom to Cara, 4 years old
Skinny Maternity Jeans
Mama J Super Skinny Maternity Jeans
"I lived in my Mama J jeans throughout my pregnancy, and for the first few months after. Comfort became my number one priority, but I also didn't want to sacrifice my style and these jeans fit the bill. Worth every penny."— Valeria Sosa Mantica, Advertising Account Director, mom to Mateo Mantica
Non-Jegging Jegging
Everlane Authentic Stretch High-Rise Skinny Jean
"Post-baby I wanted jeans that were both comfortable and stylish, and didn't scream 'jeggings.' I love these from Everlane because I knew that once I lost my baby weight I could still wear them."—Benedetta Amadi, Interior Designer, mom to Olimpia
Ultra High-Waisted Jeans
Pistola Cassie Super High Rise Straight
"I had enough stretch jeans during my pregnancy. Thereafter I searched for a high-waisted pair that still kept everything in place, but were loose enough to not compromise on comfort."—Nina Solomon, Art Director, mom to Levi
Back-To-Work Jeans
Gap High Rise Flare Jeans
"I lived in flare jeans after having my second. I went up a size and altered the legs so it was fitted around the thighs, but it gave me a bit more room in the waist band. I felt put together and polished when on the inside I felt the opposite."—Laurie Clark, Publicist, mom to Baker
Maternity to Post-Maternity Jeans
Mama Skinny Jeans
"I was able to still feel like I was wearing my old jeans while being totally comfortable thanks to the super soft and stretchy belly band.  I loved how these jeans kept their shape with enough cotton and not too much elastic."—Carly Cardellino, Beauty Content Creator, mom to Delfina
Comfy Stretch Jeans
Paige Colette Cropped Flared Jeans
"I did the Rent the Runway unlimited membership when I was pregnant, which gave me access to endless, amazing options. I kept the membership and actually found two pairs of jeans right now that I love, including a cropped pair from Paige."— Meghan Fishman, Sales Operations, mom to Mila
Raey Dad Organic-Cotton Ripped Boyfriend Jean
"Early in my pregnancy, I bought a pair of distressed boyfriend jeans that were one size bigger. They were mid-rise so they sat under my growing belly. I quickly reached for these after I gave birth and started wearing real clothes. They were perfect… they helped me feel cool and stylish, while giving my belly and recovery area lots of room to move around in."—Annie Chen, Chief Merchandising Officer, mom to Gigi
Kia Goosby Kia Goosby is a Fashion Editor for Hearst Fashion Group, who forever loves Atlanta, R&B music, believes butter with a side of bread makes everything better, and just so happens to cover all things in fashion for her main 9 to 5.
This content is created and maintained by a third party, and imported onto this page to help users provide their email addresses. You may be able to find more information about this and similar content at piano.io
Advertisement – Continue Reading Below