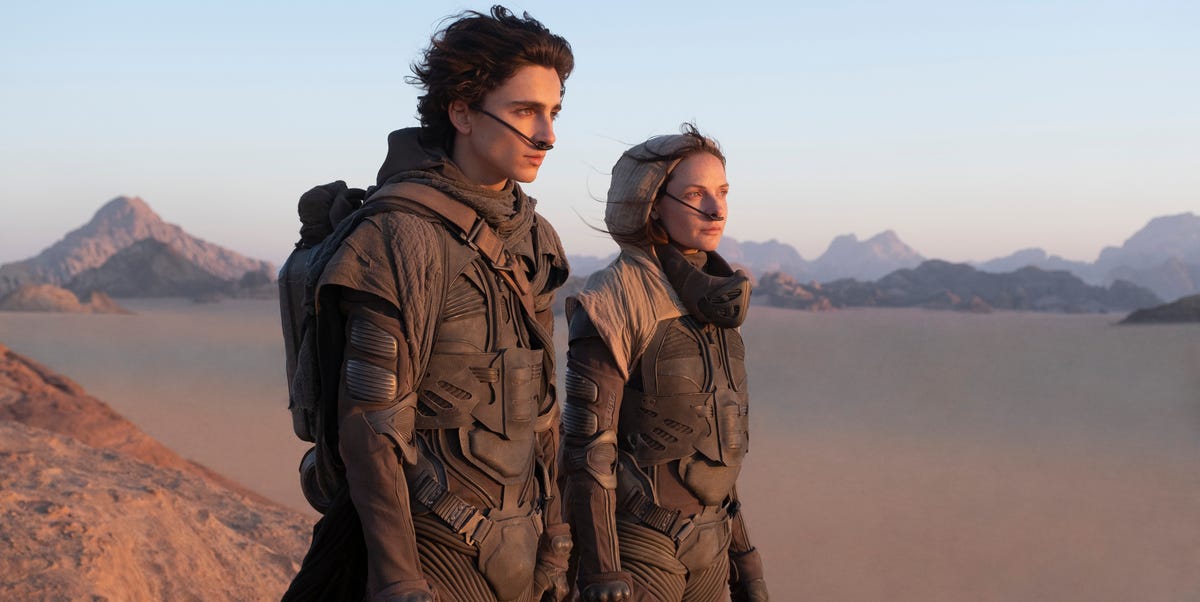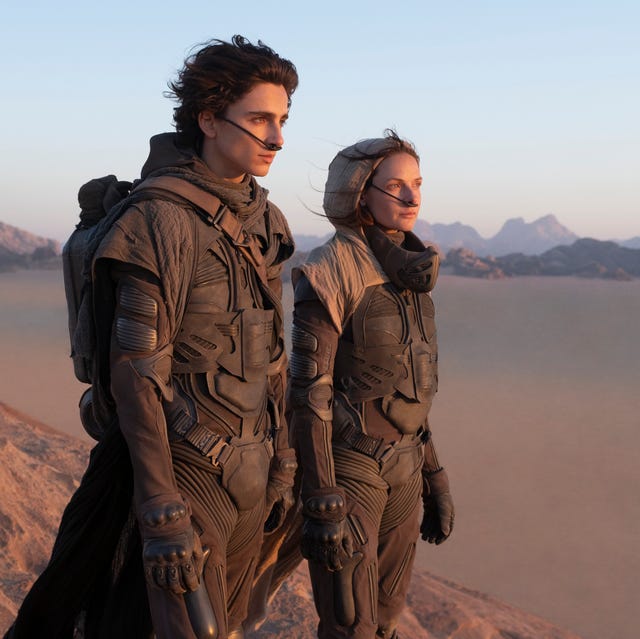 Chia Bella James
The science fiction genre is all about imagination. A good sci-fi film can take you to the stars, to the laboratory, to a post-apocalyptic world, or even an alternate dimension; but at the center of it all is a very human story. If you tend to only watch one type of sci-fi movie, let the list below open you up to some new experiences. After all, sci-fi is all about expanding your mind to all the possibilities in the universe—and every other universe you can come up with. Below are the best sci-fi films to watch right now for a well-deserved break from the real world.
Advertisement – Continue Reading Below
Director Denis Villeneuve's interpretation of Dune is the definition of an epic sci-fi story, and a sequel is already on the way. Based on Frank Herbert's 1965 novel of the same name, it's a sweeping tale about a young man named Paul Atreides born to a great destiny. (And the best part? Zendaya is there!) Catch up before part two is released.
Watch Now
It's not a list of sci-fi movies without this classic film directed by Stanley Kubrick, based on the famous short story by Arthur C. Clarke. After a monolith has been uncovered on the Lunar surface, two men are sent into space with an advanced computer system to discover its origins. Things don't go as planned.
Watch Now
From horror director Jordan Peele, Nope follows two siblings (played by Daniel Kaluuya and Keke Palmer) who discover an ominous force taking over their family's horse ranch. Part of the scare is the mystery, so no spoilers, but this film is filled with frights, fantastic performances, and beautiful cinematography, leaving you equal parts terrified and in awe.
Watch Now
In this Bong Joon-ho film, the earth is completely frozen over due to climate catastrophe, the only survivors aboard a train that can never stop. Even in this small world, what remains of humanity is kept to strict social hierarchies. Chris Evans plays a man dead-set on getting to the front of the train to figure out what's happening to the poor kids getting kidnapped from the caboose. No spoilers, but Evans has one of the most deranged reveals of any movie hero ever, so enjoy that. If you want more from the Snowpiercer universe, check out the TV series adaptation too.
Watch Now
A mysterious phenomenon called Area X is spreading across America, and certain scientists have been tasked with entering the danger zone to figure out what's going on. A biologist named Lena, played by Natalie Portman, never intended to enter, but she must if she wants to find out what happened to her husband inside.
Watch Now
Starring Tim Allen and Alien star Sigourney Weaver, Galaxy Quest is practically an ode to sci-fi films and TV across time. Allen and Weaver play the former stars of a popular Star Trek-style show that has been off the air for a long time. (They'd be washed up if they didn't have so many fans willing to meet them at conventions.) One day, things get super real when the cast is abducted by actual aliens seeking their help. Hilarious and strangely heartbreaking, this is the perfect film for sci-fi fans.
Watch Now
Caleb Smith (Domhnall Gleeson) is a programmer who has won a trip to the private estate of his firm's CEO, Nathan Bateman (Oscar Isaac). At the compound, Caleb meets Ava (Alicia Vikander), the robot Nathan has built with the intention of assuring it passes the Turing test. Is Ava conscious or not? Caleb thinks so and soon begins to feel far more than he should for a machine. He'll live to regret that. Ava is less of a robot than she seems, and possibly more than human.
Watch Now
A lot of the effects and action sequences in 1999's The Matrix are the kind we've come to take for granted in movies now; but at the time, it completely changed the game. Neo (Keanu Reeves) is a regular dude who feels like something in his regular life isn't quite right.But he soon learns the shocking truth about his world and the malevolent forces that control it. Directed by the Wachowskis, this film has left an incredible influence on genres outside sci-fi, and on culture in general. See where it all started here.
Watch Now
A commercial spaceship is targeted by a distress signal from an alien vessel. The crew decide to answer it, only to discover a nest of eggs inside. One hatches, and its contents leap upon a crew member, sucking onto to his face. The creature needs to attach itself to a host to propagate, and when it does, it grows up very, very fast, putting everyone else in danger. Starring Sigourney Weaver, this 1979 thriller set in space still holds up.
Watch Now
Everything Everywhere All At Once
Michelle Yeoh plays a woman who is unable to be present for her family because her mind is seemingly always somewhere else— being pulled into various alternate universes. Both a multiverse mystery and a meditation on mother-daughter relationships, Everything Everywhere is beautiful, sweet, funny, sad, and all the things in between. This movie has something for everyone—partially because Evelyn can't stay in one place.
Watch Now
Naru is a skilled Comanche warrior who has been wanting to join the hunt, which her tribe finds strange at best. One day a creature appears near their village that is more than a hunter: it's a Predator. A fantastic and original entry in the sci-fi horror Predator franchise, the film follows Naru (Amber Midthunder) as she battles the evil alien invaders, both from the sky and from colonizing countries.
Watch Now
Guy wakes up every morning and goes to his job at the bank, which is invariably shot up by someone wearing a pair of sunglasses. Then he does it again the next day. Guy doesn't know that he is an NPC in a game called Free City, but when he meets a lady player that stirs something inside him, Guy finds that he is capable of far more than he's been programmed to do.
Watch Now
The X-Men films are often overshadowed by the Marvel Cinematic Universe nowadays, but there was a time when Wolverine owned the silver screen. While many of the Hugh Jackman-led films about the man with knives in his hands are almost cartoonish, Logan explores the grittier side of his life. At this point, Wolverine is breaking down, a warrior who has healed from his wounds one too many times. But when he meets a group of kids that needs saving, he embarks on a final adventure with Patrick Stewart as Professor X by his side.
Watch Now
Made in 1927, Metropolis is often credited as one of the original sci-fi films. And it's also an interesting study of the era it was made. It was accused of featuring themes in support of communism at the time and the movie is certainly very much about class. But there's also an evil robot impersonating a woman who does an incredible dance. It contains multitudes.
Watch Now
Cassius "Cash" Green (LaKeith Stanfield) needs to pay rent, so he takes a job as a telemarketer. He discovers that by code switching and using his "white voice," he can climb the ranks fast. Filled with surprising supernatural elements, Sorry to Bother You shows Cash's rise to the top, which takes him to the strangest of places.
Watch Now
Gorgeously animated, The Iron Giant became something of a cult hit after it left theaters. The story follows a boy who befriends the titular alien robot. The titan may be programmed to kill, but that's not what he wants. Set during the Cold War in 1957, the story is about how much of who we are is out of our hands and what we can choose to do about it in the end. Warning: you will almost certainly cry.
Watch Now
Leeloo is the fifth element and she has a big job: She must keep the world from getting destroyed. But she's just woken up in the 23rd century and has no idea what's going on. Luckily, she falls into the flying cab of a man who can help. If you've never seen this movie, don't wait another second. It's a classic.
Watch Now
The year is 2027, and it's been two decades since the last child was born. Human infertility is having pretty enormous consequences on society, and things are falling apart. Bureaucrat Theo Faron meets a woman named Kee, who is pregnant. That interests a lot of people, many of whom are a danger to her and her child. Theo and Kee's fates become entwined as they race to safety.
Watch Now
Dr. Ellie Arroway, played by Jodie Foster, is asked to interpret a message that is believed to be from intelligent life far out in the galaxy. Arroway is challenged by the U.S. government, religious fanatics, and other scientists to push the meaning of the message in a direction that suits them best; but she is determined to understand what the voice in deep space is trying to tell her with as much honesty as possible.
Watch Now
In a post-apocalyptic world, a man and his young son are trying to get to the sea where they believe there is a safe community to live amongst. The path there, however, is full of danger and other people with some pretty bad intentions. They could end up enslaved or even in soup. This is a good movie for people who really like to dwell in the worst case scenario.
Watch Now
Twelve spaceships have touched down across Earth. The only problem is communicating with them. Linguistics professor Louise Banks (Amy Adams) and her team of scientists are racing against the clock to figure out what the aliens want before the entire planet collapses into total chaos.
Watch Now
Inspired by the H.G. Wells novel and lots of other stories about the power of invisibility, Elisabeth Moss plays a woman being stalked by her ex. That's frightening enough, but her ex is a crazed scientist who has figured out how to make himself invisible. She has to fight for her life and her sanity as she figures out how to defeat him.
Watch Now
Starship Troopers became a huge cult hit as fans realized it's about so much more than soldiers fighting giant bugs. As more and more human life is lost in the never ending battle with an Arachnid-like species, the political satire of the situation becomes evident. War needs more death, violence, and hostility to keep going, and the people who make money off war always want it to keep going.
Watch Now
Immortan Joe keeps himself comfortable in the desert fortress the Citadel, surrounded by his young and beautiful wives. His only goal is to have another son. The only goal of pretty much everyone else is to just get some drinkable water or to die in a fiery blaze of glory. Tom Hardy gets caught up in the conflict when Joe's wives try to escape, becoming an unintentional hero. This post-apocalyptic chase movie is full of action and Charlize Theron is pretty bad ass in it, too.
Watch Now
Based on the book by sci-fi author Philip K. Dick, the movie follows Keanu Reeves as a narc in California who tries to go undercover and ends up with an addiction problem. The movie is about the paranoia that comes with addiction and also the reality of actually being surveilled by the state, illustrated by Reeves' character teetering on the edge of insanity.
Watch Now
Advertisement – Continue Reading Below