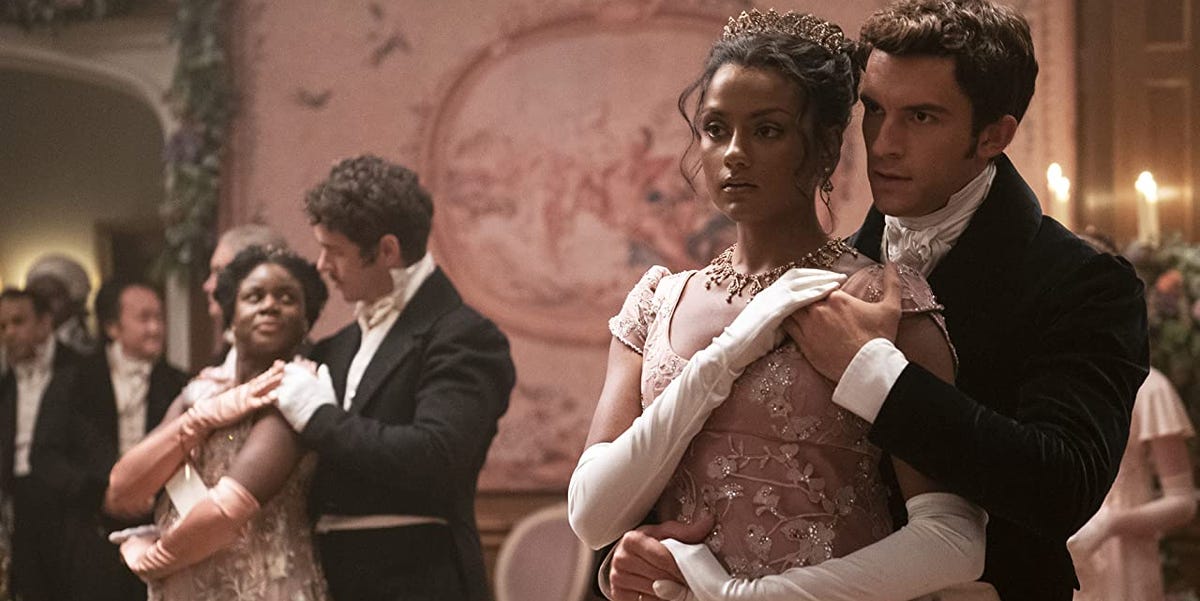 Did you watch all of Bridgerton in approximately two sittings and obsess over the fact that Julie Andrews was narrating this very steamy regency tale? Even Mary Poppins needs a little drama with a side of scandal when it comes to her entertainment. There's no shame in wanting to invest in the love lives of people in 1813.
After stories of matchmaking, weddings, sex, a problematic sexual assault scene, births, rumors, and a narrator who's the original Gossip Girl, there's a lot to discuss. Maybe you're done with period romances and want something a little more modern—with maybe a touch more consent and self-awareness. But if you live for the fashion, the accents, the parties, and the longing glances, you might want some more material like Bridgerton (and the book series on which it's based).
Here are some great suggestions for what you can watch when you're done analyzing Netflix's update on Jane Austen-adjacent material.
Advertisement – Continue Reading Below
1 Downton Abbey (2010-2015)
This is a really great place to start if you want to watch an entire episode built around the fact that something called a "snuff box" is missing. The show follows the aristocratic Crawley family, their servants, and the changing landscape of the social hierarchy in early 20th-Century England. Every single character in this series gets a plotline that is juicier than the last, so you're never bored.
Heads up: there is also a Downton Abbey movie (2019), and a sequel in the works, if you're also looking for another universe that never seems to end.
Watch all six seasons on Amazon Prime
This show comes from Downton's creator, Julian Fellowes, so it's a good place to go after you've finished with the Crawleys. This series is based on the 2016 novel of the same name that also happens to be authored by Fellowes. This is the story of the Trenchard family, who are part of the nouveau riche in London's upper class. The family is invited to a ball on the eve of the Battle of Waterloo, but the resulting secrets and turmoil last long after the party has ended.
3 The Gilded Age (2022-present)
The Gilded Age is yet another hit from Downton Abbey creator Julian Fellowes. The main plot, about a woman who moves in with her old money aunts, is just the beginning of what makes this show so addictive. The costumes and sets are so realistic, you'll be transported right back to 1880s New York City and—good news if you become a big fan—a second season is expected in 2023.
4 The Crown (2016-present)
There's no show that pulls back the layers of the royal family quite like The Crown. It begins with a young Princess Elizabeth readying to take the throne in the early 1950s, and later seasons follow her journey as she becomes more established in her role.
Anne Lister (Suranne Jones) was an English landowner whose diaries famously reveal her relationships with other women during a time period when you couldn't exactly scream about your crush on a girl. Season 1 of this show follows Lister as she tries to bring back to life Shibden Hall, her ancestral home. If you're into a period drama that doesn't revolve around a heterosexual love story, cue up this Sally Wainwright-created series.
Watch on Amazon Prime with an HBO subscription
It's the early 1700s and England is at war with France. Queen Anne (Olivia Colman) is on the throne, but she isn't the one running the country. Her confidante, close friend, and sexual partner, Lady Sarah Churchill (Rachel Weisz), pretty much runs the show, until Sarah's cousin Abigail (Emma Stone) arrives on the scene and aims to take over Sarah's role as the eyes, ears, and…hands most trusted by the queen.
Hailee Steinfeld stars as a young Emily Dickinson when she's first starting to put pen to paper. The coming-of-age comedy is sweet, thoughtful, and filled with A-list names like Wiz Khalifa, Jane Krakowski, and John Mulaney.
8 The Personal History of David Copperfield (2020)
This film is a modern take on Charles Dickens' novel and famous character, David Copperfield. Starring Dev Patel and directed by Armando Iannucci, this is a much cheerier version of the darker tale about an orphan.
This four-part miniseries adapted from Elizabeth Gaskell's 1854 novel is about Margaret Hale, a woman from Southern England who's forced to move to the northern town of Milton. She's initially repulsed by life in an industrial town, but soon develops a passion to help the deep problem with poverty in her community. In a complex twist, she's romantically linked to mill owner John Thornton, whose treatment of his employees contrasts with Margaret's views.
10 The English Game (2020)
If you like to mix your historical fiction with your sports, this show is a good bet for you. Another Julian Fellowes series, it's the story of the game of football (meaning soccer) and how it reached across class divides to unite the world. That Julian Fellowes is really into a social-class drama.
Vanity Fair is a classic tale of unexpected romance. The miniseries shows Becky Sharp (Olivia Cooke) making every attempt to become part of high society, and falling in love in the process.
12 The Paradise (2012-2013)
This adaptation of Emile Zola's French novel is set in Northern England at the country's first department store, The Paradise. Denise Lovett (Joanna Vanderham) begins working there and is charmed by her new life of freedom, but she's also charmed the store's owner, John Moray (Emun Elliott), who is courting Lady Katherine Glendenning (Elaine Cassidy), the daughter of a wealthy banker and the key to Moray's financial success.
13 Upstairs, Downstairs (1971-1975)
The O.G. Downton Abbey, this 1970s series follows the Bellamy family and their servant staff, who live, well, downstairs at their massive townhouse in Belgravia in Central London. Like Downton, Upstairs, Downstairs starts off in the beginning of the 20th Century and follows the fall of the aristocracy during a three-decade period.
If you get through all of Downton and every other Julian Fellowes show, this 50-year-old series is waiting for you on Amazon Prime. The 2010-2012 BBC One reboot is also available on Hulu.
14 The Spanish Princess (2019-2020)
When Princess Catherine takes the throne, it kicks off a drama-fueled reign that will leave your heart pounding every episode. It's loosely based on the true story of the monarch and her husband, Henry VIII.
15 Pride and Prejudice (1995)
This adaptation of Jane Austen's novel might always reign as society's preferred take on this beloved story. It aired in a six-episode miniseries from September 24 to October 29, 1995. Like the Bridgerton siblings, the Bennet sisters feel the pressure to marry into a financially stable household. After all, "it is a truth universally acknowledged, that a single man in possession of a good fortune, must be in want of a wife." Jennifer Ehle stars as Elizabeth Bennet while Colin Firth played her brooding love interest, Mr. Darcy.
16 Pride & Prejudice (2005)
In this film adaptation of Austen's 1813 novel (note that it's the same year Bridgerton takes place), Kiera Knightley stars as Elizabeth Bennet alongside Donald Sutherland, a pre-An Education Carey Mulligan, a pre-Gone Girl Rosamund Pike, and a pre-Succession Matthew Macfadyen as Mr. Darcy. But you can only have one favorite Darcy. That's the rule.
Anne Hathaway stars as real-life author Jane Austen, who, much like her heroine Elizabeth, is expected by her financially struggling parents (James Cromwell and Julie Walters) to marry wealthy. Though they want her to marry the nephew of Lady Gresham (Maggie Smith), Jane's eyes turn to an apprentice lawyer named Tom Lefroy (James McAvoy) who can offer her nothing in the way of financial security. But his inspiration and encouragement might lead her to a richer life filled with passion and creativity.
Growing up in the 19th century wasn't easy, and these four young ladies can tell you just that. Based on the novel by Louisa May Alcott, watch as four sisters navigate the daily struggles that come along with the time period.
Based on the 1910 novel by E.M. Forster, this film follows the story of three families: the intellectual Schlegels, the wealthy Wilcoxes, and the working-class Basts. Margaret Schlegel (Emma Thompson) is courted by the widower Henry Wilcox (Anthony Hopkins), after he becomes the owner of the family home, Howards End, upon the death of his wife Ruth (Vanessa Redgrave). Meanwhile, Margaret's younger sister, Helen (Helena Bonham Carter), tries to help Leonard Bast (Samuel West), a poor bank clerk, and the Schlegel sisters' aunt, Juley (Prunella Scales), continues to interfere as the parental, judgmental figure in their lives. This role won Emma Thompson an Oscar for Best Actress in 1993.
Kenneth Lonergan adapted the novel into a series for Masterpiece Classic, this time starring Hayley Atwell as Margeret, Philippa Coulthard as Helen, Matthew Macfadyen as Henry Wilcox, Julia Ormond as Ruth Wilcox, Joseph Quinn as Leonard Bast, and Tracey Ullman as Aunt Juley.
21 The Pursuit of Love (2021)
Cousins—and best friends—Linda (Lily James) and Fanny (Emily Beecham) find themselves at a crossroads when they choose two wildly different lifestyles and love lives. Will their bond stand the test of time? You'll have to watch to find out.
22 Sense and Sensibility (1995)
Adapted by Emma Thompson from the 1811 Jane Austen novel and directed by Ang Lee, this story follows the Dashwood sisters, Elinor (Thompson) and Marianne (Kate Winslet), who come from a wealthy English family but suddenly lose their financial security. They are now forced to find stability through marriage, and their respective suitors are Hugh Grant and Alan Rickman at peak-'90s handsome.
A ton of period pieces center around the Revolutionary War, but what about life after the war? Poldark does just that, telling the story of a man looking to build a life outside the military. It won't be easy for him, though, after he finds his love engaged to someone else and his home in shambles.
In this Alfred Hitchcock adaptation of Daphne du Maurier's novel, a young woman (Joan Fontaine) marries a rich widower (Laurence Olivier), but she finds that his late wife, Rebecca, is still very present at his property. Rebecca died mysteriously years earlier, and the young woman's new husband, Max de Winter , is very guarded about the events that led to this tragedy. It's up to the new Mrs. de Winter to face down the ghosts that still haunt the halls of her home.
Buy at the Criterion Collection
This miniseries' plot is a dream come true for any Austen fan: A modern-day woman swaps lives with Austen's most famous heroine, Elizabeth Bennet. Remember, though, life is unfortunately not a novel, so things get complicated when you're a normal human who gets thrown into the literary mix.
This show is based on a three-book series by Elizabeth Gaskell. Starring Judi Dench, Julia McKenzie, Imelda Staunton, and more, the episodes take place in a small English town where the older women call the shots when it comes to social rules—and their word is law.
27 Call the Midwife (2012-2020)
This is more in the direction of World War II dramas, but it's definitely worth a binge-watch if you haven't done so already. The series is about the nurses, midwives, and nuns at Nonnatus House, and the expecting mothers for whom they care. Every birth is unpredictable, and class challenges often make things even harder. This is a great glimpse into what life was like before modern maternal healthcare (and it's never boring).
Writer Sandy Welch's adaptation of the Jane Austen classic stars Ramola Garai as Emma Woodhouse, a young woman in Georgian England who busies herself with matchmaking all the eligible couples in her town. Soon, though, Emma learns the consequences of meddling in other people's lives.
The adaptation stars Anya Taylor-Joy as the famous matchmaking heroine.
British World War II nurse Claire Randall goes on a second honeymoon in Scotland with her husband, Frank, after the war. While there, she is mysteriously transported to 1743 Scotland. If you know anything about Scottish history, you'll know that this was just before the bloody Jacobite rebellions. Claire meets a Scottish warrior Jamie Fraser, falls in love, and is suddenly caught between two different time periods and…two different men.
Hilary Weaver Hilary Weaver is a freelance writer based in New York who writes about politics, queer issues, Meryl Streep, Glenn Close, and every woman the Queen has ever made a dame. Janaya Wecker Lifestyle Editor Janaya is a Lifestyle Editor for Hearst Magazines.
This content is created and maintained by a third party, and imported onto this page to help users provide their email addresses. You may be able to find more information about this and similar content at piano.io
Advertisement – Continue Reading Below