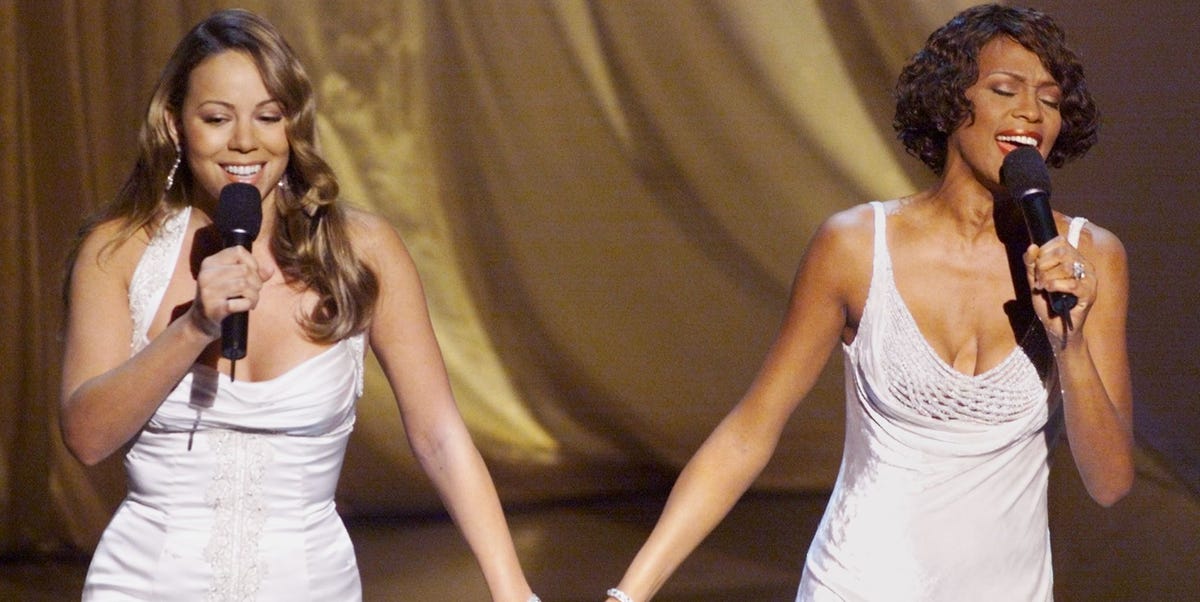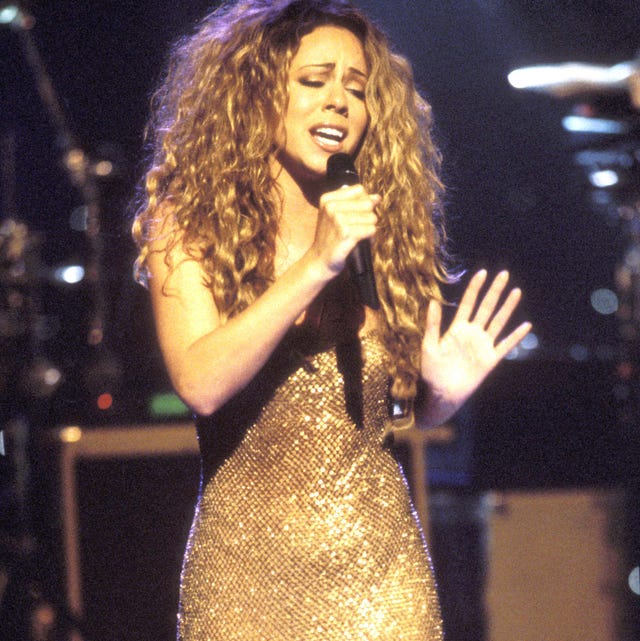 KMazurGetty Images
Y2K trends and nostalgia might be all the rage right now, but the '90s are still iconic—especially when it comes to '90s music. What era could be better than the one that gave us hits from Mariah Carey, Britney Spears, Aaliyah, and The Backstreet Boys? The decade delivered a plethora of perfect pop songs in all their various forms—from bubbly radio earworms to energetic dance anthems to R&B-tinged tunes—and their appeal remains immortal to this day. Here, relive the glory years with the 65 best pop songs of the decade.
Advertisement – Continue Reading Below
"Baby One More Time" by Britney Spears
After graduating from the Mickey Mouse Club, Britney made pigtails and fluffy pom-poms all her own with this High School Girl Breaks Bad video.
"When You Believe" by Whitney Houston and Mariah Carey
I'm not sure what we did to deserve two of the greatest vocalists together on one track, but it's one of—if not THE—best duets music ever gave us, and that's the hill I'm willing to die on. Try not to cry when the choir joins in.
"Wannabe" by The Spice Girls
What's a zig-a-zig-ah? Who cares, when the girl group is this incomprehensibly effervescent?
"Poison" by Bell Biv Devoe
This act may be a one-hit wonder, but their one hit is unforgettable. Thirty years have passed since the band released "Poison" and it's still a cult-classic that's always played at cookouts, weddings, and other festivities.
Arguably TLC's best song (sorry, "Waterfalls"), this '90s banger tells a complicated story of infidelity — about a woman who "creeps" with other men to get her unfaithful partner's attention. A truly heartbreaking song.
"Bidi Bidi Bom Bom" by Selena
Who could forget this anthem from the gone-too-soon singer, Selena? It's a tune you can dance to all night long.
"Real Love" by Mary J Blige
The Queen of Hip-Hop Soul delivered some pop-tinged hits too. Mary J. Blige dominated the music scene in the '90s, so of course we had to include her on our list.
"No Diggity" by Blackstreet feat Dr. Dre and Queen Pen
The young ones might remember this song from Pitch Perfect, but us '90s kids know better—this was a hit in 1996 for good reason. The background vocals plus the smooth voices of Blackstreet made "No Diggity" the perfect song to cruise too.
"California Love" by 2Pac feat. Roger Troutman and Dr.Dre
Not your typical pop song, but that probably explains why this 1995 single topped the Billboard charts. Between Nirvana's rock anthems and pop boy bands dominating the '90s music scene, a fresh sound was needed and the West Coast rap legends were more than happy to deliver.
"U.N.I.T.Y" by Queen Latifah
Before Queen Latifah was known for her roles in films like Girls Trip and Last Holiday, she got her start as a rapper. In fact, one of her most popular songs was this 1993 hit that brought awareness to domestic violence and abuse against women. And what's even more telling about this track (and honestly, Queen Latifah's talent as a whole) is that its theme is just as relevant today as it was almost three decades ago when it was first released.
"Livin' La Vida Loca" by Ricky Martin
We have Ricky Martin to thank for giving us this instant mood lifter, as well as a timeless Instagram caption for every situation.
"I'll Be There For You" by The Rembrandts
You'd be hard pressed to find a single soul who doesn't know the lyrics to the Friends theme. You might not know who's singing it, but you do know when to do the four claps.
"I Wanna Sex You Up" by Color Me Badd
Add this to the list of songs I shouldn't have been singing when I was youngster.
"Sittin' Up In My Room" by Brandy
This Brandy and Babyface team-up captured the thrill and anxiety one feels when they start falling for someone. From the outfits to the Waiting to Exhale snippets to the dance break, this video screamed the 1990s.
"Are You That Somebody" by Aaliyah
Name a more iconic duo than Aaliyah and Timbaland. The super producer is responsible for a lot of the songs in Aaliyah's catalog, one of her best being this cut from the Dr. Dolittle soundtrack. Only Timbaland can turn baby noises into a smash hit.
"Doo-Wop (That Thing)" by Lauryn Hill
Ms. Lauryn Hill broke out on her own in 1998 with this R&B groove, which was the first debut single ever to enter the Billboard Hot 100 at #1.
You might've dismissed it as a novelty back in 1997, but this bubblegum pop hit still bangs.
"Truly Madly Deeply" by Savage Garden
If you developed your romantic sensibilities to this song, you now require every suitor to stand with you on top of a mountain. That's the bare minimum!
"Anything that's self-destructive, that's chasing a waterfall," Rozonda "Chilli" Thomas told The Guardian about this 1994 hit's central metaphor. And while "Waterfalls" was about life's perils, it also held a note of hope.
"I Will Always Love You" by Whitney Houston
Whitney Houston's M.O. was to give your feelings full voice, and in this showstopper from The Bodyguard soundtrack, that's exactly what she did.
"You Get What You Give" by New Radicals
"Health insurance rip-off / Lying FDA / Big bankers buying": For many a '90s tween or teen, this was an early sampling of woke-ish pop. Also: extremely catchy.
"Torn" by Natalie Imbruglia
Natalie Imbruglia just announced a new album, which brings back memories of her perfect single "Torn." Was it about David Schwimmer? We'll never know.
"My Heart Will Go On" by Céline Dion
It only takes about a second of that trilling flute to recognize this hit, which was as big as the Titanic itself. "My Heart Will Go On" went to #1 around the world and in our hearts.
"Baby Got Back" by Sir Mix-A-Lot
Beyoncé let us know that Becky had the good hair. But before that, she alerted us to the size of someone's butt in Sir Mix-A-Lot's "Rump-o'-smooth-skin" tribute.
"Man! I Feel Like a Woman" by Shania Twain
Did you know that the best thing about being a woman is the prerogative to have a little fun? Yeah. That's the tweet!
"Don't Speak" by No Doubt
A lot of musicians have written songs about their exes, but few brave souls have written them about exes they're still in a band with. That's what Gwen Stefani did with "Don't Speak," which is about former flame and No Doubt bassist Tony Kanal.
"Always Be My Baby" by Mariah Carey
And the award for most endearing semi-stalker-y love song of all time goes to this chipper Mariah tune. The confidence this has!
MMMBOP BE-DOO-BE-DOP BA DOO-WOP. Takes you back, doesn't it?
"Never Ever" by All Saints
The second single by English pop group All Saints launched them to chart-stopper status all around the world, and it became the second-best selling single by a girl group after "Wannabe."
"Linger" by The Cranberries
According to Cranberries drummer Fergal Lawler, "Linger" was one of the first songs that showed the band just how great singer and lyricist Dolores O'Riordan was.
"Gettin' Jiggy Wit It" by Will Smith
Will Smith's first ever #1 hit brought Brooklyn slang into the mainstream.
"Say My Name" by Destiny's Child
Before there was Lemonade, there was this Destiny's Child jam about a no-good cheater. You gotta treat Beyoncé right, friends.
"Lovefool" by The Cardigans
Romeo and Juliet gave us a baby-faced Leonardo DiCaprio, but it also gave Swedish group The Cardigans' romantic bop a global stage.
After John Michael Montgomery's version topped the country charts, "I Swear" received the pop treatment from All-4-One and crossed over in a big way.
"Genie in a Bottle" by Christina Aguilera
The first single from Christina's first album was this hit, typical of a former Disney starlet in its break-the-pattern brash sexuality. But there was nothing average about that voice.
The Backstreet Boys guys know this song doesn't really make any sense. "When we finished recording the song and the label executives heard it, they didn't think it made 100 percent sense, lyrically," singer Kevin Richardson once told ELLE.com. And somehow…it still bangs!
"Tearin' Up My Heart" by *NSYNC
The '90s were such a good moment for American boy bands. This anguished love song has endured, to the extent that the group (minus JT) performed it at Coachella with Ariana Grande this year.
"Who Will Save Your Soul" by Jewel
If the first song you ever wrote (when you were 16!) turned into an international hit, you'd have to be pretty pleased. That's exactly what happened with Jewel Kilcher's "Who Will Save Your Soul."
"Bittersweet Symphony" by The Verve
While most people associate that famous string sample with "Bittersweet Symphony," it's actually from a Rolling Stones song. Due to a copyright ruling, The Verve's Richard Ashcroft didn't see any of the royalties from the song until this year.
"Damn, I Wish I Was Your Lover" by Sophie B. Hawkins
The original video for this song was so sexy that MTV banned it. Doesn't mean the song stopped being érotique, though!
"The Rain (Supa Dupa Fly)" by Missy Elliott
Bring a fisheye lens, an Ann Peebles sample, a trash bag, and Missy "Misdemeanor" Elliott together, and you have a late-'90s R&B hit that critics put on all their end-of-year lists.
"Candle in the Wind 1997" by Elton John
Elton John reworked his '70s hit for the funeral of his friend Princess Diana.
"Stay (I Missed You)" by Lisa Loeb
You can thank Ethan Hawke for getting his friend and neighbor Lisa Loeb's perfect guitar ditty on the Reality Bites soundtrack. According to Rolling Stone, he gave it to the film's director, Ben Stiller, and that was that.
"Your Woman" by White Town
How did an oblique song by an Indian man about wanting to be "your woman" make such a splash in the less-woke '90s? Anyway, we're so glad it did.
"All I Wanna Do" by Sheryl Crow
Sheryl Crow gave pop fans a taste of country-tinged storytelling with this barfly hit. But did you know the lyrics were based on a poem by then-little known poet Wyn Cooper?
"Don't Let Go" by En Vogue
Recorded for the soundtrack of classic crime film Set It Off, En Vogue's "Don't Let Go" eventually hit platinum status.
"Un-Break My Heart" by Toni Braxton
R&B queen Toni Braxton embodied heartbreak itself in this devastating ballad penned by legendary songwriter Diane Warren. Just try not to cry!
"Hold On" by Wilson Phillips
Trust the offspring of musical legends like Brian Wilson and The Mamas and the Papas' John and Michelle Phillips to write one of the decade's most enduring hits. This rousing track has made a mark on pop culture, too, appearing in Harold and Kumar Go to White Castle, Glee, Bridesmaids, and more.
"Right Here (Human Nature Remix)" by SWV
Fun fact: That's a baby Pharrell Williams shouting out the "S, the double, the U, the V." How'd he get involved? He produced the song, of course.
"Semi-Charmed Life" by Third Eye Blind
This song is a bait and switch. Written by singer Stephan Jenkins, its sunny, easygoing rock-pop blend belies the serious nature of its topic: drug addiction. That didn't prevent it from being a party anthem, though.
Swedish pop princess Robyn has had a long-ass career dating back to the mid-'90s. But before she was dancing on her own, she was putting in a polite request for some romance.
"Together Again" by Janet Jackson
The Velvet Rope is one of Janet Jackson's most beloved albums, and it furnished this optimistic but thoughtful song about loss.
"What Is Love" by Haddaway
This Eurodance hit has seen a recent resurgence in popularity on the dancefloor, but let's face it: It's been good this whole time.
"The Boy Is Mine" by Brandy and Monica
We can all agree that the bad boy in this love triangle needs to stop playing these two women, but this dueling duet kinda makes his behavior worth it.
"I Don't Want to Wait" by Paula Cole
Even people who weren't fans of teen drama Dawson's Creek could appreciate the sweet ballad that played at the top of every episode.
"Kiss From a Rose" by Seal
Twenty-five years on, this romantic single can still make a crowd swoon. Just crack it open at the karaoke bar—you'll see.
"Ghetto Supastar (That Is What You Are)" by Pras, feat. Ol' Dirty Bastard and Mya
Dolly Parton and Kenny Rogers were two tastes that complemented each other perfectly, but this hip-hop track inspired by their "Islands in the Stream" duet took it to the next level.
"You Make Me Wanna" by Usher
If there was someone you couldn't stop thinking about, even though you were with someone else, this was your '90s theme song.
"Nothing Compares 2 U" by Sinéad O'Connor
Anyone who's ever counted the hours, minutes, and seconds since having their heart trampled on can relate to this one.
"You Gotta Be" by Des'ree
Affirmations in song form!
Dancefloor doyenne Madonna went pensive with this icy tune about a toxic love affair. The Bjork x Maleficent aesthetic in the accompanying video is a bonus.
Whether or not you were into Britpop, you could not escape the "woo-hoo" song by English rockers Blur. It was simply everywhere.
"Sunny Came Home" by Shawn Colvin
Shawn Colvin's pretty, folky story about a woman deciding to change her life had a modest scope but huge appeal.
"Crush" by Jennifer Paige
It's just—ah!—a little crush. According to Jennifer Paige, that is.
Can you believe (sorry) it's been over 20 years since this Cher disco masterpiece coaxed us out to the club?
Advertisement – Continue Reading Below