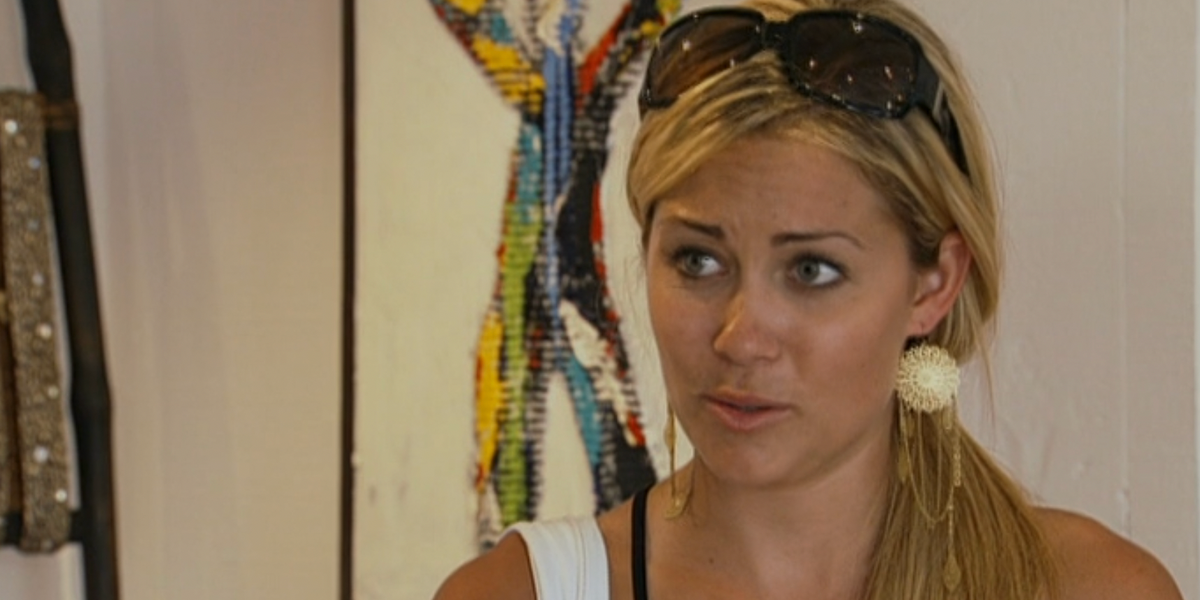 To celebrate how Laguna Beach influenced fashion trends back in the '00s, we've gathered a roundup the most iconic outfits from the showthat you probably forgot about. This list mostly focuses on Seasons 1 and 2, since most fans agree Season 3 just wasn't the same without Lauren Conrad and Kristin Cavallari.
Advertisement – Continue Reading Below
1 When Lo Planned the Black and White Party
It's still incredible that Lauren was just a teen here.
2 When Everyone Took This Trip to M.A.C
Makeup fans can relate to this one: Walking into M.A.C, pretending you wanted to buy something, and instead getting a free makeover.
3 When Jessica Got Confused About Cabbage
A hilarious moment in television, made all the more powerful thanks to Kristin's signature choker.
4 When Trey Wore…Whatever This Is
It's still confusing us all these years later.
5 When Stephen Busted Out His Fashion Bracelet
Massive leather bracelets were in back then!
6 When Lo Wore a Knee-Length Denim Skirt
This one is still on trend.
7 When the Whole Crew Dressed Appropriately for Cabo
Lauren was committed to spring break-appropriate beachwear.
8 When Lauren Double Layered Tanks
An era where jeans were so low that tank tops had to do all the work for them.
9 When Trey Wore a Tiny Baby Belt on His Arm
This one is truly bizarre.
10 When Everyone Dressed Up for Prom
Since everyone is so obsessed with aughts style, it's only a matter of time before giant plastic hair flowers make a comeback.
11 When Morgan Wore This V. Sensible Camping Outfit
Remember the trucker hat trend?
12 When Lauren Busted Out Khaki Peddle-Pushers to Sit in a Sink
Most people haven't used the term "peddle-pushers" since 2002.
13 When Stephen Felt the Need to Wear His Sunglasses Under His Hat
Yet another look you probably won't see today.
14 When Lauren Wore This 'Sesame Street' Shirt for Graduation
Not the dressiest look for a graduation.
15 Everything About Lauren's Beach Look
The thick-strap halter swimsuit? The skinny strap tank top? The bell bottom jeans? The square sunglasses? It's all so 2000s.
16 When Trey Wore This Hat
Trey had quite the hat collection back in the day.
17 When Stephen Wore a Double Grommet Belt
Giving big Hot Topic vibes.
18 When Lauren Wore a Scarf in the Middle of Summer
All in the name of fashion!
19 When Kristin Wore This Pink Lace Cami
The chances are high that this look is from Abercrombie & Fitch.
20 And When She Wore These UGGs 21 When Talan Wore a Von Dutch Shirt
The only thing that came close back then was Ed Hardy.
22 When Stephen Attempted a Popped Collar 23 When Kristin Wore a Sweater Vest as a Shirt
Not her best style choice.
24 When Alex Wore This Terry Cloth Cardigan
Terry cloth cardigans are one trend we're happy hasn't come back yet.
25 When Kristin Went to Cabo
The jersey tube top was a big hit with the Laguna Beach crew.
26 When Taylor Wore This Shrug 27 When Talan Wore His Massive Diamond Earring
It's even bigger than the one Kim lost in the ocean.
28 When the Whole Crew Went to Prom
Seeing a lot of skirt ruffles happening here.
29 When Lauren Wore These Earrings
Now these are called statement earrings.
30 When Dieter Wore His Sunglasses Over His Hat
Another strange sunglasses-hat combo.
31 When Casey Busted Out Her Pink Cardigan 32 When Trey Once Again Was Flawless
The rimless glasses really take his look to another level.
33 When Kristin and Heidi Teamed Up for a Fashion Show
What would this look even be called today?
It's both a beanie and a backwards baseball cap.
35 When Rocky Rocked Hair Extensions
Someone was inspired by Ashlee Simpson's "La La" era.
36 And When She Wore a Scarf 37 When Kyndra Wore This Straw Cowboy Hat
The hat is a lot, but it's peak '00s when you factor in the flip phone and square nail French manicure.
38 When Jason Showed Up in Season 3
And wore Ed Hardy, naturally.
39 When Kyndra and Cami Did Spring Break
A fashionable captain's hat?
40 And When They Tried to Find a Perfect Dress
To quote Cami, "That's not a dress. I will not let you go out like that."
41 When the Season 3 Boys Chilled at the Park
Not very stylish, but very '00s.
42 When Chase Experimented with Fedoras
Fedoras were everywhere back then.
43 And When He Wore This Shirt
It's a peace sign, but it's also an angel.
44 And When He Did This to His Hair
How much gel did this hairstyle take?
Mehera Bonner Mehera Bonner is a celebrity and entertainment news writer who enjoys Bravo and Antiques Roadshow with equal enthusiasm, She was previously entertainment editor at Marie Claire and has covered pop culture for over a decade. 
Advertisement – Continue Reading Below