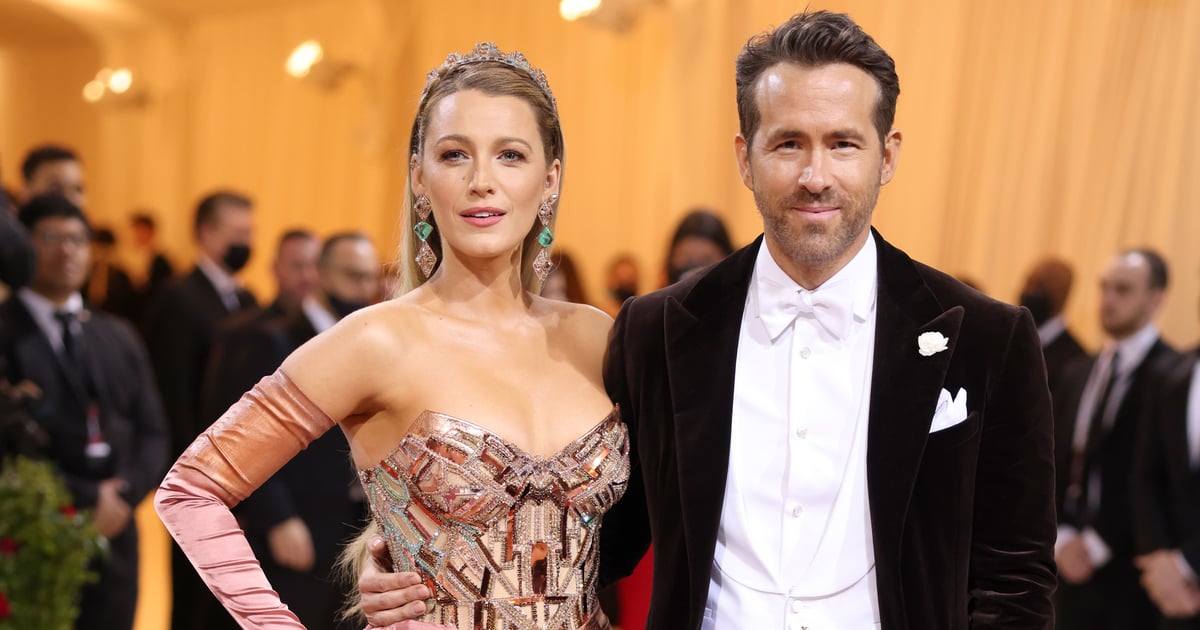 Blake Lively looked like the belle of the ball at the 2022 Met Gala wearing a custom Atelier Versace gown that was full of hidden meanings. Her dress featured a giant bow on one side, which created a long train in the back.
The rose-gold dress was reportedly inspired by the Statue of Liberty and covered with glittering, geometric embroidery and mirrored accents. As she walked up the stairs, the copper-colored train was untied to show off a gorgeous teal, which symbolized the oxidization of the statue. It also appeared that the constellation-like design on the train was inspired by the one in Grand Central Station.
For accessories, Lively chose a bejeweled tiara complete with a small braid, dangling earrings, and satin opera gloves that matched the pink bow on her gown. She also wore a pair of gold Christian Louboutin heels. Lively and her husband, Ryan Reynolds, joined Regina King and Lin-Manuel Miranda as the official cochairs, while Tom Ford, Adam Mosseri, and Anna Wintour served as honorary cochairs.
Over the years, Lively has tapped major designers like Chanel, Gucci, Versace, and Burberry to create one-of-a-kind, custom gowns for her. She's gone on record multiple times saying she doesn't work with a stylist as she has close ties to so many luxury brands.
She has a knack for choosing memorable gowns like her 2018 Versace dress, which was bejeweled with gemstones and topped off with a literal crown. You can always expect Lively to wear accessories from her two go-to designers, Lorraine Schwartz and Christian Louboutin, both of whom created custom pieces to complement her Versace Met moment.
One of her most famous looks is the Gucci dress she wore back in 2014. The dazzling, floor-sweeping gown came with a dramatic cape and an abundance of shimmering sequins that trailed vertically to the floor. Whether she's wearing a designer gown with a cape or a crown, you can always count on Lively to bring the glamour to the Met Gala.
Ahead, take a look at the star's 2022 Met Gala outfit from all angles.