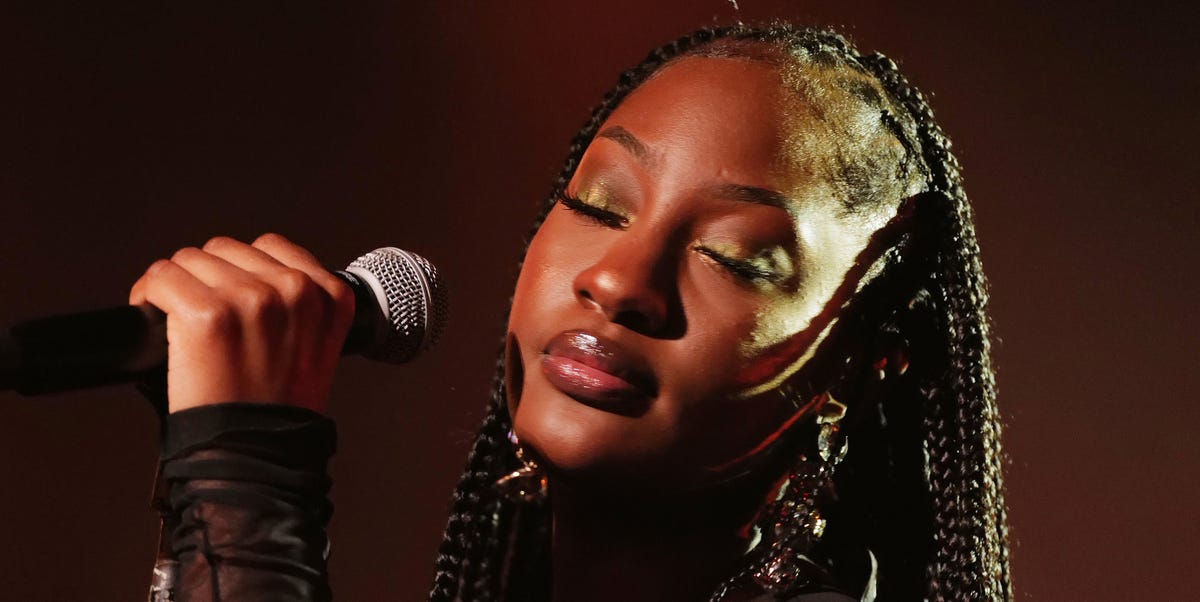 Tems possesses a bone-chilling voice that rocks you harder than the thumping Afrobeats reverberating through NYC's Sounds of Brazil venue, whereguests await the Nigerian singer's presence on stage for her first-ever American headlining tour. Stirring and hauntingly soulful; smokey and emotive, she slips into the first song of the night: "Higher" from her debut EP For Broken Ears. Just a few seconds into the song, Tems' honeyed, gingery tang feels like a soothing embrace from the sun. Or as one Twitter user puts it, "an iced ginger-lime drink on a hot day." But Tems' voice feels more like a color than any drink; perhaps one that lies somewhere in between orange and brown—a palette that casts a sense of warmth, strength, and calmness. The singer employed the same tones for the artwork of her first two EPs, For Broken Ears and the newly released If Orange Was a Place. "It feels like a sunset or sunrise," she tells me of the color choice. "The warmth, the heat just before it goes down, where it feels the warmest sun on your skin. That's what [the colors] remind me of."
When I meet Tems at a Brooklyn hotel on a rather breezy September day, she's not feeling very brown or orange. Today, she feels like dark purple. "It just means I'm in hibernation. I'm trying to conserve my energy," she says, constantly apologizing between yawns. Her tiredness can be attributed to the sold-out SOB's show she performed just two days prior with fans packed from wall to wall belting out every line in her repertoire.
"The show was crazy, it was so incredible. I was speechless. It's such an emotional experience, but I'm really happy," she gushes. "This moment confirmed that everything is really on a whole different level, and it's time to adjust to this new level that I'm on. This is just the beginning and I can't disguise myself anymore."
It's hard to disguise the industry's newest wild card. In case you lived under a rock for a greater portion of 2021, two Nigerians claimed song of the year with "Essence," a bright, slinky downtempo tune Tems joined Wizkid on from his LP Made in Lagos. The track became increasingly hard to escape during the warmer months and was later punctuated by an assist from Justin Bieber to move the needle further on its global domination on charts. Tems' voice took the starring role on the track, which started off as a freestyle that she quickly moved on from after completion. "I didn't even know that 'Essence' would be a hit," she says. "It was just one of those things where I was like, Yeah, it's a nice song. Maybe I should do something more. I'm never satisfied. I wanted to write the piece some more. I wanted to bring up my emotions more."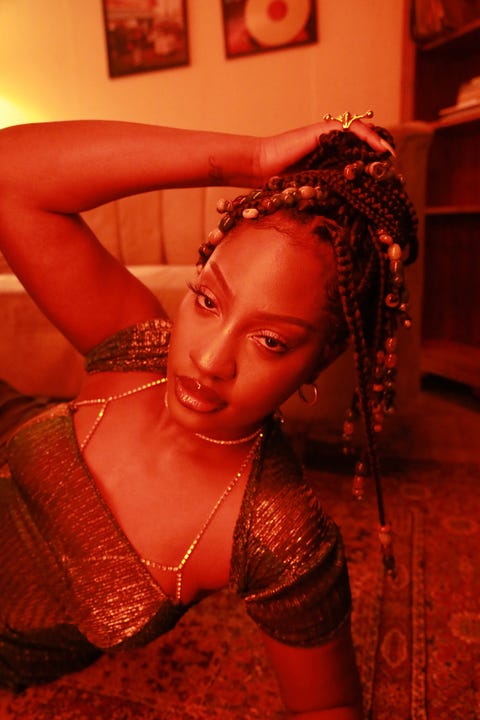 Roderick Ejuetami (@deeds_art)
If Tems' repertoire proves anything about the 26-year-old singer, it's that she couldn't stop herself from expressing the winding journey of heartbreak, the intoxicating ease of a new romance, life's ebbs and flows, and navigating success even if she tried to. (Even before she started jotting down songs in her iPhone notes app, she began expressing her emotions in the form of poems.)Listening to Tems feels almost too intrusive, as if we've somehow managed to gain an all-access pass to her innermost thoughts. "I have to make music because if I don't make music, I will die," she says. She recants her statement for being too dramatic but thenemphasizes the same point. "I wouldn't die, but I am going to be so depressed, because I'm keeping so many emotions bottled up, and I can't release them. I need to express myself. If I'm not able to say how I really feel," she pauses again. "I can't."
Born Témìládè Openiyi, the singer was destined to carve a lane of her own from birth after her mother went against Nigerian tradition by naming her daughter herself. "This is a girl, her name is Témìládè / Don't forget the name I told you and she's a special baby," her mother says on "Témiladè Interlude" on For Broken Ears, a conversation Tems sneakily recorded of her mom explaining the origin of her name. "I asked her one day, 'Why did you call me Temi,' which means 'the crown is mine'? The truth is, back in the day in Nigeria, your mom can't give you your name," she explains. "Your father can name you, that would be your second name. Your grandfather would give you your first name, or your grandmother, but your mother actually does not name you. My mom didn't name my brother, but for me, she made it very clear that it was meant to be my name. And she fought to give me that name."
Tems grew up in a small family with just her mother and brother following her parents' divorce and recalls listening to an eclectic mix of artists that included Aaliyah, Lil Wayne, Destiny's Child, Christina Aguilera, Adele, and Frank Ocean. "[My music taste] has so much variety, so in terms of my musical ability and capacity, there's a lot of variety," she says. Openiyi didn't have a lot of friends to talk to at school, so she'd coo whatever melody came to her mind, often yielding "shut up"s from her peers, "but I couldn't help it. I loved to sing," she remembers fondly. She spent her free time in the music room, channeling all her energy into art with the help of her high school music teacher who was "maybe one of the first people to tell me I actually have a voice." She didn't initially believe him but loved singing so much she wrote her first official song at 17. "It was something about a Sunday morning or something and I wrote it based on the music that was out there at the time, because I felt like the songs I've been writing since, I've still not heard it from anyone," she says.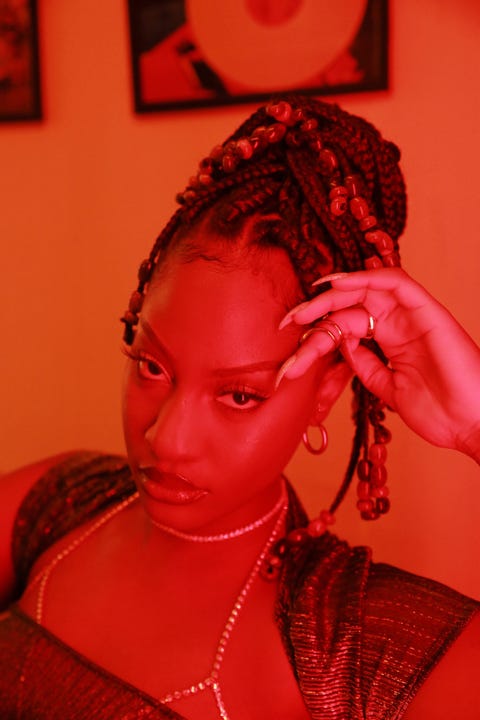 Roderick Ejuetami (@deeds_art)
The ills plaguing Nigeria and life on the outskirts of school cliques began to weigh on her. Her native country was dear to her heart, a place she describes as "flavorful" but forced her to constantly be in survival mode from a young age. Translating her diary entries to songs was a momentary respite from her daily woes. "Life is real, and the struggle is all around you, and living there teaches you to find peace in chaos," she explains. Once you find that peace, you really can't go back. I don't know how to not be at peace anymore."
Loosies "Mr. Rebel" and "Try Me" broke through Nigeria's "alté" scene—a sub-genre characterized by its fusion of R&B, dancehall, and rap that turns traditional African sounds on its head—in 2018-2019. The celebrity co-signs started rolling in, from Wizkid to Drake to Adele. Long before the "Essence" fame, it was Adele who put Drake onto Nigeria's newest star. "When I met her she knew everything and that freaked me out. I was like, Girl, I'm the one that has been listening to you, not the other way around. I'm the fan here," she remembers, gushing over the encounter.
This content is imported from YouTube. You may be able to find the same content in another format, or you may be able to find more information, at their web site.
For Broken Ears, Tems' debut EP, came next and was the catharsis that brought her a new sense of peace. But first, she had old wounds to tend to. "[Recording For Broken Ears] was a time of craziness, pain, struggles, and the fight to overcome all of the darkness, and leaving it behind," she says. The singer documents her journey of self-love and self-discovery over the seven tracks, starting with opener "Interference," an invitation to a "place with no shame" and "a mind with no frame" over a sparse melody that puts Tems' affecting vocals front and center. She has the ability to stretch her voice to tantalizing highs and weighty lows, reminiscent of no one in particular. Tems is in a league of her own. Underneath the veneer of the breezy, hypnotic bounce of "Free Mind"—the song that "goes the deepest"—finds a disoriented Tems as she gracefully sings, "I try to be fine but I can't be / The noise in my mind wouldn't leave me," and grapples with the angst of grind culture and struggles to quiet the negative voices in her mind. Healing is always the mission when she steps into the booth, be it her heart or the listener's, which is why she settled on the name For Broken Ears.
"I'm talking about people who don't go to music, or who haven't heard music that heals. I'm talking to people who need to heal, but don't know how to do it," she says. The EP ends mid-story, with Tems boldly asserting, "I've been the one, don't have to say it" on closer "The Key."
I'm here because somebody brought me here, and I'm going to do my thing until the day I die.
"It's about self-awareness. I don't need to tell you who I am because it doesn't even matter if you know who I am or not; I know who I am. There's nothing you can do to change my destiny, nothing you can do to change anything. I'm here because somebody brought me here, and I'm going to do my thing until the day I die," she further explains.
But a two-day stint at a Ugandan jail wasn't supposed to be a part of the peaks and valleys of success. Last December, Tems was arrested—along with fellow musician Omah Lay— for violating the country's COVID protocols. Her time in prison offered clarity. "It showed me what love really means, what love really looks like. And love is not a feeling, it's not an action, it's a way of life. It's a state of being," she says. "There was no reason to be sad. Yes, sitting there in prison I wasn't sad. You see things for what they really are, and you meet the most incredible people. I was there for a reason."
On If Orange Was a Place, she returns to her happy place: sunsets.
Her favorite place to watch the sunset is Ghana. "Ghana is like my second home. It's just beautiful. It's the one. It's just peaceful. Ghana and Nigeria they're very similar but the difference is the energy. Nigeria is in survival mode, Ghana is in rest," she says. Tems appears freer, warmer, and confident on If Orange Was a Place. "[The EP] is a sequel; I fought a battle of my mind in For Broken Ears. Then I overcame it, and I'm at rest. And my rest is in a place called Orange," she explains of the title.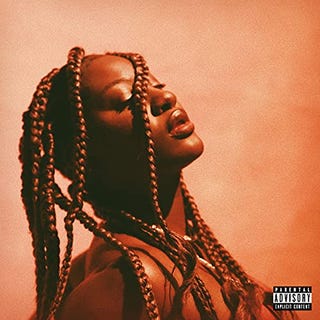 Spanning five tracks and boasting just one feature from Brent Faiyaz, Tems is ready to have fun again. The EP is awash in a lighter orange hue, opening with "Crazy Tings," a rhythmic groove produced in Ghana that finds Tems joyfully dancing in celebration of all the great things happening in her life. Brent Faiyaz joins Tems on "Found" about the push and pull of romance. By the time we reach "Replay," a sticky upbeat Afrobeat track, Tems is talking her shit—and rightfully so. "I'ma shut 'em all down one of these days / It's my time so put me on a replay," she sings, a slick reminder to her detractors that she's not letting up anytime soon. She was already featured on "Fountains" from Drake's latest album Certified Lover Boy and met Rihanna weeks later in September.
"I'm on a journey, and it started before anyone knew about me. You may not see it now, but whether you like it or not, what I'm doing is important, and I'm going to finish it," she adds. The gorgeous five-track record sets the stage for the 26-year-old's debut album that will materialize sometime next year. Right now, ​​heartbreak is a thing of the past. "We're not going through the pain anymore. This is a lighter feel. It's more the dawn of a new life."
Nerisha Penrose Beauty Commerce Editor Nerisha is the beauty commerce editor at ELLE.com, covering all things beauty (and fashion and music).
This content is created and maintained by a third party, and imported onto this page to help users provide their email addresses. You may be able to find more information about this and similar content at piano.io