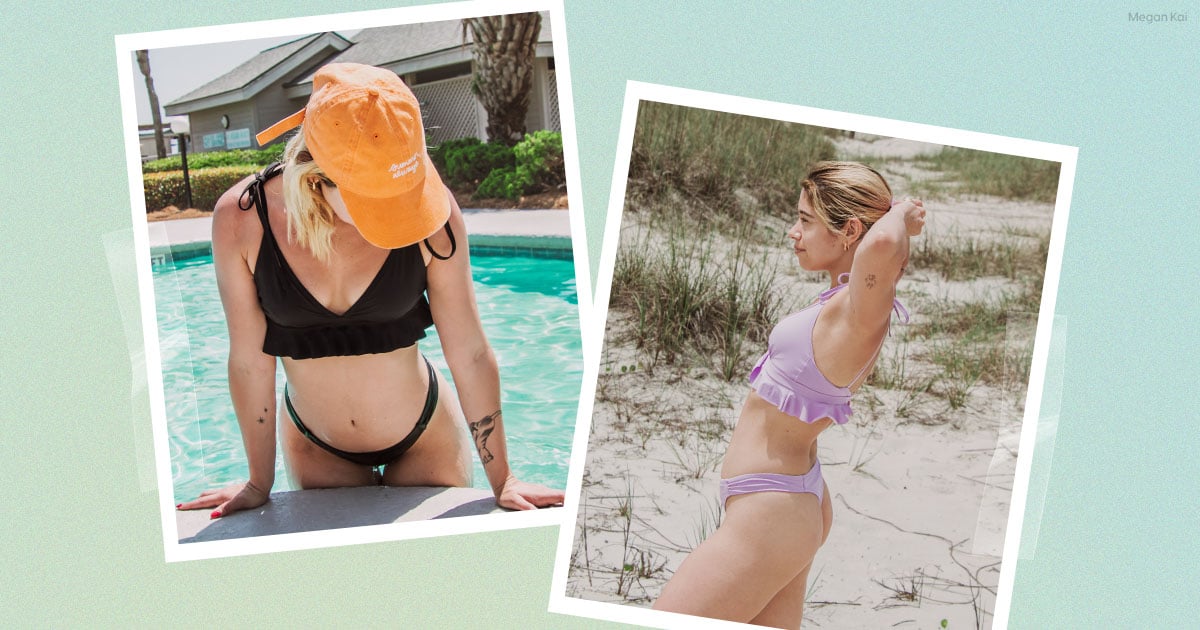 My sister and I have been receiving Hanky Panky's signature lace thong as a stocking stuffer since I was in middle school. Every year, without fail, we can trust to find the underwear in its rolled-up packaging and brand-new colorways — which makes sense, seeing as the company has 500 shades and 270 prints in its archives. Usually, we establish a trade before opening up the rest of the presents under the tree, shaking our heads in dismay that Santa has not yet learned our favorite colors. The one-size-fits-most (sizes 4-14) Original Rise Thong was born in 1986 and boasts 30 yards of thread, making it — according to many shoppers — the stretchiest, most comfortable thong on the market. It's also really stinking cute and looks great on, bestowing me with more confidence than any other pair of panties I've ever tried.
So, how has it taken this long for Hanky Panky to launch swimwear? It feels entirely natural that the beloved brand, shoppable in over 70 countries and 2,500 stores worldwide, would extend its expertise to the swim category. After all, if any label could launch the perfect bikini bottom, mastering proportions with a feel-good V-front and V-back waistband, it's Hanky Panky. And even though I've only recently begun experimenting with the thongkini, I knew I wanted to try out my favorite thong in swimsuit form — all to see if it could live up to the hype.
If any label could launch the perfect bikini bottom, mastering proportions with a feel-good V-front and V-back waistband, it's Hanky Panky.
While Hanky Panky's debut swim collection is comprised of six pieces total — including two one-pieces, a frilly bikini top, and three bikini bottoms that vary in coverage — I selected the cheekiest look of them all, opting for a standard black set and the same one in lavender, this one replete with a matching scrunchie made from leftover swim fabric (which is part of the brand's sustainability initiative). I wore the suits on a weekend beach trip two days in a row, just to be sure that what I was feeling was true (and it wasn't just my margarita putting me at ease). And lo and behold, this really was the most comfortable thongkini I had ever worn. It does, in fact, feel very similar to the fit of a classic Hanky Panky lace thong, even though it's made from an entirely different fabric. The high-quality, nontransparent material allows the wearer to personally tailor their look, thanks to ruching at the sides that offers stretch. I tried bringing the straps up to my waistline, but also experimented with the bottom sitting lower and framing my hips.
I'm not the biggest fan of a bikini top with ruffles, and this one is inspired by garden parties and summer meadows to evoke a sense of gentle romance, so I employed a sporty twist with the addition of a baseball cap. The ties at the shoulders also felt a little too delicate for my usual taste, but it's worth mentioning that they stayed fastened, and the plunging bralette stayed in place all day long. I didn't even think about the possibility of a wardrobe malfunction, which is something that does typically cross my mind — especially in a somewhat revealing silhouette.
Another bonus is that Hanky Panky's swimwear, which is available in sizes XS-XL and ranges in price from $64-$125, also features Solar Guard 50+ to absorb UVB rays, plus Dura Color to protect against fading. So, if you end up loving your swimsuit as much as you do those trusty thongs, you can be sure of its longevity. While the initial collection is available now at HankyPanky.com, additional patterns are being added later in the season, and something tells me if you decide to invest in one now, you'll be checking back.
Ultimately, my biggest disappointment is only that the swimsuits are not delivered in the same classic rolled packaging as the underwear — because there's nothing as magical as playing "collect them all" with everyone's favorite lace thong. But if there's any brand that can make me overlook a little superficial detail like that in the name of ridiculously comfortable swimwear, I shouldn't be surprised that it's Hanky Panky.
Ahead, see how I styled the Hanky Panky bikini two different ways.