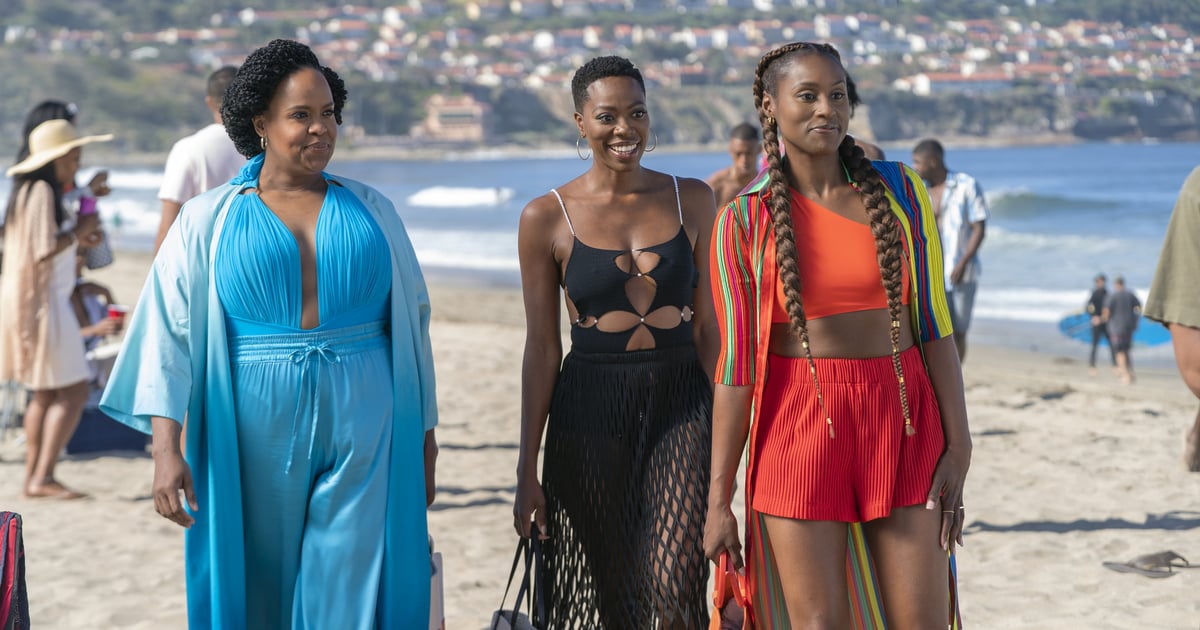 There are few occasions one might wear a pearl thong — and it's certainly not doing any kind of cardio, if you ask Samantha Jones, or on a beach set for the span of a five-day shoot, if you ask Yvonne Orji. The actress, who plays the ever on-trend Molly Carter on Insecure, had a memorable few days shooting episode four, styled in a cutout black one-piece by the show's costume designer, Shiona Turini. "The look that Shiona and I probably fought on the most is [the one from] the beach scene," Yvonne told POPSUGAR. "Shiona is definitely one person, when she gets a vision, she's like, 'Allow me to do my job, I do it well.' She has something in her mind so when we, as her muses, if we ever have a question or we're not sure, she's just like, 'Trust me, like you have, you have to go with it. I see it, I know it, I promise you, it's going to be a moment.' And you know, we always fight her, and then of course, when the fans are like, 'Oh my God, this is amazing,' she's like, 'I told you.'" Yvonne elaborated when we spoke on the phone ahead of the episode.
The collaboration between Shiona and the cast has produced some major fashion moments — Telfar, new Bottega, Isabel Marant, and Monse are just a handful of the designer labels you'll catch Molly, Issa, Tiffany, and Kelli wearing throughout the series. And in the show's fifth and final season, the fashion deserves as much hype as the will-it-be-Nathan-or-Lawrence relationship drama. With Yvonne on the phone, our conversation quickly turned to the style behind the scenes; what happens when Shiona "gets a vision"; and the looks she'd like to steal from set (hint: it's not the pearl thong!).
POPSUGAR: What costume pushed you out of your comfort zone the most?
Yvonne Orji: I know [episode four] is coming up, [and] I had on a pearl thong bathing suit and it's like, you're at the beach, there's a pearl situation, they can't break, they're taped on the side, and I'm like . . . how am I going to go to the bathroom? The crazy part is that it would've been fine for a day, but that episode was shot over like five, six days. Shiona was like, "It's going to be a moment. You're going to look amazing." And I'm like, but I can't use the bathroom. It's so beautiful, and you know she is right, it looks gorgeous, but it's like, Shiona, are there no other bathing suit options? "No, this is a moment, Molly's trying to catch, this goes with her character. She has to look hot." Like, OK.