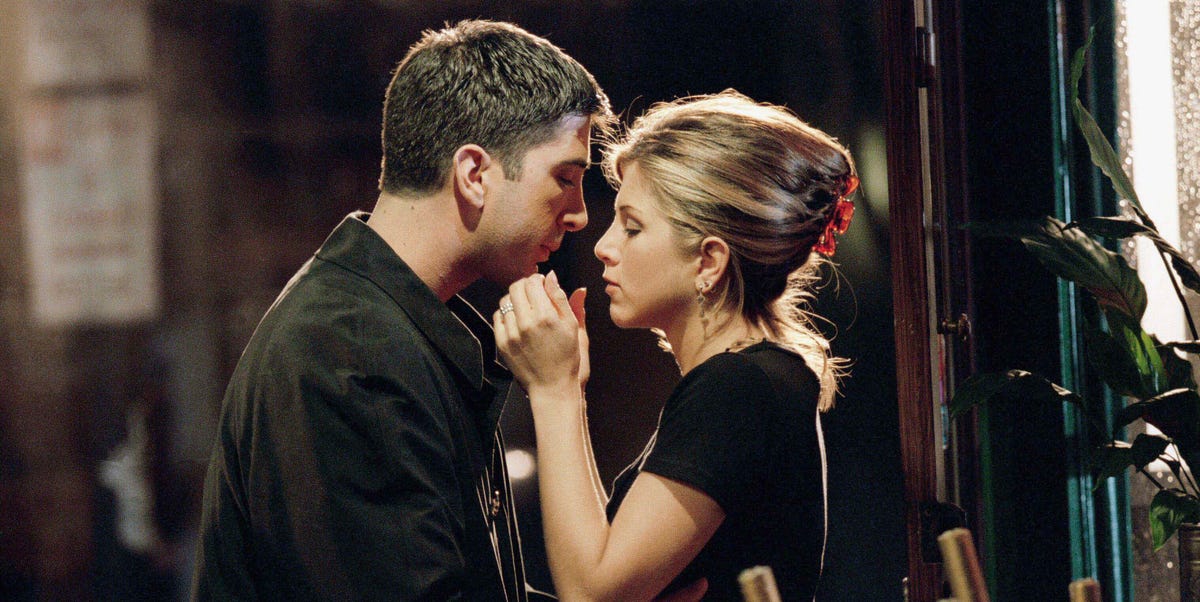 Jennifer Aniston talked more about her Friends-era crush on co-star David Schwimmer while making an appearance on Live with Kelly and Ryan in March. She and Schwimmer have talked about how they used to have feelings for one another, but the timing never worked out and they're now just old buds.
When hosts Kelly Ripa and Ryan Seacrest wondered how they dealt with their feelings at the time, Aniston answered, "We just let it play out on TV."
Seacrest then asked about the TV couple's first kiss, wondering if it was caught on camera.
"Yes," she replied, adding that "it was quite enjoyable actually" when Kelly Ripa wanted to know if it was "weird."
This content is imported from youTube. You may be able to find the same content in another format, or you may be able to find more information, at their web site.
Later in the interview, Aniston talked about the Friends reunion, explaining how it was far more overwhelming than she anticipated.
"It was a sucker punch," she said. "No one really expected what we were gonna feel. Because in your mind you're like, Ooh, time travel! That sounds really cool! And then you're there and you're like, Oh, that's really intense — because so much has happened since."
The actress had said basically the same thing on the Literally! With Rob Lowe podcast.
"In your mind, you think, 'Oh, this will be really fun to time travel,'" she said to Lowe. "It turns out… it's kind of hard to time travel."
She added, "All of a sudden, here you are, and, you know, 16 years… a lot has gone on for each of us… Sixteen years ago, we were all sort of wide-eyed, bushy-tailed, and sort of had our whole lives ahead of us, even though we were heartbroken to say goodbye to these 10 years and… the job we all loved to do…It's nostalgic in a way that's kind of also a little melancholy, you know, 'cause a lot has changed. We have all gone down different roads…Some easy and some not-so easy, for each of us."

Aimée Lutkin is the weekend editor at ELLE.com. Her writing has appeared in Jezebel, Glamour, Marie Claire and more. Her first book, The Lonely Hunter, will be released by Dial Press in February 2022.