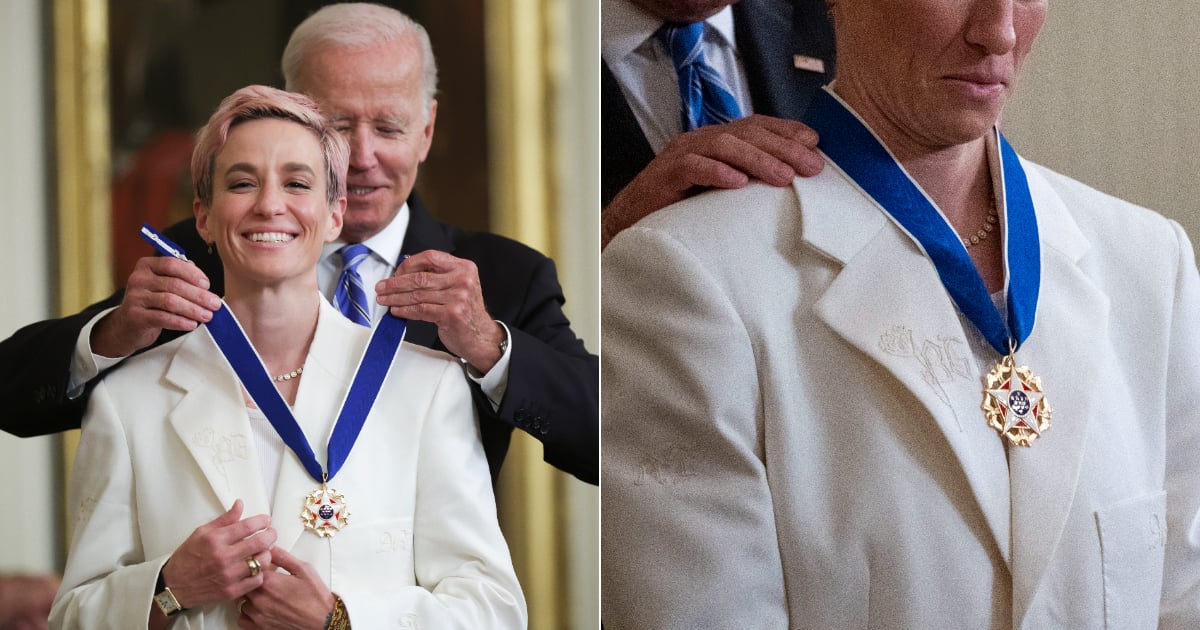 On Thursday, July 7, US women's national soccer player, World Cup champion, and Olympic gold medalist Megan Rapinoe was honored with the Presidential Medal of Freedom by President Joe Biden at the White House. Rapinoe was among 16 other recipients, including Simone Biles, and was recognized for her advocacy on behalf of her fellow LGBTQ+ Americans as well as for her successful fight for equal pay.
The 37-year-old leader worked with celebrity stylist Karla Welch to source a special pantsuit for the occasion, courtesy of the luxury workwear brand Bode New York. Fittingly, Creative Director Emily Adams Bode Aujla was the first woman designer to show at New York Fashion Week: Men's. Rapinoe and Welch collaborated with the Bode team on incorporating delicate hand embroideries to honor causes and organizations that Rapinoe supports. The suit also featured a tribute to professional basketball player Brittney Griner — her initials were stitched alongside a flower on the right lapel of the ivory satin jacket. Griner is currently detained in Russia pending her criminal trial for carrying vape cartridges with cannabis oil while traveling in the country. Rapinoe spotlighted the honorary monogram on her Instagram Stories, sharing a close-up of the hand-sewn detail with the text, "the most important part of today BG We Love You."
Rapinoe finished her all-white outfit — likely a color nod to the women's suffrage movement — with a diamond choker necklace, a pendant earring, a timepiece, gold chainlink bracelets, and rings. A pair of Bode's signature black leather house shoes — with cow and sun ornaments on the top — completed the monochromatic ensemble. Keep reading for more images of Rapinoe accepting the nation's highest civilian honor and her symbolic outfit.