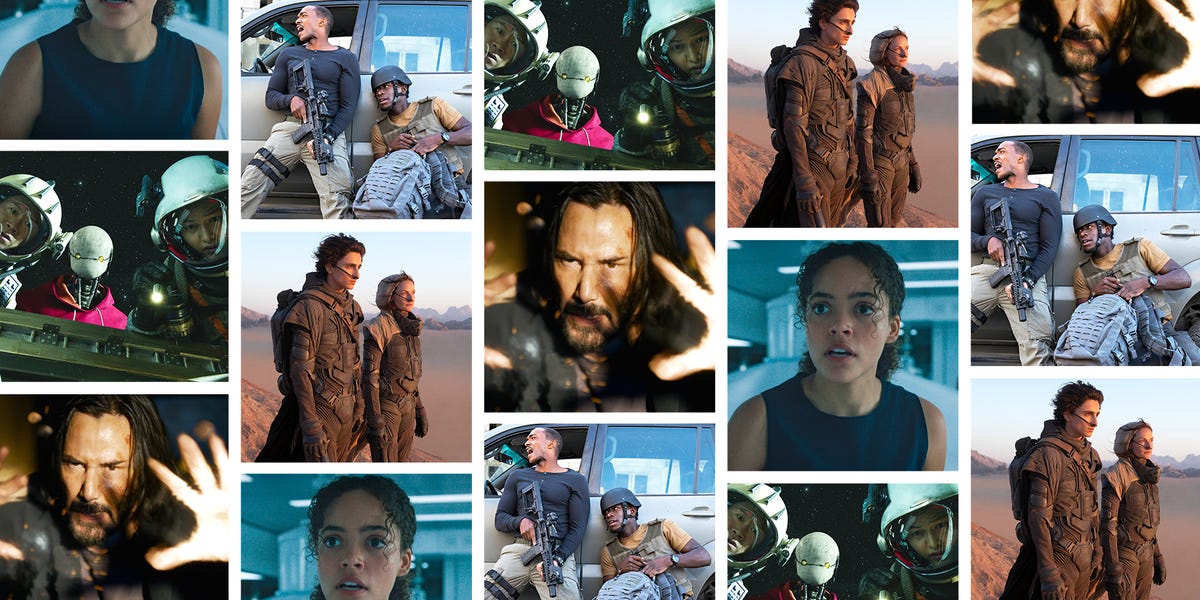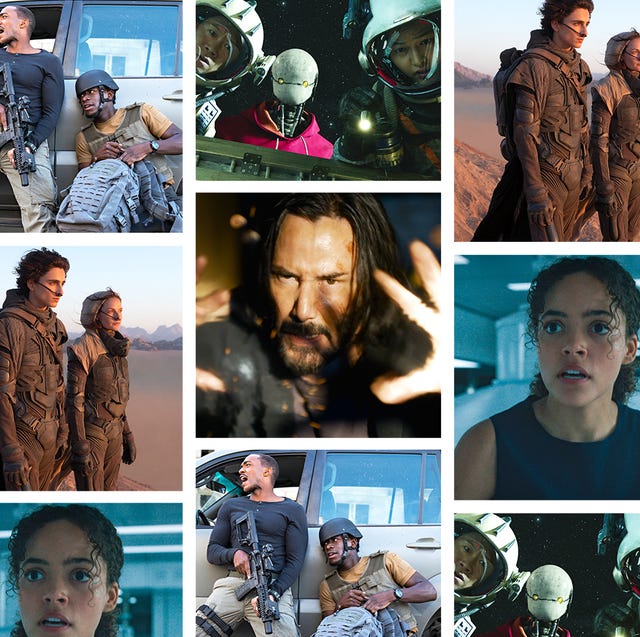 Netflix / Warner Bros. / Prime Video
Science fiction has the power to blow, bend, and boggle the strongest of minds. If movies exist to immerse us in a world different than our own, science fiction exists to push the boundaries of our imagination by possibilities for what the future of our planet may hold, for better or for worse.
2021 has taught us a lot about facing realities beyond what we imagined was possible. This year, we have collectively faced an unpredictable (and ongoing) global pandemic, the imminent threat of climate change, and billionaires like Jeff Bezos taking joy rides around the Earth on private spaceships. As the year continues to unfold, it seems that our reality is looking more and more like science fiction each day.
Perhaps this is the very reason why 2021 has brought a plethora of new science fiction movies that you can stream right now. From AI soldiers, to growing a colony on Mars, to fighting a war between the dimensions of time, here are the best sci-fi movies of 2021.
Advertisement – Continue Reading Below
1 Outside the Wire
You may have heard rumors that artificial intelligence will soon take over jobs traditionally performed by humans. Outside the Wire asks, can one of these jobs be that of a soldier? The movie takes place in the year 2036, when a war-torn battlefield is populated with humans and robots both out for blood. Robot soldiers are physically indistinguishable from the human ones—except they are several generations more advanced. When a top-secret android officer, played by Anthony Mackie, is paired with a human drone pilot sent into a war zone, the two go on a mission to stop a nuclear attack from causing mass destruction. Featuring a diverse cast, this sci-fi movie is packed with action that will leave you on the edge of your seat, out of breath (even if you haven't left your sofa), and thankful that your enemies aren't secretly androids…or are they?
2 Dune
With a star-studded cast including Timothée Chalamet, Zendaya, and Rebecca Ferguson, Denis Villeneuve's Dune is a modern adaptation of the science fiction novel written by Frank Herbert in 1965. Chalamet stars as Paul Atreides, an heir to a family of nobles who were entrusted to protect the most valuable element in all of the galaxies. Zendaya is Chani, a fighter in the Fremen tribe who appears in Paul's dreams. When Paul is selected to lead not only the planet but the entire galaxy into a new era, an epic tale of enchantment, betrayal, and war ensues. Dune was originally scheduled to be released in 2020, but like most plans made that year, its release was postponed due to the pandemic. Dune is now set to launch in theaters and online on Oct. 22, 2021. This epic sci-fi fantasy shines a light on the importance of adapting in the face of constant change, and may just inspire us to adapt for the better to Earth's changing environment.
WATCH ON HBO MAX STARTING OCT. 22
3 The Matrix Resurrections
Yes, you read that right: The movie that transformed the landscape of sci-fi forever is getting a fourth installment in December. Directed by the talented Lana Wachowski, who also directed the other movies in the franchise with sister Lilly, this new chapter is sure to be bursting with the mind-bending, philosophy-twisting, and bullet-dodging action that made us fall in love with The Matrix in the first place. The Matrix 4 once again stars the charming Keanu Reaves and Carrie-Anne Moss as the iconic Neo and Trinity. While it seemed Neo died at the end of the third movie, The Matrix Revolutions (2003), his return should come as no surprise; countless fan theories predicted that he only died inside the Matrix and is still alive on real Earth. But now, he finds himself back inside the matrix again.
Watch on HBO Max starting Dec. 22
4 Space Sweepers
Space Sweepers is South Korea's very first sci-fi blockbuster. Set in the year 2092, the verdant forests and blue oceans that once characterized planet Earth are burnt, barren wastelands that render the planet virtually uninhabitable. In fact, the wealthy have long left the dying planet behind to settle on a new Utopian paradise, a planet called "Eden."
However, the movie focuses on the less fortunate class, who are unable to afford life in this new world. Meet the Space Sweepers, a team that makes its living floating through space collecting the scraps that the wealthy utopians leave behind. Their compromised existence changes when they find a child onboard their run-down spacecraft. This child turns out to be an android supposedly carrying a nuclear weapon. Initially, the Space Sweepers plan to sell the robot for enough money to buy themselves out of poverty, but this is where the film takes a heart-warming turn.This foreign language film exhibits a diverse cast who speak a range of languages from Korean to Arabic.
5 Lapsis
Set in a world that closely resembles our own, Lapsis offers a satirical take on the future of the gig economy without depending heavily on special effects or big budgets to make an impact. The film follows protagonist Ray, an average guy struggling to make ends meet. He has no wife or children but does take care of his brother, who was recently diagnosed with a mysterious fatigue syndrome called Omnia. To pay for his brother's medical expenses, Ray takes up a job as a cabler (someone who manually wires the society's quantum computing network, which has become all the rage) to make some extra cash. After competing with cabling robots and getting yelled at through an AI-powered tracking machine, he finally meets a fellow cabler on his wiring route, whose strong views about their industry put him on the fast track to political awakening. With few CGI effects, Lapsis has a refreshing ambiance that proves less can be more even when it comes to sci-fi.
6 Little Fish
At the intersection of sci-fi, horror, and romantic comedy is Little Fish, a story about a couple living at a time where a virus that causes memory loss sweeps over the entire world and takes precious memories with it. This story is especially poignant in 2021, as we grapple with the challenge of controlling a virus that has changed life as we know it. The memory-loss-inducing disease in Little Fish is much different than the one we are currently fighting, but the impact is eerily familiar. Day-to-day life is filled with people wearing surgical masks and hospital rooms with no vacancy. In the midst of this madness, a love story blossoms. Emma, played by Olivia Cooke, and Jude, played by Jack O'Connell, meet on a desolate beach and quickly become entangled. Eventually, the memory loss disease chooses Jude as its next victim. Emma has to watch the person she loves forget their first date, their first kiss, and potentially even her. Through a realistic horror story set in a not-too-distant future, Little Fish leaves a lasting impression about the importance of our memories with the people we love, which has the power to connect us with a part of ourselves that cannot be broken.
7 Voyagers
From the director of Limitless comes a drama that hauntingly depicts a fate we could realistically face in 2063: Climate change has completely ravaged Earth, leaving its surface suffering from drought, fire, and famine. Voyagers is yet another sci-fi movie that warns us of a future where our world has become uninhabitable to the human race. In Voyagers, another planet has been discovered that humans can safely call home. The only catch is that it takes 83 years to get there. The plan? Astronauts will board the spaceship en route to this new planet, procreate on the ship, and their grandchildren will reach and inhabit the new world. This movie focuses on the second generation of astronauts. These children were born on the spaceship, but will likely die before they reach their destination. They are of Earth but have never lived there, and they are likely to live their entire lives on the ship. Through a part-soapy, part-cerebral film, Voyagers tackles hard questions like what it means to live for a future you will never experience.
8 Come True
At the intersection of sci-fi and horror is the film Come True. Told through a suspenseful trance-like slow burn, this story features an 18-year-old girl whose recurring nightmares lead her to enroll in a sleep study. After strapping wires onto her scalp to read her brainwaves, she nods off and falls into the dark and creepy underworld of her subconscious. As a viewer, it is as if you are stuck between the dimensions of being awake and being in a nightmare. As the sleep study continues, it becomes clear that this procedure is not what she signed up for. The scientists become cagey and the line between nightmare and reality is blurred. Unfolding in a world with an all-gray color palette and tones of melancholy, this film will change the way you think of "sweet dreams" forever.
9 Reminiscence
From the creator of Westworld comes Reminiscence, a film that depicts yet another future reality where climate change has made life on Earth virtually unrecognizable. In this not-too-distant scenario, the skyscrapers that once characterized downtown Miami are all submerged in water, creating a partially underwater city thanks to global warming. In fact, the Earth is so hot that humans have adapted to become nocturnal just to avoid the scorching heat that blazes during the day. In Reminiscence, Hugh Jackman stars as Nick Bannister, a man who works at a technology facility that uses cerebrum simulation to allow people to experience past memories, hence the film's title. He falls madly in love with Mae (Rebecca Furguson), a recurring patient at this institution, until she mysteriously vanishes. Desperate to find the reason for her disappearance, Nick begins dangerously using the cerebrum simulation technology to revisit past memories with Mae and find out what happened to her. In this frenzy, Nick comes across Mae's darkest secrets, and wonders if he ever really knew the person he called his lover. Directed by the talented Lisa Joy, Reminiscence sits at the intersection of murder-mystery, romance, and dystopian horror, and transports us into a future reality we hopefully will never have to experience.
10 Stowaway
Netflix's Stowaway features a group of scientists on a mission to Mars. Their goal: to create a new colony on the rocky red planet. Luckily, this well-curated team composed of Anna Kendrick, Toni Collette, and Daniel Dae Kim have all the equipment and expertise to do just that. That is until they find the launch support engineer's body dangling unconscious between two modules of their spacecraft. The team nurses the stowaway back to life, but having an extra person aboard their two-year trip to Mars throws a massive monkey wrench into their mission. With another mouth to feed and limited supplies, keeping the stowaway alive might just mean that all of them might die before they even reach Mars. The team spirals into a tug-of-war between morality and logic: the original crew must decide whether to take the stowaway's life or risk their own. The stowaway whose life is in question happens to be the only Black character in the film. In a time such as ours when Black bodies are wrongfully seen as having less value than others, the racial implications of a non-Black crew weighing the value of a Black man's life against their own is an aspect of this story that ought to be addressed. This mission to Mars gone wrong is sure to have you question the morals of the society we live in, the planet we live on, and most importantly, your own.
11 The Tomorrow War
The Tomorrow War begins when a normal day is interrupted by an army of soldiers from the future who sound a warning that in 30 years humanity will be losing a war against an alien species. Although the battle takes place in the year 2051, young people from 2021 go into the future to help fight the invasion. The Tomorrow War is an action-packed adventure that will leave you grappling with what it means to live in the present when the future is not guaranteed, the reality of living on borrowed time, and whether a real-life alien war might be on the horizon in the next three decades. The film brings to light that it is our children and grandchildren who may be suffering the gravest consequences from our action or lack of action in the present. It brings into question how much should be risked in order to save people who do not yet exist, whether it's protecting the next generation from aliens, climate change, or other unforeseeable catastrophes. The Tomorrow War travels between the dimensions of time to deliver a relevant and entertaining story.
This content is created and maintained by a third party, and imported onto this page to help users provide their email addresses. You may be able to find more information about this and similar content at piano.io
Advertisement – Continue Reading Below