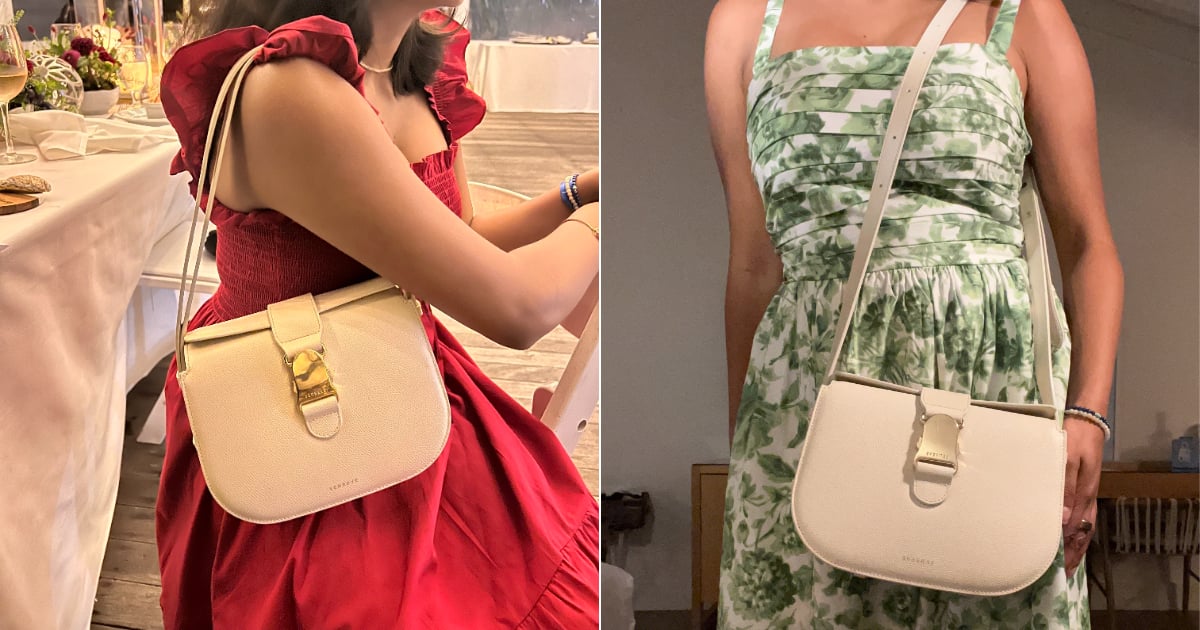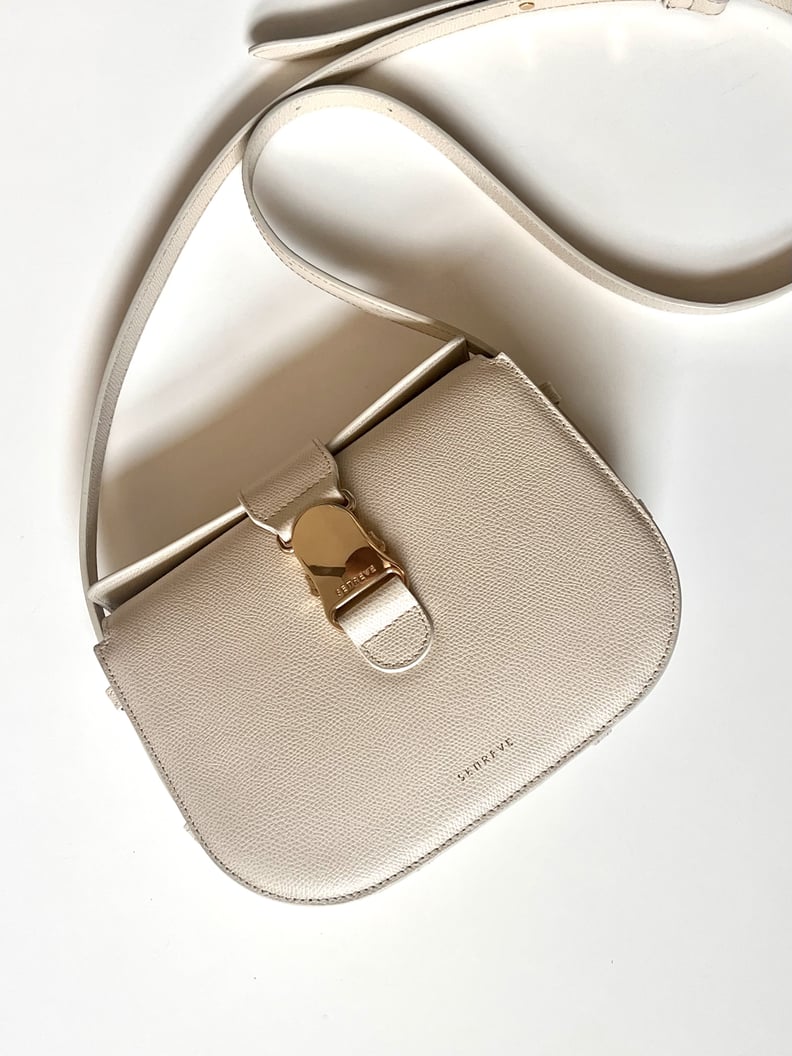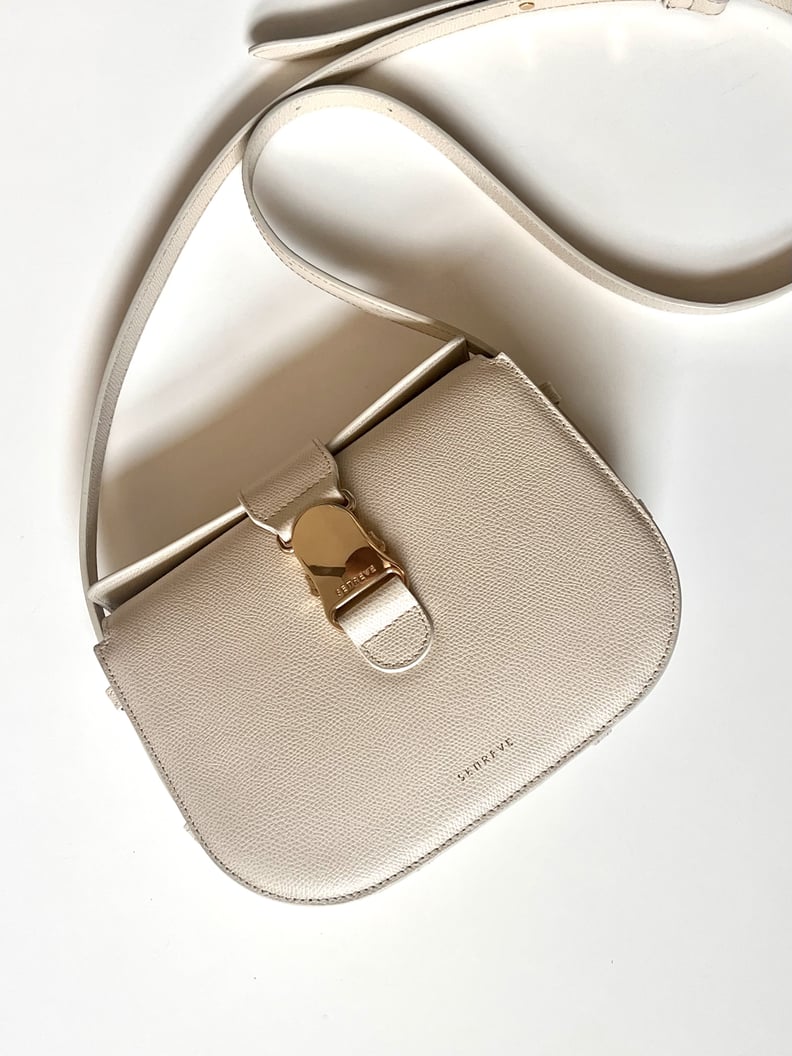 POPSUGAR Photography | Anvita ReddyPOPSUGAR Photography | Anvita Reddy
As POPSUGAR editors, we independently select and write about stuff we love and think you'll like too. If you buy a product we have recommended, we may receive affiliate commission, which in turn supports our work.
After constantly rewatching Sophia Richie Grainge 's TikTok page, my feed has been flooded with quiet luxury fashion inspiration, and I'm officially engrossed in LuxuryTok. Although I enjoy watching luxury bloggers review the most coveted handbags (yes, specifically the Hermes Birkin journey), I've noticed a niche intersection of quiet luxury meets midrange designer bags that exude contemporary and innovative design and European craftsmanship.
One brand I've been seeing all over my social feeds, and on the streets of NYC is Senreve, specifically the effortless and elevated Cadence Crossbody ($695). As someone who almost exclusively wears crossbody bags, I was immediately drawn to it, but what really piqued my interest is how it can convert into a shoulder bag. After seeing the rave reviews on the quality and versatility of Senreve's Cadence Crossbody, I had to try it out for myself, and I chose to go with the pebbled genuine leather in cream.
What I Like About the Senreve Cadence Crossbody: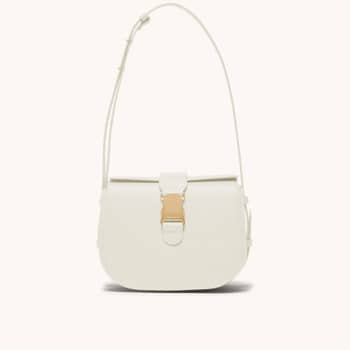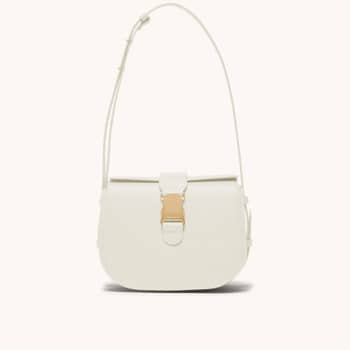 The moment I started wearing the Cadence Crossbody out and about, it's been the one thing everyone's been noticing — even chopping off my long hair and getting a lob couldn't take the attention away from this bag. From its rounded, sleek silhouette to its spacious interior, this handbag has been garnering plenty of compliments. What stood out to me is its craftsmanship that's timeless and durable while maintaining its elegance and clean-lined look. The materials used are durable, scratch, stain, and water-resistant, and the hardware is 14k plated gold. You can tell that it was a thoughtfully designed piece that merges practicality with style.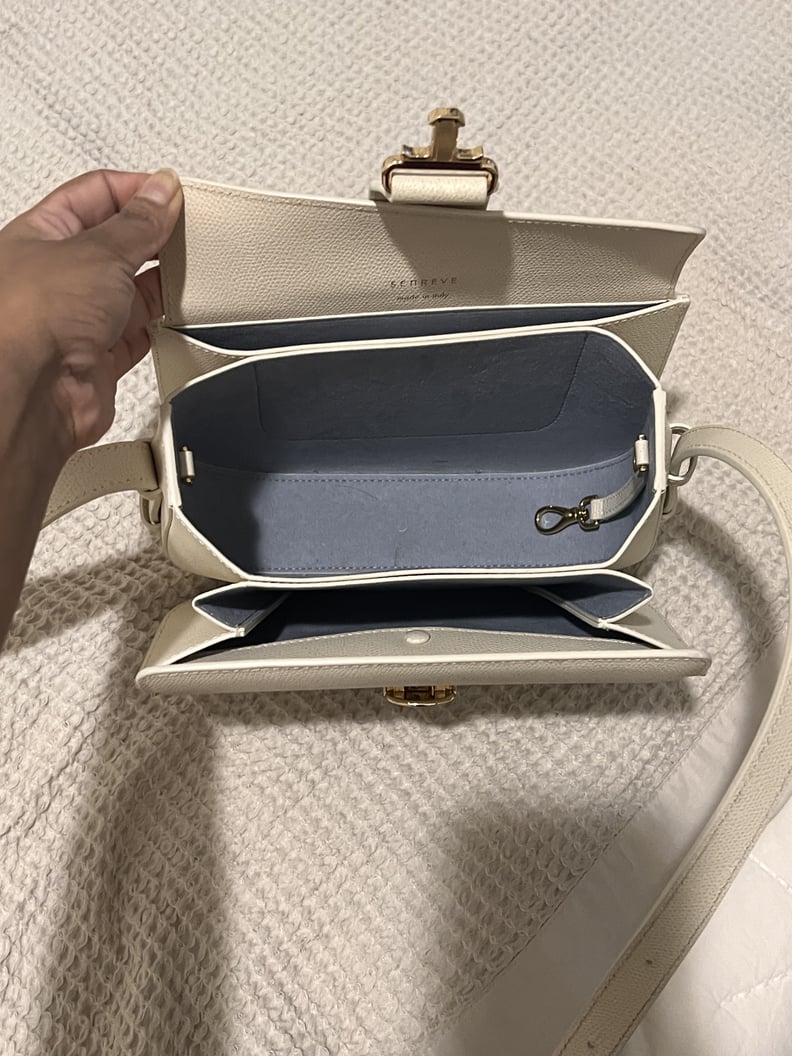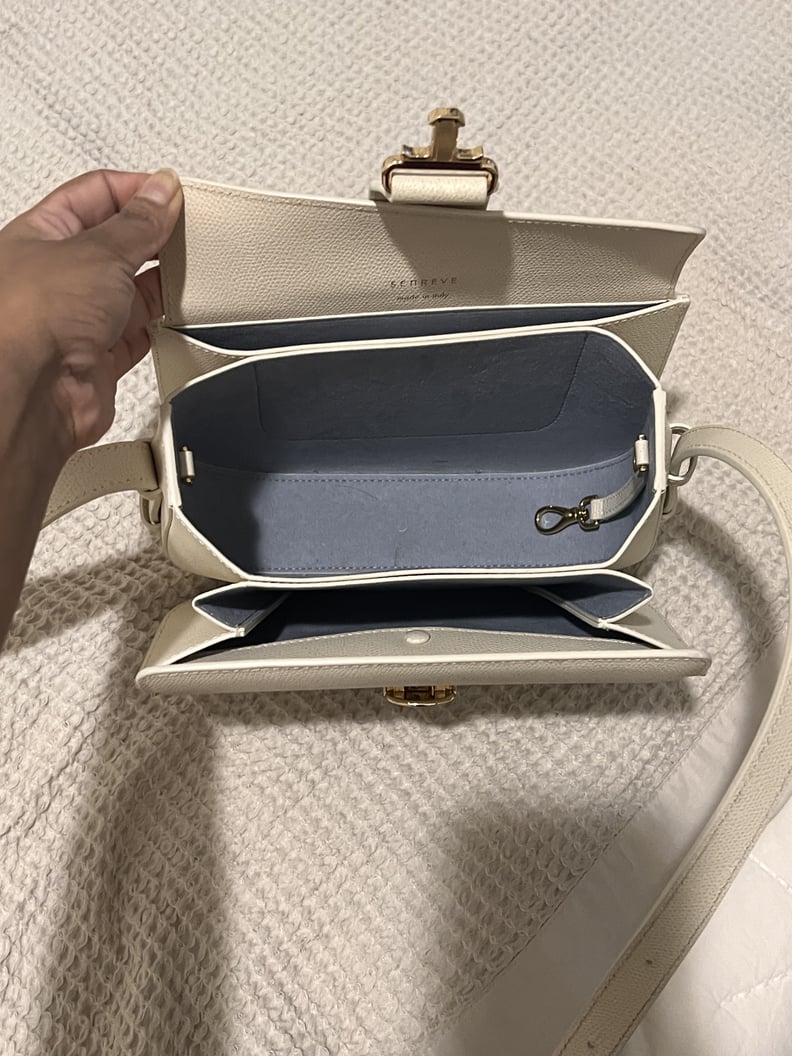 POPSUGAR Photography | Anvita Reddy
The bag is structured with a minimalist look. However, it's spacious enough to fit a six-inch tablet, and all your everyday essentials, whether it's keys, wallet, phone, power bank, mini sunscreens, hand sanitizer, lip balms, pill box, and even a small water bottle. The interior has one large compartment in the middle and two smaller ones, including a button pocket for keeping things secure. Plus, there's also a key leash. The back of the bag also has an exterior pocket, where I like to store my Metrocards for easy access.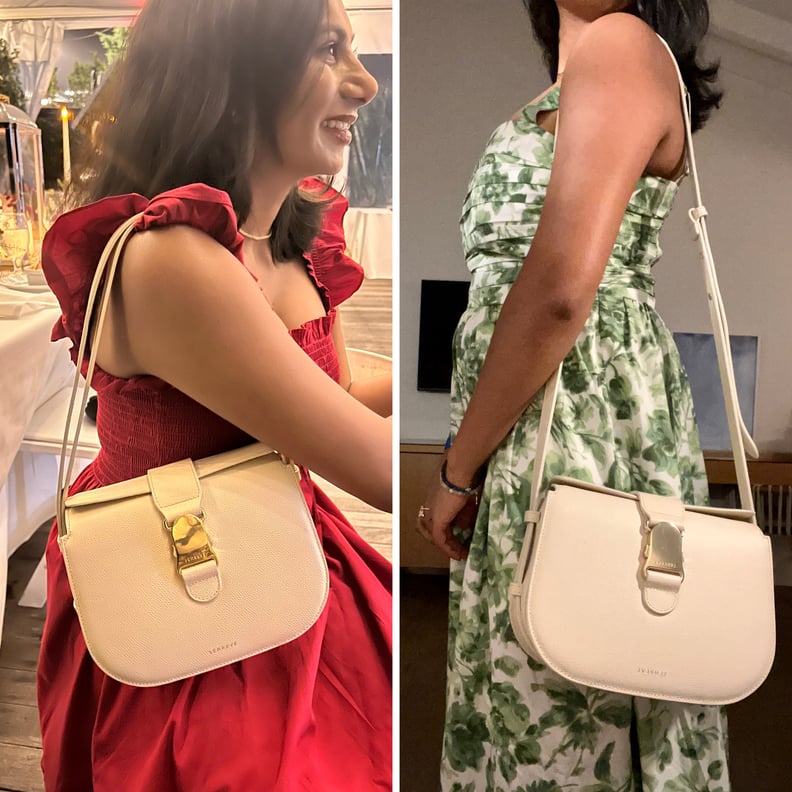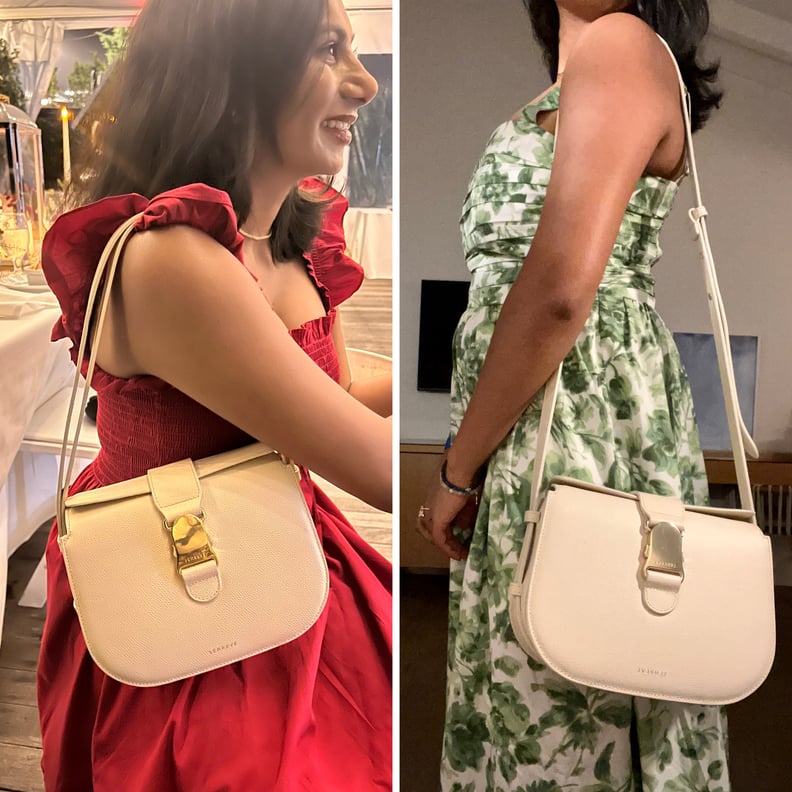 POPSUGAR Photography | Anvita Reddy
What makes the Senreve Cadence Crossbody special is its adjustable strap construction. You can convert this from a crossbody to a shoulder bag by simply adjusting the leather strap to the desired length you need. During the daytime or more casual events, I like to wear it as a crossbody so I can be hands-free. I also opt for crossbody wear, when I'm wearing a midi or maxi dress. When I have to head to dinner or want to dress it up, I wear it as a shoulder bag or on the crutch of my arm. No matter how you wear the bag, the excess strap can be secured to the bag with the belt loops surrounding the sides and bottom of the bag, maintaining the clean-lined, refined look. You can even remove the leather strap completely and add on a chain strap for a more glam look, or use the leather strap as a belt.
What's Worth Noting About the Senreve Cadence Crossbody:
There's so much to love about Senreve's Cadence Crossbody there are barely any drawbacks. But, it's worth noting that this handbag has a sturdy, stiff construction, so it will hold its shape and stand on its own, but it's not as flexible or malleable as softer leather handbags. It might be a little difficult to open up the interior compartments and the exterior back pocket, especially when you first get the bag. Likewise, adjusting the crossbody strap may take some more effort, specifically when you're removing it from the hardware and sliding the excess into the belt loops. You'll need to press down with some force to get the strap to be secure. Living in the city, I truly appreciate the Crescent clasp for its secure closure, however, it does take a little more effort to close the bag back after it's been opened.
Who's the Senreve Cadence Crossbody Best For?
The Senreve Cadence Crossbody is perfect for those who want a quality, crafted everyday handbag. It's contemporary and fits the quiet luxury aesthetic while being a practical purchase with its spacious interior, durable construction, and its adjustable strap. The handbag is a versatile option as well since you can dress it up or down and carry it a certain way, depending on what your day consists of. It's ideal for those on the go, who travel often, appreciate craftsmanship and design, or want something elevated and minimal that goes with practically everything.
Is the Senreve Cadence Crossbody Worth the Splurge?
If you're in the market for a high-quality midrange luxury bag, the Cadence Crossbody is worth every penny. Honestly speaking, the craftsmanship of this bag surpasses some of my $1,000+ designer handbags. Its durability and design are unmatched by most of what's in the market, whether you opt for genuine leather or vegan leather options. It's a truly resilient piece that will stand the test of time and the elements. It can fit all your essentials while looking refined and elegant. It's a bag you'll definitely put to use often, especially with its convertible strap.
Additional Details:
The handbag is made from genuine Italian leather that is scratch-, stain-, and water-resistant. It has a micro-suede interior that is also stain-resistant.
The Cadence Crossbody from Senreve comes in three leather types: pebbled leather, vegan amica, which has a crocodile-like embossed texture, and vegan terra, which is made from plant-based proteins and has a smoother texture.
Depending on the leather type, you can choose from 14 color options, and the hardware is gold-toned.
It is 6.5 inches tall, nine inches wide, and four inches deep.
The bag has a double flap closure with the brand's signature Crescent clasp.
Where is the Senreve Cadence Crossbody Available?
The Senreve Cadence Crossbody is available on the brand's site.