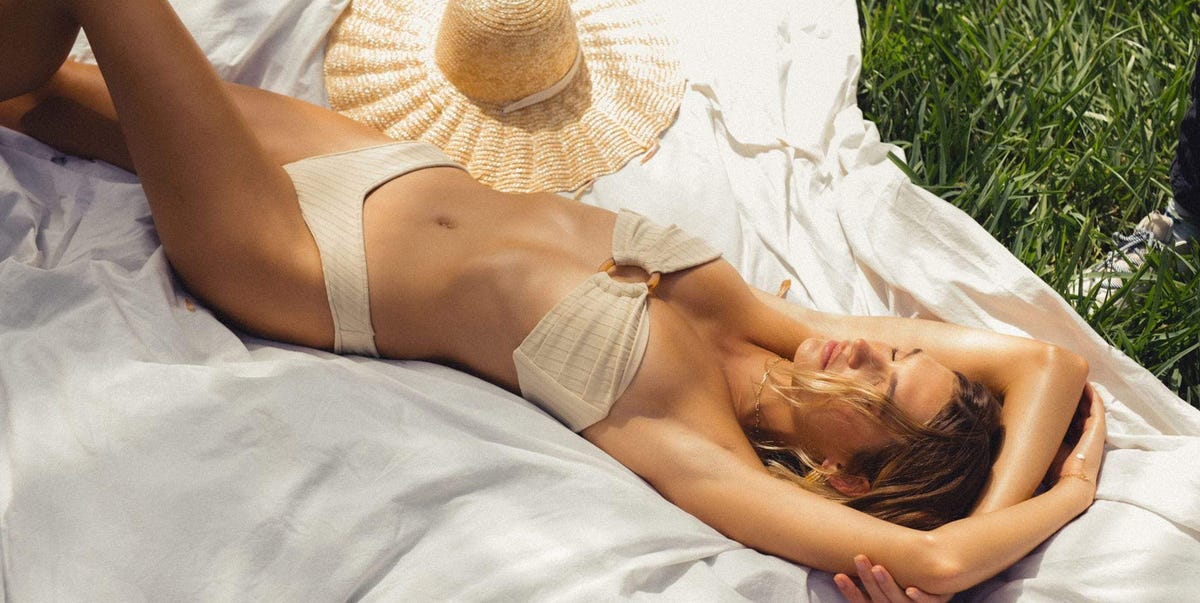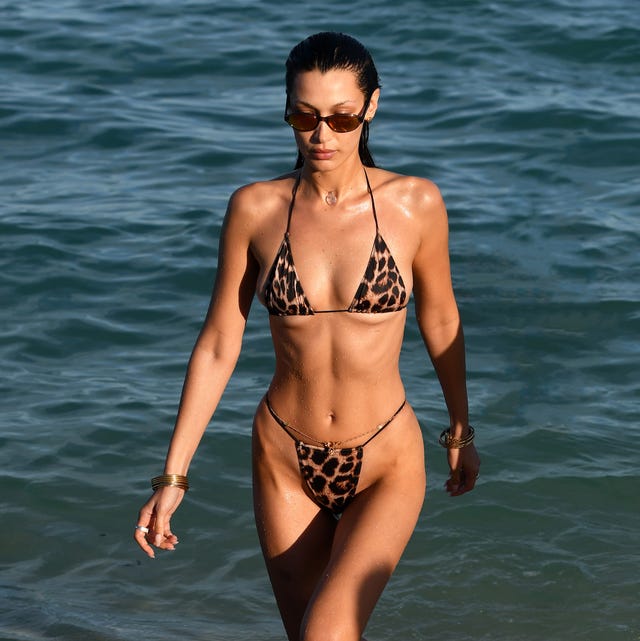 MEGA
Having a small chest can feel like both a blessing and a curse, particularly when it comes to shopping for swimsuits. The hunt for the right fit and a flattering look can be bleak at times. But we're all about self-love and body positivity, so you won't find any little boob bashing here.
Actually, this is your reminder that a small bust can work in your favor. Smaller cup sizes can pull off more daring styles that might not offer enough support for our bigger-breasted friends. When there's less to work with, there's less to worry about, so embrace the fact that you can experiment with different cuts and designs. Still, it's good to know which styles are most suitable for your size and shape. For cup sizes B and smaller, prints, ruching, padding, and embellishments like ruffles can all have an enhancing effect, and anything with underwire will offer some lift. That said, no style is really off the table. One-pieces, tankinis, push-up bikini tops—you can make anything work if you know what to look for. Below, find 23 of our top picks, including some amazing finds from Amazon, designer options, and more.
Advertisement – Continue Reading Below
As the name suggests, you can style this one piece in six different ways, all of which are super sexy. Each of the six options serve small busts in their own way. The classic plunge, for example, is universally flattering. Crossing the straps for a keyhole cutout, on the other hand, will amplify even the least bit of cleavage.
Rainbow Blossom Rockaway Top
This knotted sweetheart neckline features ruching, which can work wonders on a small-busted gal. It can be worn with the spaghetti straps attached or as a strapless top. Either way, can you believe this print? Obsession-worthy.
Women's Two Piece Bikini Swimsuit
A string bikini is a classic to begin with—one that deserves a spot in any collection—but the style is especially well-suited for small cup sizes because of the ability to tighten and adjust to your specific measurements. This Amazon favorite comes in 20 different colors and patterns.
Julianna One-piece Swimsuit
For a more modest option, this one-piece has got you covered, literally. All the while, the criss-cross effect over the chest emphasizes what you've got without showing too much skin.
A teeny bikini top like this one, which can be tied in a variety of ways, is scorching hot. Its versatility allows you to decide which style suits you best, so it's like four tops in one. That makes it a good investment, plain and simple.
Printed Recycled Bikini Top
As a rule of thumb, tops that are bra-like in structure and style tend to be some of the best options for those with a small bust because they are meant to be fitted and uplifting.
The underwire and boning in this barely-there top will give you precisely the lift you seek.
Sun Cat Reversible Halter Tankini
If padding isn't your thing, no worries. A plunge neckline and a spicy animal print are all you need.
Campbell Plissé Underwire Bikini Top
Cleavage can be hard to come by for those with small busts, and while side boob has its time and place, why not give under-boob a try?
Fully Boosted Sculpting Bodysuit
This one-piece is working overtime to help you feel your best. It features an amplifying bra up top and shapewear mesh throughout the bodice to "enhance what you love and smooth what you don't."
This adorable separate, available in an array of materials, colors, and patterns, fits the bill for one of the most flattering styles for flatter chests: a padded bandeau.
People with bigger chests who need more support from their swimwear don't always reach for V-neck this deep, but there's nothing stopping you from showing up to the pool in this head-turner.
Dorothy Plissé Halter One Piece Swimsuit
Turn the sex appeal up to 10 with a Grecian-inspired wrap top. The halter will hold you up, which is great for anyone who needs a little help in the perkiness department.
Alivia Crochet Bikini Top
Embellish what your mama gave ya with a floral embroidered triangle top.
Singing Waves One-Shoulder Reversible Bikini Top
The voluminous ruffle on this one-shouldered top creates a bit of an illusion. And it's reversible—cream on one side, and taupe on the other.
Always Fits Scoop Neck Bikini Top
A scoop neck looks good on every body type, shape, and size. We love this one because doesn't have any underwire or clasps in the back, so it's both comfortable and secure.
Pink Riviera Reversible Scalloped Floral-Print Stretch-Crepe Bandeau Bikini Top
This top boasts not one but two chest-enhancing features. The scalloped edge draws the eye, and the lace front center can be tightened to create a bit of cleavage.
Odessa Swim Top in Havana Blooms
Corsets are known for making "the girls" look good on small and big chests alike. That rule extends to corset-like bathing suit tops with a square neckline.
Women Wrap Bikini Set Push Up High Waisted 2 Piece Swimsuit
When in doubt, make like you did in junior high and buy a push-up. This one comes in 30 colors options, no less.
Ruching gives the effect that there's more there than there really is. Plus, the tie in the center is très cute.
'80s Throwback Time After Time One-Piece Swimsuit
With a zipper, you can create faux cleavage by leaving it unzipped just an inch or two. Or three. Go crazy. And if you decide you want to grab a surfboard and catch some waves, you're in the perfect suit to do so.
Rocky Metallic Candy Pink Bikini Top
Your swimsuit doesn't have to be two micro-triangles held together with string (although we like those, too). This bubblegum pink number is essentially a waterproof camisole.
Whether for beach volleyball or bodysurfing, sometimes you need a top that will stay put while keeping you in place. A fitted square neckline with moderate coverage will give you peace of mind.
This content is created and maintained by a third party, and imported onto this page to help users provide their email addresses. You may be able to find more information about this and similar content at piano.io
Advertisement – Continue Reading Below