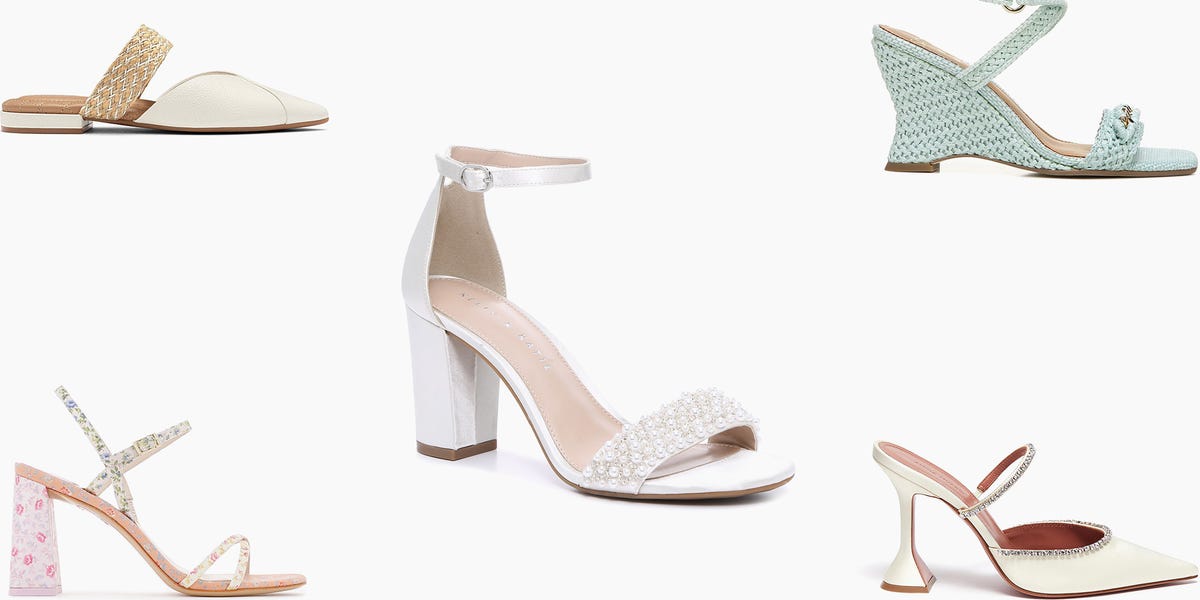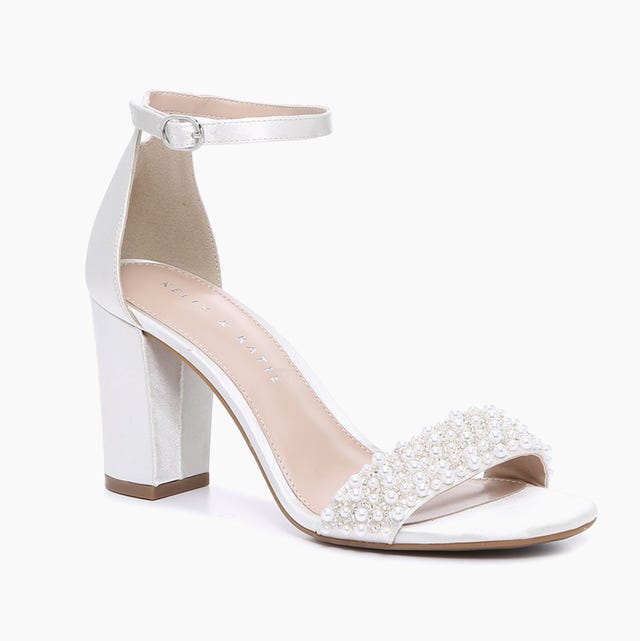 Courtesy
Comfortable wedding shoes should not, I implore, be an oxymoron. It's 2022; there's no reason why we can't buy elegant pumps that won't send our bridesmaids hunting for Band-Aids by the end of the night. As a multi-time bridesmaid and wedding guest, plus a bride myself a year ago, I've cycled through multiple pairs of wedding shoes—and multiple types of wedding shoes. I'll admit to a few bouts of barefoot dancing over the years, but on most occasions, I've been able to keep my wedding shoes on my feet with no blisters, no sores, and no mystery bruises the next morning. How, you ask?
The tricky thing about selecting the right wedding shoes is that they need to be location-specific. A beach bash will likely call for sandals; a black-tie soirée begets heels; a wedding in wine country needs flats that won't sink in mud; a courthouse affair might even allow sneakers. To accommodate such a wide range of aesthetics, I've hunted down 25 pairs of heels, pumps, stilettos, flats, sandals, and sneakers at different heel lengths, some open-toed and some close-toed, that are fancy enough to be considered wedding material. (For you, brides: numerous styles come in white!) While some pairs will be comfier than others—it's hard to argue that sneakers feel better than pumps—all should be able to survive a raucous reception. Whether you're headed down the aisle or to the dance floor (or both!), ahead, find our expert picks.
Advertisement – Continue Reading Below
I did not expect to find my perfect wedding shoes on Amazon, but alas—I wore these babies to my wedding last year, and I didn't take them off once from 3 P.M. to midnight. After multiple hours of walking, running, skipping, and dancing, I suffered not one single blister. I love the elegant simplicity of these shoes—whenever my toes peeked out from beneath my skirt, a bedazzled strap didn't blind anyone in the front row—plus the block heel adds a teeny (but necessary) bit of height.
Summer weddings call for pastels, and these light blue slingback block heels from Aerosoles nail the balance between pretty and practical. I have a pair in off-white that are quickly becoming a recurring staple in my wardrobe, regardless of whether I've got a wedding to attend.
If you're a boho bride (or bridesmaid, or guest!) and heels aren't your thing, these elegant closed-toe flats are comfy enough to slip on and slip off as you float from one event to another.
4 Gigi Crystal Pointed-Toe Flat Badgley Mischka Collection
Sometimes, a wedding look calls for a bit of sparkle. These cream bedazzled flats would look especially impressive with a champagne-colored gown. I'd recommend breaking them in a bit—the sides are known to rub—but once they're adjusted, these shoes should keep your feet snug and cozy all night long.
5 Carina 60 Canvas Wedge Espadrilles
These wedge espadrilles are so gorgeous, you should pack them for both your beach wedding and honeymoon. The closed-toe canvas is ideal for keeping sand out of your shoes, and the lace-up detail is effortlessly elegant for a boardwalk jaunt.
I've attended multiple weddings where the bride slipped into Converse shortly after the ceremony, so I know a good sneaker is a necessity for modern nuptials. If your affair is laidback enough to allow sneaks throughout the day's events, these all-white picks from Birdies are a fan favorite.
7 Penny Knotted Lame Sandals
A fair warning: These gorgeous sandals are dainty, so they might not hold up well if you're prone to breakdancing at the reception. But if you're slow dancing, the pretty pink lamé straps on these heels will keep your heels feeling blissful.
A great alternative to the Dream Pairs above, these block-heel sandals from Kelly & Katie feature a pearl-adorned front strap and a high heel that's thick enough to prevent any ankle wobbling.
A simpler, heel-free answer to the Hildie Pump. Thank you, Jessica Simpson.
I'm always shocked by how well these mules stick on my feet. So many slip-ons are known for sliding off at inopportune moments, but these buttery leather Bells and Becks flats are snug, yet soft enough to sport for hours on end. These are an excellent pared-back pick for a refined and simple wedding look.
Weddings are a fabulous opportunity to take new trends on a test run. These strappy lace-up sandals are a summer 2022 favorite, but the low heel and gentle straps make them ideal for long-term wear.
These leather sling-back sandals offer just enough height to boost your confidence. Not to mention that tortoiseshell heel would look right at home at a rooftop reception.
For winter weddings, consider a loafer over a boot. The 2.5-inch heel and gold chain on these leather platform loafers adds dimension to a classic style.
A super-soft wedge in a color tailor-made for a garden wedding? Snap these up before they sell out.
Flower girls aren't the only ones capable of rocking Mary Janes. These cutesy flats feature a heart-shaped Swarovski buckle for an extra dose of glamour.
So maybe you can't roll up to your best friend's wedding in pool slides, but you can sport these slides, and reviewers say they're practically as comfy. Better yet? No need to break them in before the big day.
If you'd prefer to go heel-less at your next oceanfront fête, these lace-up flat sandals are the perfect island pick. Bonus points that they're durable and versatile enough to wear with numerous post-wedding outfits.
I took these platform sandals for a spin on vacation earlier this year and was pleasantly surprised by how comfortable I found them. Even walking between multiple events, neither my knees nor my ankles buckled, and the high heel dressed up my otherwise laidback look. They're now on permanent rotation.
19 Sable High-Heel Sandals
While notably more precarious than, say, a flat sandal, these high-heel stilettos are well-made enough to withstand much more movement than your average dinner party.
Another sparkly pick for the glitter-inclined among us, these Journee Collection flats feature soft mesh panels and a chic pointed toe to boot.
The kitten heel has long been the ideal stiletto alternative for those seeking sophistication without risking sprain. And, besides, a bridal shoe doesn't get more classic than this all-white heel.
22 LoveShackFancy x Sophia Webster Alba Mid Sandal
Weddings aren't always the best time to take fashion risks, but that doesn't mean you should never dress outside the box. These colorful block-heel sandals from LoveShackFancy adorned with a floral pattern are sure to get compliments in wine country.
23 Gilda Crystal Pointed Pedestal Mules
Designer Amina Muaddi is known for her show-stopping shoes, and this pair is certainly no exception. The sculptural heel is enough to command attention, while the crystal embellishments are subtly fancy.
Now that bridesmaids in black is a trend rather than a taboo, it's the ideal time to pull out these gorgeous statement sandals, made with a luxuriously comfortable leather.
Sustainable brand Rothy's has transformed its office-appropriate flats into a bold metallic pair perfect for wedding season. Your feet will never feel happier.
This content is created and maintained by a third party, and imported onto this page to help users provide their email addresses. You may be able to find more information about this and similar content at piano.io
Advertisement – Continue Reading Below