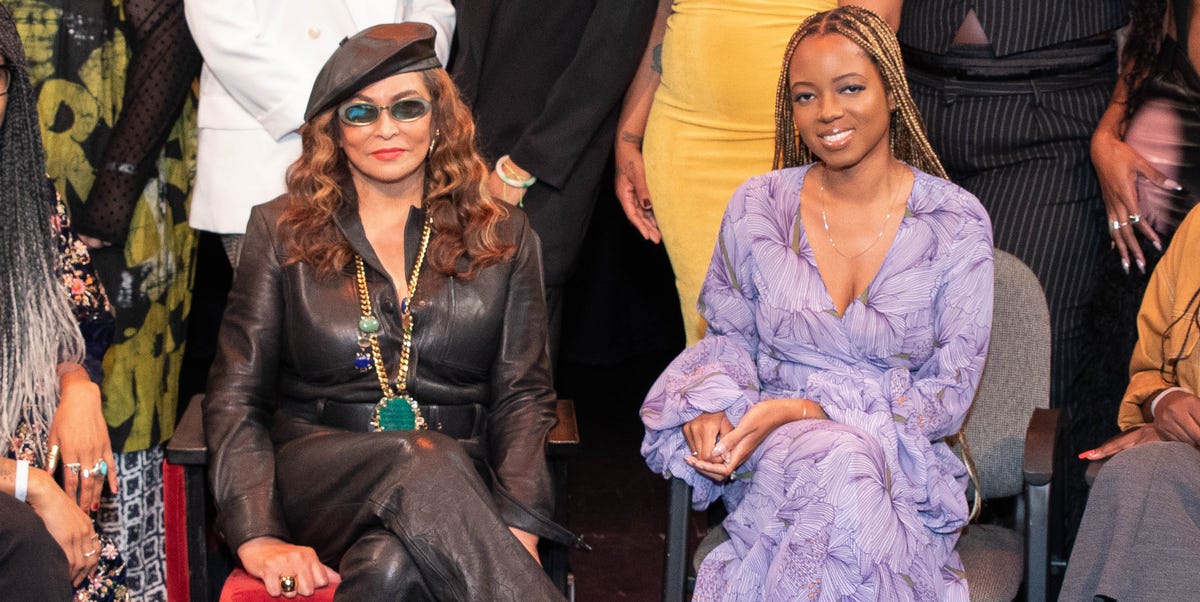 Tina Knowles Lawson and Genel Ambrose invite you to bear witness.
Come close, feel, listen, take it in, breathe. Let the hearts and lived experiences of Black women and non-binary artists show you the world through another gaze. Let the space affirm you and fill you with understanding of the wondrous abilities that have always resided within you.
This is the intended offering of the WITNESS exhibit—a visual art experience curated by Tina Knowles Lawson, a.k.a. Ms. Tina, and artist Genel Ambrose, running from April 1 through May 27 at the North Hollywood WACO Theater Center (for Where Art Can Occur and pronounced way-co). The show is co-presented with Ambrose's GOOD MIRRORS, "a cultural institution committed to accurately reflecting Black women as whole and dignified beings," held in partnership with Black Women Photographers, and supported in part by Melinda French Gates' company Pivotal Ventures. The duo brought together 14 artists born or living in Los Angeles to share their vision of society, community, and themselves through art, thus letting the audience see the world from their respective gazes and artistic dialects.
More From ELLE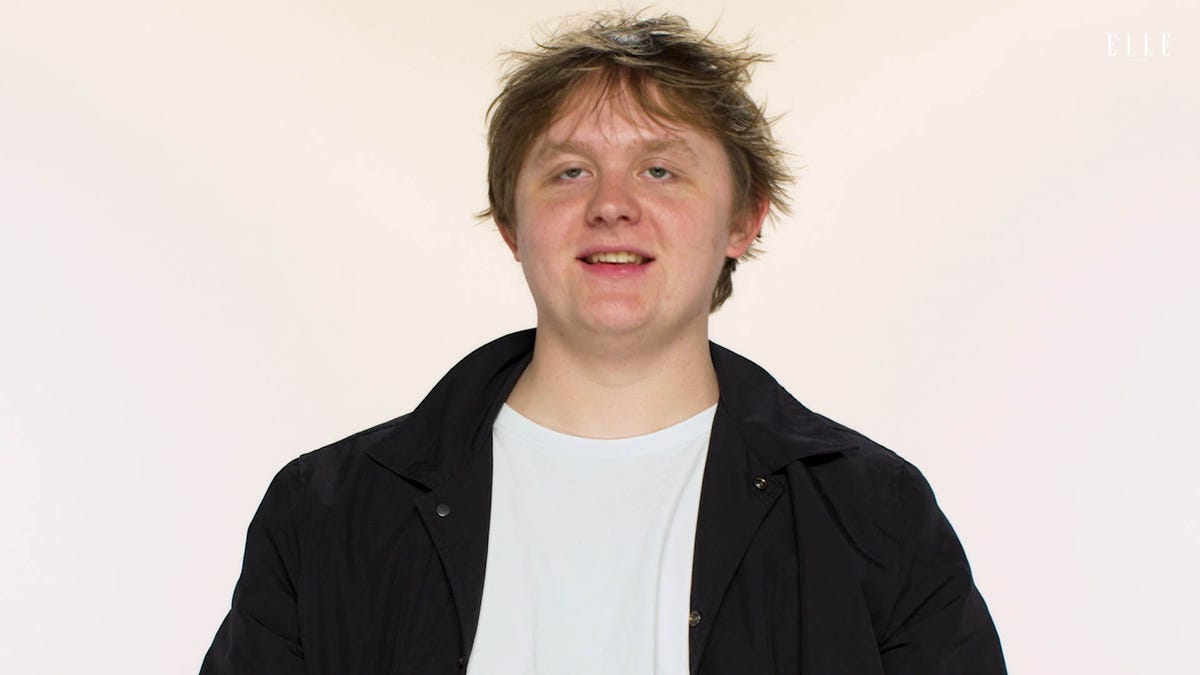 "We as Black women, Black girls, non-binary, gender expansive, genderqueer—we are artists, all of us. We are by nature world builders, visionaries, conjurers who employ creativity as a practice of our own self-preservation," Ambrose tells ELLE.com. "While we don't even realize we're doing it, we are—I really wanted to bring that [forward] and have people celebrate that and acknowledge that."
For Knowles Lawson, being able to carve out space for Black artistry to thrive and be nurtured with the WACO Theater Center—which she founded with her husband, actor Richard Lawson in 2017—fulfills a longtime goal.
"When my kids grew up–Beyoncé, Solange, and Kelly [Rowland]–all went to the Shape Center and The Shrine of the Black Madonna [in Houston]. They were centers that mentored kids—I'll say 'mentored,' even though they didn't know because that word wasn't a big deal. The neighborhood kids went there for art. They had painting classes, ceramic classes, they danced and they sang, and did all forms of performing arts. It was just a place of creativity that really saved the lives of a lot of inner city kids," she says. And now, Knowles Lawson is working to do the same for kids and adults with the WACO center, which offers everything from mentorship and acting classes to a range of art classes. "Even though it's a small place kind of tucked away in NoHo, I'm really proud of it."
WITNESS is a multidisciplinary presentation of installations, sculptures, portraiture, audio and video works, affirmation rooms, and a digital platform experience where people can upload and listen to stories and affirmations from Black women around the world. When it came to selecting which artists to feature, Ambrose credits the shared values communicated through each artists' work and a Toni Morrison quote from a 1971 New York Times article, which served as a "North Star" during the curation process. The quote is emblazoned on a wall in the exhibit: "And she had nothing to fall back on: not maleness, not whiteness, not ladyhood, not anything. And out of the profound desolation of her reality she may very well have invented herself." While meditating on this idea of reinvention, self-exploration, and redefining one's self, Ambrose saw a throughline of these themes in the work of the featured artists that felt aligned.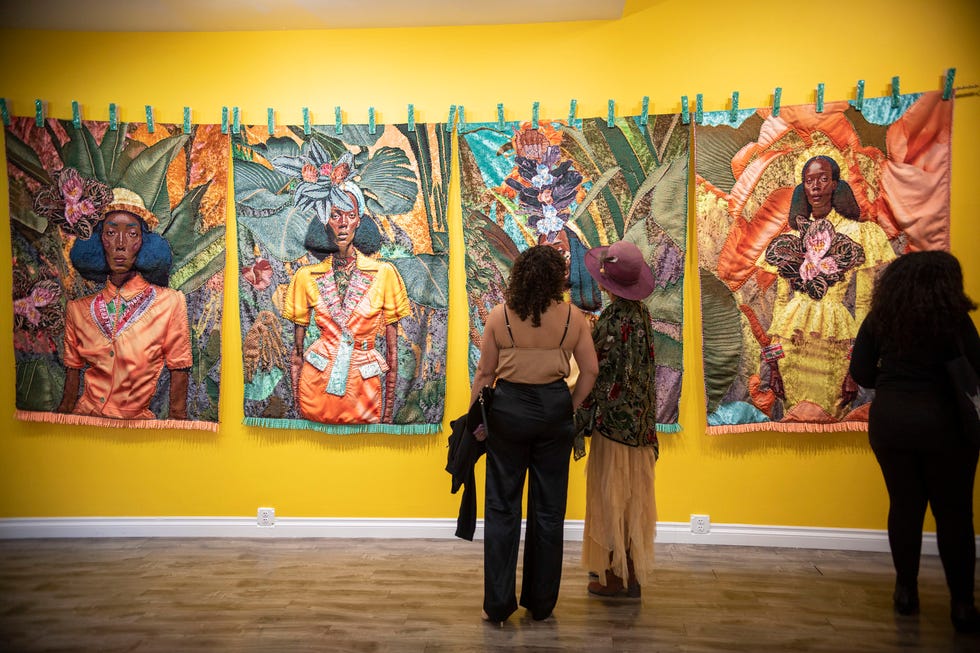 Works by April Bey.
Adrian Javon
In one nook of the exhibit on opening day, strangers stand side by side, admiring the lush colors of Cara Elise Taylor's photographs of Afro Latino loved ones in Costa Rica, and eventually inquire if prints of the images are available for purchase. "I was just about to ask the same thing," laughs a third passerby.
Further along the way, waves of small groups sit and watch Elise Peterson's video installations: a video collage offering an intimate look into her pregnancy journey, and another that feels like a nod to the Black tradition of coordinated dances over generations set to the instrumentals of Frank Ocean's "Nikes." Black folks swag surfing at a party and in the stands of an HBCU sports game, a nostalgic video clip of friends, seemingly from the early aughts, practicing a routine surely meant to be uploaded to Youtube.
The beauty supply ASMR and sculptures created by Dana Davenport especially resonated with Knowles Lawson, as a hair stylist who owned a salon in Houston. "To see that vase made out of braids, and the chandeliers, and then to have [Davenport] talk about the history, it was very powerful," she says.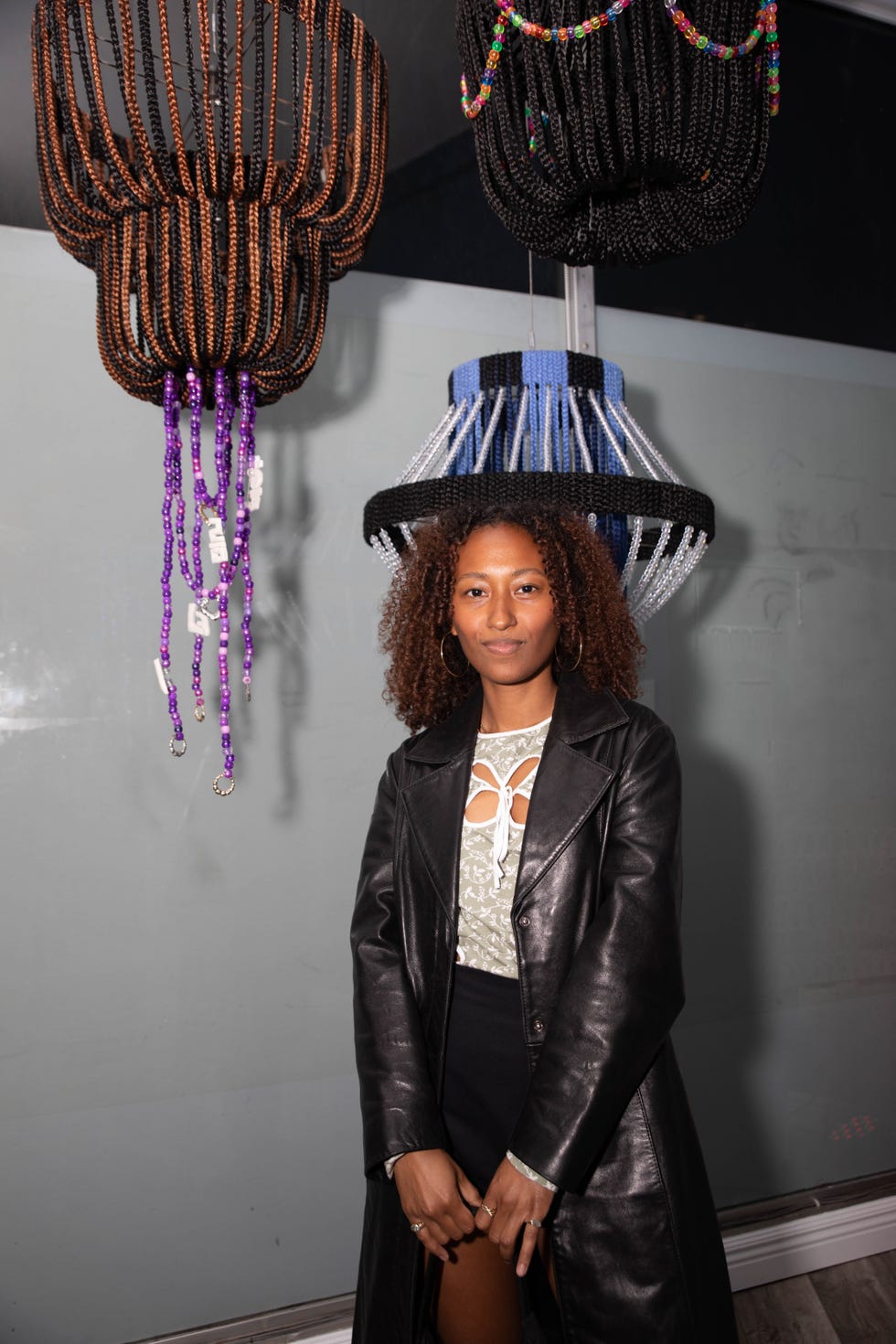 Dana Davenport.
Ashley Byrd
In another room of the exhibit, Amber J. Phillips' storytelling in Abundance, a short film on the limitations and radical possibilities of identity that's deeply rooted in Phillips' societal experience as a fat Black queer femme auntie from the Midwest, brings guests to a halt and commands attention as her voice reverberates from the mounted screen: "Yes I'm gay. And the Black church do not be fucking with that gay shit. But the rest of the world ain't fucking with that gay shit either."
Others enjoy an impromptu movie theater experience, taking in the dreamy visuals cooked up by cinematographer Sade Ndya. Ndya's split-screen production doubles as an ode to iconic Black women in cinema who've helped pave the way, like Cicely Tyson and Diahann Carroll, and as an imaginative meditation on the future of cinema. Familiar faces like OG streaming pioneer and director extraordinaire Numa Perrier and artist/journalist Eva Reign make appearances.
"Historically, as with all things, there have always been amazing female artists—but things haven't been as inclusive as they could be," says Knowles Lawson, reflecting on the long line of women artists across mediums who've been unsupported, systematically shut out of prestigious art spaces, and who've had their craft disregarded and widely undocumented in favor of their male counterparts.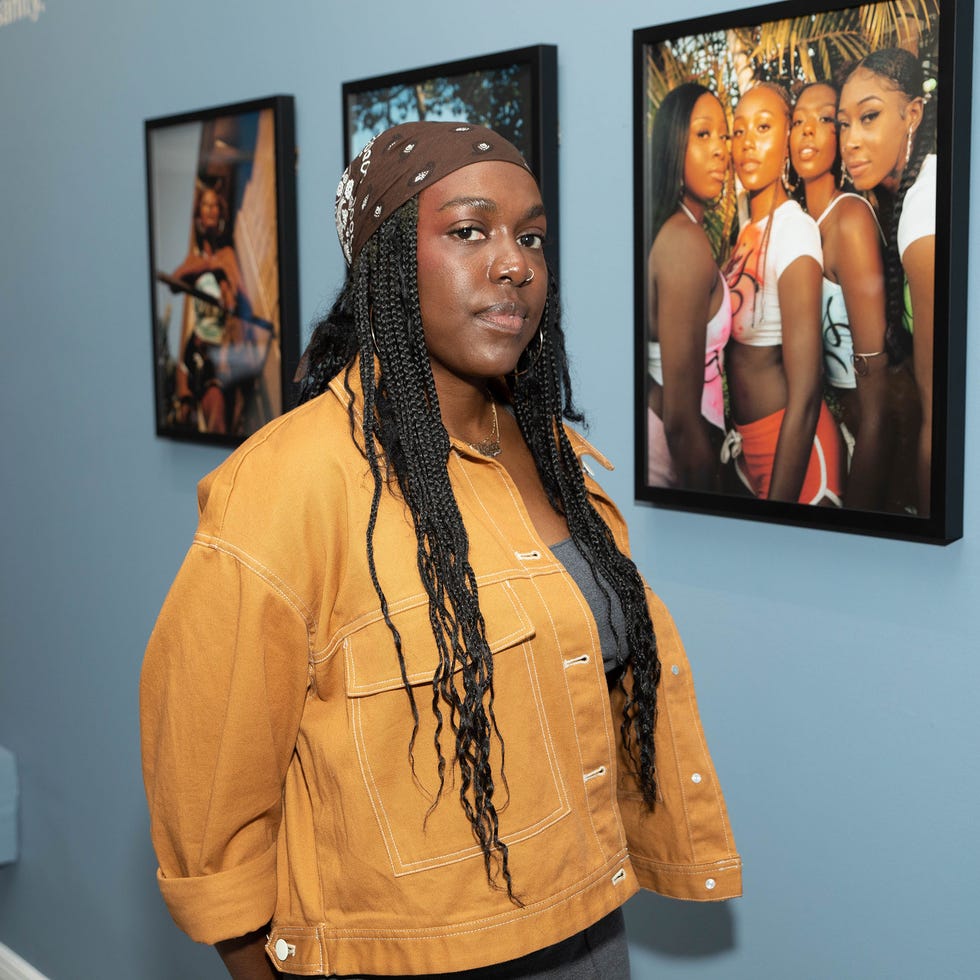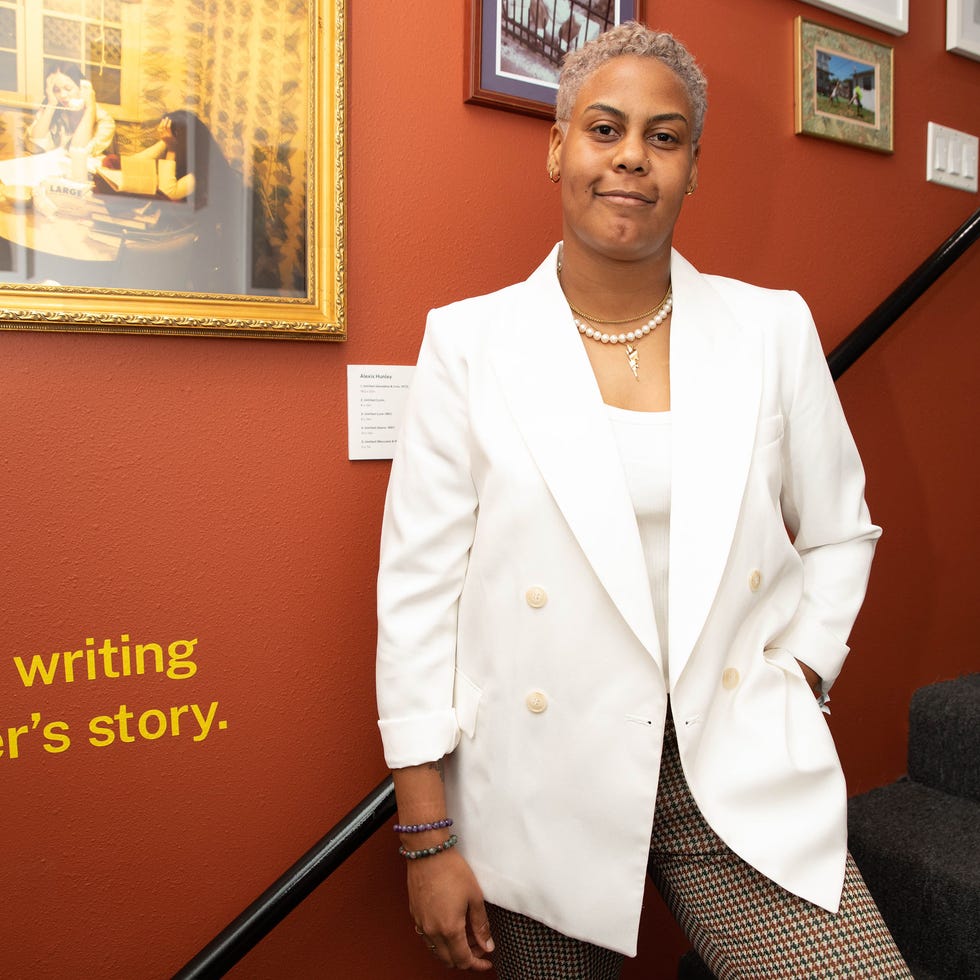 Alexis Hunley.
Ashley Byrd
"I was so impressed seeing this exhibit come together and how beautiful and how unique the art is, and the soul and emotion and passion that went into it," she says, emphasizing the value of artists having physical space to not only be recognized and showcase their art, but also to be in community and in conversation with one another.
Millions of us have also witnessed Knowles Lawson's art over the years, even when we didn't realize it, from conceptualizing the Wearable Art Gala, which raises funds to support the WACO Theater Center, to crafting numerous hair styles and performance costumes for Destiny's Child in the '90s and early 2000s. She even has her sights set on another creative endeavor: furniture design.
"I have an obsession with artistic furniture. I'm working now on my first piece of furniture art, a chair, and exploring different cool things and natural elements. I've done several pieces, like coffee tables just for my family and friends, but I'm really excited [for this next endeavor]," she says enthusiastically.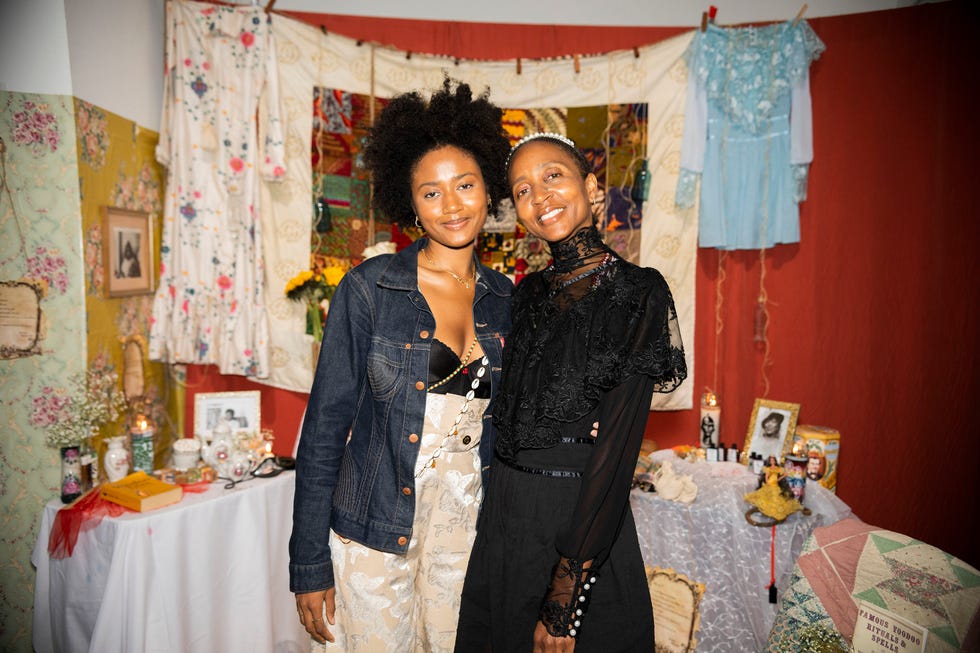 Rebecca Henry and Akua Shabaka of House of Aama.
Adrian Javon
When asked about some of the things they hope Black women and femme visitors, in particular, take away from the exhibit, the curating duo don't miss a beat.
"Our stories are being erased, or attempted to be erased from the history books, and so I just want the takeaways to be that we create who we are," says Ambrose. "We are vessels of immeasurable potential and we have to hold strong to our stories. Our stories are what allow us to thrive and what allows us to soar as Black people."
As for Knowles Lawson, a sentiment she often feels compelled to share when discussing art comes to mind. "I just want young Black people to understand how important it is to collect art. You don't have to have a lot of money. You don't have to be some big-time collector. I always say, a Gucci bag is something that is short lived but you live with a piece of art every single day of your life. It inspires you, it makes your house beautiful. It's the gift that actually keeps on giving forever. I think that's important for us to know."

Writer
Martine Thompson is an artist and writer. She's passionate about exploring mental health, TV & film, perfume, and different facets of beauty culture.