As POPSUGAR editors, we independently select and write about stuff we love and think you'll like too. If you buy a product we have recommended, we may receive affiliate commission, which in turn supports our work.
The fashion direction for Darren Star's "Emily in Paris" season three was inspired by Lily Collins's real-life decision to cut bangs. After seeing her new style, costume designer Marylin Fitoussi found an entirely new crop of muses: Audrey Hepburn, Jane Birkin, Brigitte Bardot, Kate Moss, Anna Karina in classic Godard films, and the French New Wave, according to Netflix.
Fitoussi, who consulted with Patricia Field for seasons 1 and 2, told POPSUGAR her overall aim was to soften Emily Cooper's style. She incorporated more subtle pastel tones as the French do, bidding farewell to Cooper's bright fuchsia fetish; introduced high-waisted pants to her wardrobe as a nod to mentor Sylvie's (Philippine Leroy-Beaulieu) confident Parisian style; and swapped stilettos for chunky platforms. "Of course, we try to mix high brands with affordable brands, vintage pieces, and young French designers," she said. "I feel as if it's my duty in my work to use young designers."
Collins was an integral part of the costume conversation, bringing her own pieces onto set and voicing her opinions. "She might say, 'You know, Marylin, I think this print reminds me too much of season one.' And it is essential for me to listen to her, to understand this feeling, to assimilate it, and to make sure that I can also serenely present many more options to her," Fitoussi told Netflix. "My main interest is that she feels comfortable in her clothes . . . that they actually help in the construction of her character; that she has to act less, because the intention and mood is already visually noticeable on her through the costume."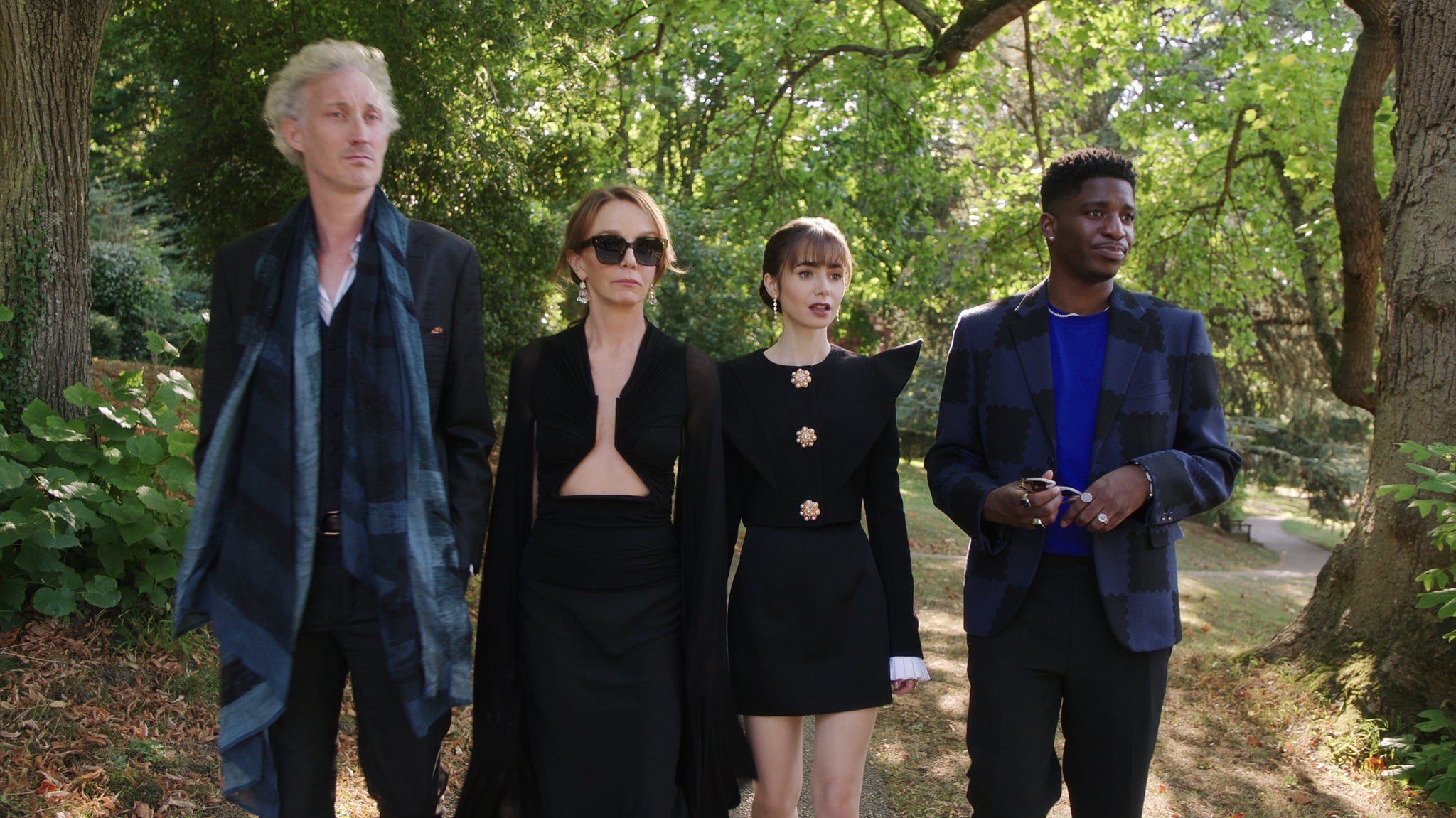 Image Source: Netflix
Another goal for Emily's style evolution this season? To propose a mirror effect between her own aesthetic and that of Sylvie's. "Emily has observed Sylvie's codes. She's spent two seasons watching her, thinking to herself, 'She's got style, she's got pizazz,'" Fitoussi said, continuing, "Sylvie knows how to raise a collar, how to put a coat on her shoulders. I listen, I look, I integrate. And in this season, Lily puts a coat on her shoulders and puts on high-waisted pants, which she's never had before. She still does not risk what we call a 'Sylvie,' being able to release a shoulder and pull up a coat and a shirt collar. But she'll get there."
Scroll to see more of Emily's looks from Seasons 1 through 3, as well as outfits from other characters on the show, including Camille (Camille Razat), Mindy (Ashley Park), and Madeline (Kate Walsh). Plus, shop our favorites.