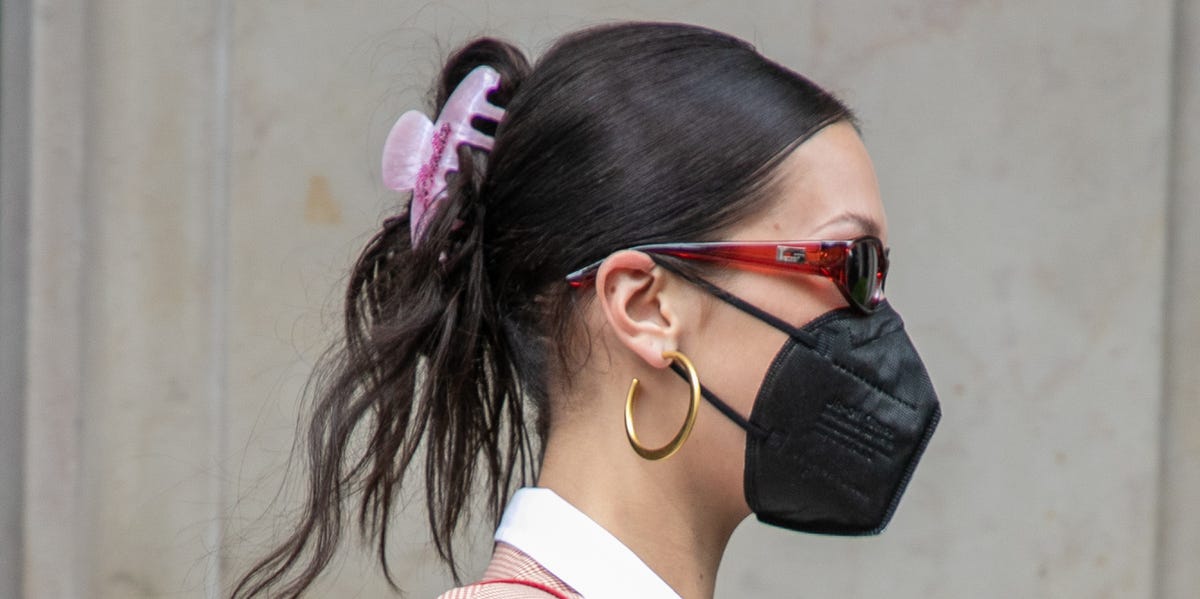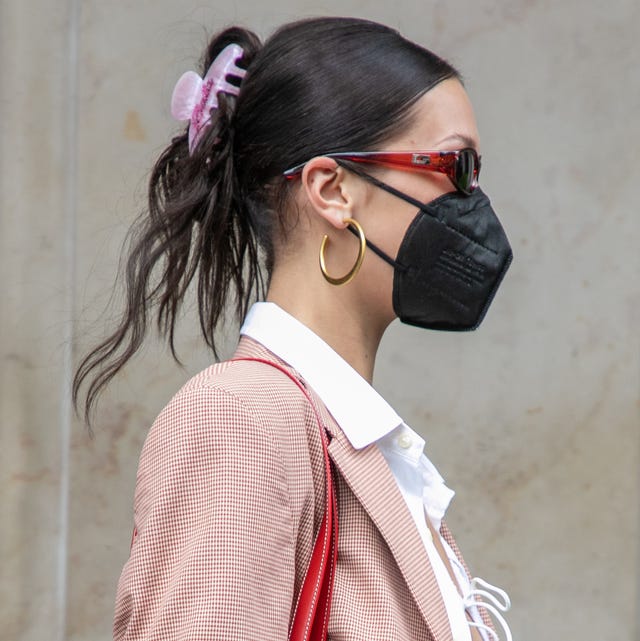 Marc PiaseckiGetty Images
When I scroll on Instagram, the majority of the content I see is women in Paris expertly spinning their long hair into an effortless updo with the help of a claw clip. Despite the fact that whatever motion they're doing seems to require finer motor skills than I possess, claw clips have captured the hearts of so many, partly because they're the cutest Y2K throwback we have, but most importantly because they don't leave dents in your hair, and they're ideal for pulling up thick, heavy hair. I love a scrunchy as much as the next girl, but when it comes to hair accessories, we might have had it right in the 90s: Claw clips are the way to go.
I'm not the only one who thinks so. Celebs like Kendall Jenner, Hailey Bieber, and Bella Hadid (also known as the Holy Trinity), have all been spotted donning chic, outfit-matching claw clips–as seen above, where Bella is wearing a custom Emi Jay claw clip. For one thing, they can be less damaging than tightly-wound hair ties since they don't pull or dent your strands. For another, they come is so many different shapes and sizes that you're practically guaranteed to find one that can hold up your hair, whether you have a short bob or a mane down to your hips. And fine, yes, they're trendy and cool. Here, you can find the 14 best claw clips for every style, hair texture, and budget.
Advertisement – Continue Reading Below
1
Best Pearly Claw Clip
8 Other Reasons
Royal Clip 2
Best for Long Hair
Kōv Essentials
Daily Clip 3
Best for Thick Hair
TOCESS
Big Hair Claw Clip 4
Best Trendy Clip
Emi Jay
Big Effing Clip 5
Best for Minimalists
Urban Outfitters
Marley Claw Clip 6
Best Investment Piece
Alexandre de Paris
Imitation Pearl Embellished Hair Jaw Clip 7
Best for A-Listers
CHUNKS
Checker Claw Hair Clip in Disco 8
Best Handmade Accessories
france luxe
'Couture' Jaw Clip 9
Best Bedazzled Set
Anthropologie
Set of Two Embellished Hair Clips 10
Best for Events
Kitsch
Gold Open Shape Claw Clip 11
Best for the Cool Girl
Emi Jay X REVOLVE
F**k Clip 12
Best for Updos
petit moments
Roxanne Hair Clip Set Tatjana Freund Beauty Commerce Writer Tatjana Freund is a Beauty Commerce Writer, covering makeup, skincare, and haircare products and trends.
Advertisement – Continue Reading Below