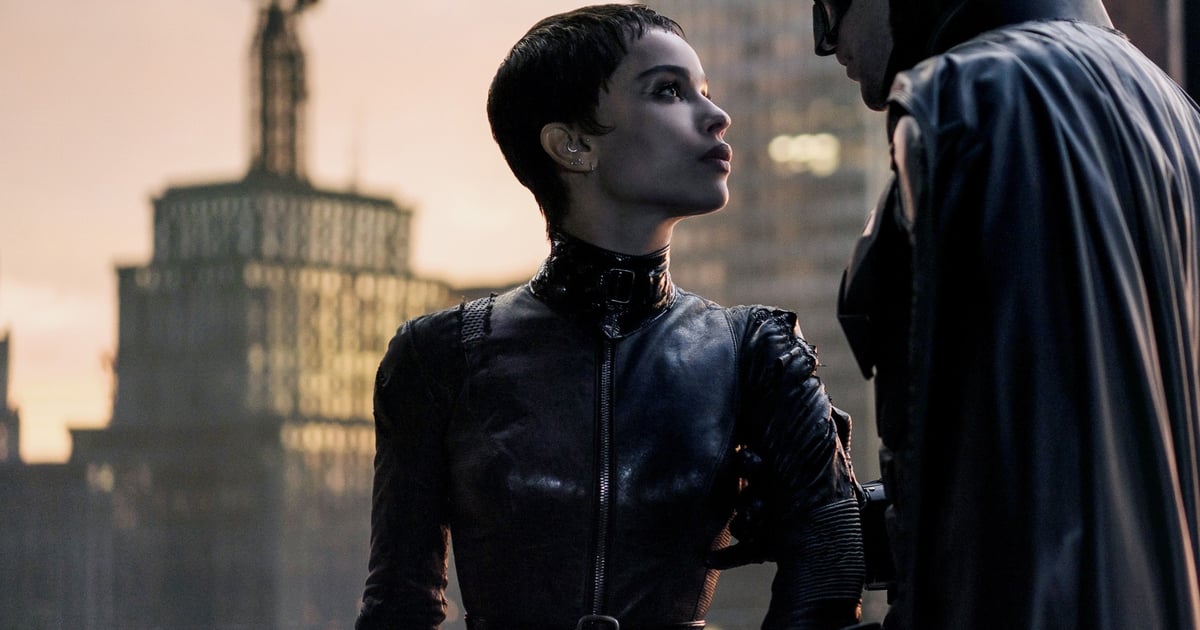 Zoë Kravitz took a unique and unconventional approach to her Selina Kyle costumes for "The Batman." In collaboration with famed costume designer and Oscar award winner Jacqueline Durran, she came up with dominatrix-inspired outfits that run the gamut from a leather catsuit to a white tank top and sleek pants, each emphasized with platform patent leather boots. Her beauty look was just as intentional, with flashy, colorful wigs and spiky nails (a collaboration with director Matt Reeves) adding to her badass persona.
As for the clothes, each outfit Kravitz wears in the movie serves to inform her character. Her basics — like a white tank and leather pants — still give off a dangerous, rockstar edge. Her jewelry doubles as weaponry, with silver studs and cartilage hoops that are both tough and practical. And since she is highly-skilled and athletic, her accessories are also functional, like her durable backpack and DIY cut-out mask.
But it's her leather catsuit that holds the most significance. Since Kravitz hasn't taken on the Catwoman moniker officially in this version of the story, her catsuit is more pared-down than those of previous actresses. While the 7 prior Catwomen (including actors Eartha Kitt, Michelle Pfeiffer, and Halle Berry) enjoyed latex looks with design flourishes, Kravitz's version is decidedly no-frills.
It's all leather, but slightly lived-in and rugged with distressing at the shoulders and along the bodice. Viewers are left to assume that the catsuit will evolve alongside the character as she later fully steps into the Catwoman role. Nonetheless, Kravitz still exudes confidence and sex appeal as she comes into her official villain title.
Offscreen, she has fully embraced the Catwoman aesthetic, too, working with her stylist Andrew Mukamal to source black column dresses for red carpet premieres. Her Saint Laurent design featured bat-shaped cutouts at the bust, while her Oscar de la Renta corset gown boasted a cat-shaped neckline with a lace-up bodice.
Kravitz's commitment to wardrobe comes through in all her projects, from Bonnie Carlson's Bohemian-inspired yoga sets on "Big Little Lies" to Rob's '90s grunge outfits on "High Fidelity". But it's safe to say her edgy looks as Selina Kyle will stick out in our minds for now. Click through to get a breakdown of the best style moments from "The Batman."