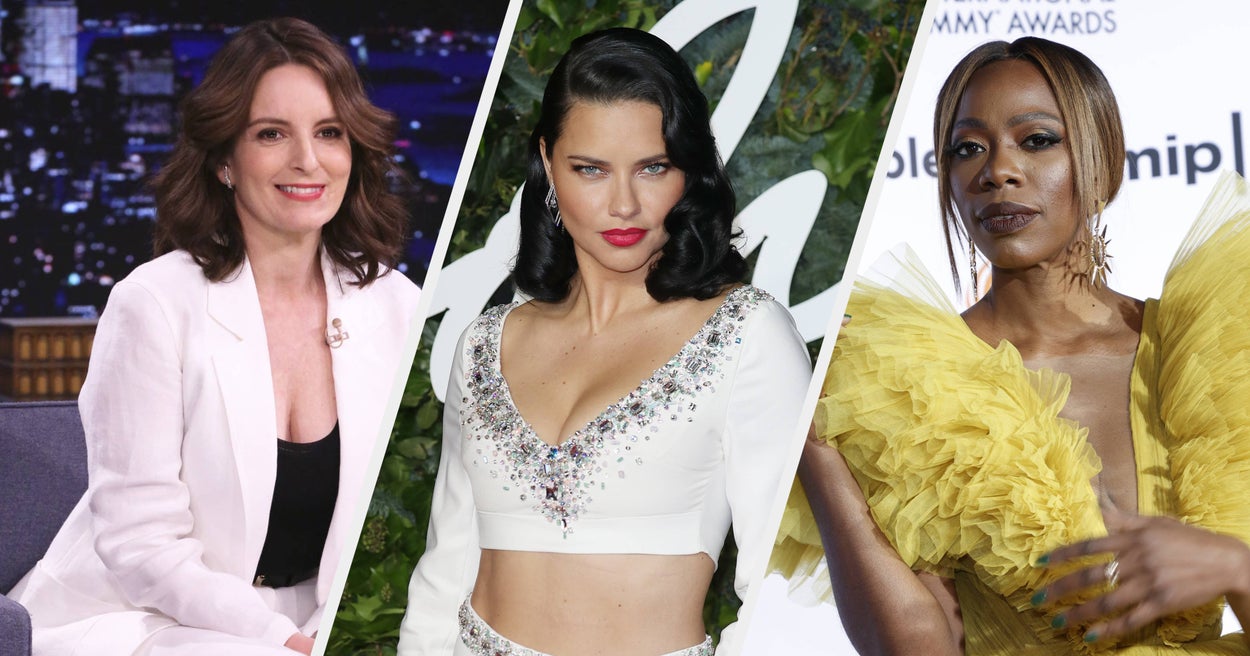 "If there's no respect, that means they don't want me."
Celebrities tend to keep the details of their sex life private, but when it comes to their choice to wait until marriage, some stars are actually willing to open up.
Jeff Kravitz / FilmMagic / Getty Images
The reasons for their abstinence range from religious beliefs to relationship building — but no matter what their thoughts, they made the decision that felt right to them!
Find out what these celebs had to say about their choice…
1. Jessica Simpson
Kevin Mazur / Getty Images
Prior to tying the knot with Nick Lachey, Jessica Simpson was extremely open about her decision to remain a virgin until she was married. Jessica says she was very nervous about discussing the topic with Nick for the first time, but he "stayed patient" until they tied the knot in 2002.  
"He paused, taking it all in. I thought, 'Well, Jessica, this dreamboat has sailed.' 'I respect that,' he said. 'Thank you for telling me,'" Jessica wrote in her memoir Open Book about the moment she told Nick.
2. Justin and Hailey Bieber
Kevin Mazur / Getty Images for Roc Nation
Justin Bieber may have been with other people before his wife Hailey, but by the time they reconnected in 2019, he was already more than a year into a self-imposed tenure of celibacy. Together, the couple decided to continue to refrain from having sex until they were married — a choice Justin admitted he wished he had made earlier in his life. 
"[God] doesn't ask us not to have sex for him because he wants rules and stuff. He's like, I'm trying to protect you from hurt and pain. I think sex can cause a lot of pain. Sometimes people have sex because they don't feel good enough. Because they lack self-worth. Women do that, and guys do that. I wanted to rededicate myself to God in that way because I really felt it was better for the condition of my soul. And I believe that God blessed me with Hailey as a result," Justin told Vogue.
3. Adriana Lima
Neil Mockford / FilmMagic / Getty Images
Victoria's Secret model Adriana Lima's Catholic faith influenced her decision to save herself for marriage. She explained that any potential suitors would just have to respect her decision — and if they weren't willing to wait, then they weren't the right person for her. 
"Sex is for after marriage. They have to respect that this is my choice. If there's no respect, that means they don't want me," Adriana told GQ. 
4. Miranda Kerr and Evan Spiegel
David Crotty / Patrick McMullan via Getty Images
When Miranda Kerr started dating Snapchat founder Evan Spiegel, the couple decided to wait until marriage to have sex because of Evan's traditional beliefs. In an interview, Miranda was asked about the possibility of having children before their wedding as she didn't use birth control, but she explained it wouldn't be physically possible. 
"Not yet. Not until after we get married. My partner is very traditional. We can't…I mean we're just…waiting," Miranda told The Times. 
5. Yvonne Orji
Arturo Holmes / Getty Images
Insecure star Yvonne Orji may have filmed multiple sex scenes for the show, but behind the scenes, she's actually saving herself for marriage. Yvonne, who has yet to tie the knot, says it was her strong faith that encouraged her decision. 
"Before any of [the fame] happened, I sat down with myself and with God and thought, when I make it, how do you want me to represent you while I'm here? It was like, okay, I know why I'm here. It's to make you proud," Orji told People. 
6. Kevin Jonas
Kevin Mazur / Getty Images for iHeartRadio
Kevin Jonas and his younger brothers famously wore purity rings for much of their adolescence, in part due to their religious upbringing. While Nick and Joe ended up taking their rings off, Kevin saw things through until he tied the knot with his wife Danielle in 2009. 
"I could've gotten married the day after we got engaged. We'd have gone crazy waiting any longer," Kevin jokingly told People.
7. Tim Tebow
Kevin Mazur / Getty Images
Football star Tim Tebow's faith led him make the decision to practice abstinence until he was married. Before tying the knot with Demi-Leigh Nel-Peters in 2020, Tim explained that he just wanted to find someone who truly loved him. 
"It's about finding a girl who likes me for me, and not because of what I do, or who I am, or the name," he told People of his decision.
8. Tina Fey
Nbc / NBCU Photo Bank via Getty Images
Tina Fey was a virgin until she married her husband Jeff Richmond at age 24. She joked her reasoning was a mixture between her Christian values and also just not having anyone interested in her. 
"[I] couldn't give it away. That's just good, Christian values, or being homely," Tina said on The Late Show. 
9. Jordin Sparks
Bryan Steffy / Getty Images for Keep Memory Alive
Jordin Sparks grew up in a very strict Christian household where she made a vow to practice abstinence until she was married. She even wore a purity ring to represent her commitment. Jordin kept true to her word until she married her husband Dana Isaiah in 2017. 
"I don't want to give away bits of my soul to lots of different guys — I want to give all of myself to the right man on the right night. And the right night is my wedding," she told Celebs Now. 
10. Tamera Mowry
Paul Archuleta / Getty Images
When Tamera Mowry began dating her now-husband Adam Housley, the couple decided that they would wait until their wedding to have sex. Tamera explained that it helped them keep their faith at the center of their relationship.
"We said, 'It's got to be God's way and not our way.' We didn't want to half-step anything. So our right way was the way we felt God wanted us to do it, which was being celibate. We said to God, 'This is who we are, I know you take us as we are, our faults, our fears, our joys, our hope as a couple and have your way.' You just have to keep God the center of your relationship," Tamera told Ebony. 
11. Ciara and Russell Wilson
Randy Holmes / ABC via Getty Images
When Ciara and Russell Wilson began dating in 2015, the couple took a vow of celibacy until they walked down the aisle. Ciara explained that abstaining from sex helped them build a stronger foundation for their relationship, which set the tone for their life together. 
"I really believe that when you focus on a friendship, you have the opportunity to build a strong foundation for a relationship — and once you know you're really great friends and you're what we call 'equally yoked,' where you share the same values or the same outlook on life, it kind of sets the tone. Knowing that you'll always have the friendship and that you can always go back to it is very important, and very powerful…You shouldn't feel like you have to give your body away to get someone to like you," Ciara told Cosmopolitan South Africa.
12. Andy Grammer
Michael Loccisano / Getty Images for WarnerMedia
After Andy Grammer tied the knot with his wife Aijia Lise, he revealed that he had waited to have sex until they got married. The musician shared the decision during a talk show appearance where the topic of younger millennials being sexually inactive was being discussed. 
"I actually waited until I was married to have sex. That was not without some porn, unfortunately," Andy said on The Talk.
13. Mariah Carey and Nick Cannon
Stephane Cardinale – Corbis / Corbis via Getty Images
Mariah Carey and Nick Cannon weren't virgins before they tied the knot, but they did decide to remain abstinent from sex until they were married. The couple only dated for two months before they got married in 2008, but Mariah says their choice made everything more special. 
"It's not that we had no intimacy; we just didn't have complete intimacy. It's just me, and my feelings. I definitely don't want to push it on anybody else. But we both have similar beliefs, and I just thought that it would be so much more special if we waited until after we were married. And it was, and it still is," Mariah told Mirror.
14. Sarah Drew
Matt Petit / Freeform via Getty Images
Grey's Anatomy star Sarah Drew says she had no trouble relating to her devout Christian character April because she, too, had waited to have sex until she was married. 
"For April, the first thing that was revealed was she was a virgin. I waited until I was married to have sex, so I understood April's motivations. The writers thought it would be a really cool and interesting story to tell that isn't seen too often," Sarah told Fox News.
15. Kathie Lee Gifford
Nbc / NBCU Photo Bank / NBCUniversal via Getty Images
Television personality Kathie Lee Gifford says she waited until marriage to have sex — but is one of the only people on this list to admit she regretted her decision. Kathie Lee says after she tied the knot with Paul Johnson, she realized she had no sexual compatibility with him. 
"It was time for candles and romance, time to boogie and swing from the chandeliers. And yet, we just couldn't seem to get relaxed with each other. We saved ourselves for so long and expected it to be so good because we had done it 'right.' It was not passionate, and it was not successful, but it was polite," Kathie Lee wrote in her autobiography.
BuzzFeed Daily
Keep up with the latest daily buzz with the BuzzFeed Daily newsletter!