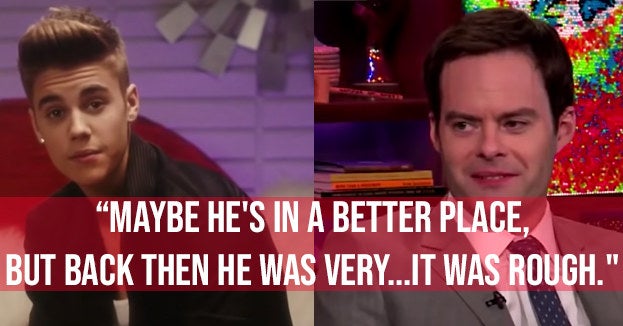 1. Bill Hader found Justin Bieber to be the worst musical guest on Saturday Night Live.
On Watch What Happens Live With Andy Cohen, after being asked who the worst musical guest on the show was, Hader said it was Bieber. "He was in a bad place…maybe he's in a better place, but back then he was very…it was rough," he said. "He just seemed, like, exhausted or just at the end of a rope."
View this video on YouTube
Bravo
2. Chris Pontius (aka Party Boy) of Jackass fame said Ellen DeGeneres is the meanest celebrity he's ever met.
Pontius said that in the greenroom at VH1's Big in '04 (or '05) Awards, DeGeneres was smoking cigarettes and being rude to people as if she were "pissed to be there."
Pontius added that in the end, DeGeneres went out onstage and was "the funny, nice Ellen that people think she is."

3. Jonah Hill "hated" Christopher Mintz-Plasse after his initial audition for Superbad.
Hill said of Mintz-Plasse's audition, "Chris was really, really amazing off the bat. And I think he was really annoying to me at that time." Judd Apatow said that during the audition, Mintz-Plasse was "very caustic and attacked Jonah and did improvs insulting Jonah." Seth Rogen recalled, "Jonah immediately hated him. He was like, 'That was fucking with my rhythm. I couldn't perform with that guy.'"
Ultimately, Hill's dislike of Mintz-Plasse actually appealed to Apatow, as it fit the two characters' tense, rocky chemistry. At the time, Apatow said, 'That's exactly why we're hiring him. It couldn't be more perfect. The fact that it bothers you is exactly what we want.'"
4. Pete Holmes allegedly scolded Malia Obama and her friend for talking during a stand-up show.
Holmes actually didn't recognize her at first. He said, "There were these two hot women in the front that were whispering the whole show — it's worse than heckling. I said, 'Can you please cut it out?' Then I get a little bit more like, 'Shut up…please, shut the fuck up.'"
Holmes said he even pulled a curtain to block Obama and her friend from view. "I thought this would get a big laugh. Nothing. The whole audience turns on me." He didn't find out until after the show that it was Malia Obama.
View this video on YouTube
TBS
5. Kathy Griffin said Jon Hamm was mean to her at a dinner party.
Griffin said she's always gotten a "cold and somewhat disrespectful" vibe from Hamm, but at this particular dinner, she claims, he interrupted her conversation with "boozy yammering." She added, "First it was, 'You know your Emmy isn't a real Emmy.' I let that one go, but then he whispered, 'You're so o-o-o-old.'"
Griffin added, "He's one of these hot guys who's mildly funny but actually thinks he's comedian-level funny. You know the type — there's probably one in your office or family. He just reeks of that. It's an entitled air. When Hammy wants to be funny, he's, well, not."
6. Zac Efron said that during his first icy meeting with Seth Rogen, it was revealed that Rogen "wanted to hate" him.
Efron told the story of introducing himself to Rogen at a party and complimenting his writing, producing, and acting, prompting Rogen to admit that he wanted to hate him, and to be jokingly upset that Efron was "nice" instead of being an asshole.

7. Andrew Schulz is a comedian who claims to have had a "weird interaction" with Jerry Seinfeld. It happened when Schulz performed at a comedy club. After the show, he saw Seinfeld and thanked him for attending.
Schulz said Seinfeld offered zero verbal acknowledgment in response. "He looked at me, then he just looked the other way and just walked away."

8. Kesha also famously had an awkward interaction with Seinfeld.
Kesha approached Seinfeld for a hug, and he politely declined by saying, "No thanks."
View this video on YouTube
WTOP News
Seinfeld later clarified that he simply didn't know who she was and he wouldn't "hug a total stranger." When asked about the incident later, Kesha said, "I think I just scared the poor man."
View this video on YouTube
Extra TV
9. Josh Gad was annoyed with Adrian Grenier for his behavior while attending a performance of the Broadway musical Book of Mormon, which ultimately led to Gad's "lowest moment in acting history."
Gad (who starred in the musical) told the story of performing in the show as a celebrity in the audience kept "checking their phone, just talking and not really listening." He initially kept their identity anonymous, saying only that they "were on Entourage" and "it's not Jeremy Piven." Gad said that he was so focused on debating whether to call the person out that he forgot his line, which led to a lengthy, awkward silence before he called out, "What the [blank] am I supposed to say?" to get his next words from the crew.
Gad eventually confirmed the identity of the culprit, stating, "It was the lead actor on a show called Entourage, Adrian. … So Adrian, the next time you're out there in a dark theater with a bunch of people onstage performing for you, I would ask for a little bit more respect. And I promise to show you the same respect when I watch you on a stage. All joking aside, I hope you're doing well, Adrian! I still love you, I still love you very much."
10. Chanel West Coast had a heated spat with radio host and writer Charlamagne tha God during an episode of Ridiculousness.
After Charlamagne bragged about his willingness to tell people his honest opinion to their face, Chanel told him that just because he says something doesn't make it the truth. Charlamagne responded, "She's saying that because I told her she was wack at rapping one time." This set off a back-and-forth that ended with Chanel angrily telling Charlamagne to "get familiar" with her "musical track record."
You can watch the full squabble here:
View this video on YouTube
MTV
11. Sophie Turner was so starstruck by Kendall Jenner that she bluntly declined an invitation to a party.
This one wasn't an intentionally rude encounter. Turner said she often shuts down celebrities because she "acts up" and "says something stupid" when expressing excitement about meeting them. She recounted making an overcorrection when meeting with Jenner, stating, "She's so gorgeous in real life and I was struck by her beauty, and she invited me to this afterparty. She went, 'Do you want to come?' and I just went, 'No. No, I don't.'
View this video on YouTube
NBC
12. Cara Delevingne and Richard Madden had a non–face-to-face exchange after he criticized her for a tense interview with CBS Sacramento that was cut short.
First, here's Delevingne's interview that drew Madden's criticism, which you can watch for yourself. Some believe the interviewers are condescending and set the tone, while others felt Delevingne was irritable and unwelcoming to the broadcasters from the jump.
View this video on YouTube
CBS Sacramento
Madden was quoted as saying, "It was unprofessional. … It made her seem ungrateful…she showed her age. For Cinderella, I did six weeks of those interviews, where you get asked the same eight questions. If you're not capable of doing that gracefully, then don't do it."
Delevingne tweeted in response, "I have no idea who you are but I think it's little desperate for a grown man to be bad mouthing someone they don't know." However, Madden quickly apologized and said he was misquoted, squashing the short-lived beef.
13. Jon Stewart did not enjoy Hugh Grant at all when he was a guest on The Daily Show in 2009, once labeling him the show's worst guest, adding, "And we've had dictators on the show."
Grant is said to have complained to The Daily Show staff that he had other places to be. Stewart recapped, "He's giving everyone shit the whole time, and he's a big pain in the ass."
Grant was there to promote Did You Hear About the Morgans? and it was reported that he took issue with the clip of the film that was shown. Stewart said in response, "Well, then make a better fucking movie." (I watched the interview, and there's some sarcasm and perhaps a bit of tension, so these other interactions happened off-camera.)
For the record, Grant didn't deny any of the allegations, and in fact acknowledged that he wasn't on his best behavior and deserved the criticism from Stewart.
Turns out my inner crab got the better of me with TV producer in 09. Unforgivable. J Stewart correct to give me kicking.

06:26 PM – 14 Dec 2012
@HackedOffHugh
14. James Corden and Pierce Brosnan
During a segment on The Late Late Show, Corden was asked to "name a celebrity who has been rude to [him] at a party." Corden told a story of Brosnan pushing him out of his way at a U2 concert.
Corden said that after Brosnan left his area and Corden moved into it, Brosnan returned and pushed him out the way without a word: "I looked at him, and he didn't even glance at me."
View this video on YouTube
CBS
15. Jeremy Piven and Stephen Dorff got into an argument over bathroom-line cutting.
According to Pop Sugar, Piven was upset at Dorff for cutting the line to the bathroom, and the two had a little argument, with things nearly escalating to the point of physical confrontation.
16. And finally, Lena Dunham oddly criticized Odell Beckham Jr. for…doing nothing in particular after the two shared a table at the Met Gala.
In a Q&A with Amy Schumer, Dunham said, "I was sitting next to Odell Beckham Jr., and it was so amazing because it was like he looked at me and he determined I was not the shape of a woman by his standards. He was like, 'That's a marshmallow. That's a child. That's a dog.' It wasn't mean — he just seemed confused. The vibe was very much like, 'Do I want to fuck it? Is it wearing a…yep, it's wearing a tuxedo. I'm going to go back to my cellphone.' It was like we were forced to be together, and he literally was scrolling Instagram rather than have to look at a woman in a bow tie. I was like, 'This should be called the Metropolitan Museum of Getting Rejected by Athletes.'"
Dunham's unprompted targeting of Beckham drew public criticism her way, and she eventually wrote an apology on Instagram.
Beckham seemed unaware it was even a thing, and when asked about it, he simply replied, "It's life. There are so many things that go on. You catch some of them, you don't catch some of them, you just — I don't know, man, I don't have much to say about that. I have to learn more about the situation."
BuzzFeed Daily
Keep up with the latest daily buzz with the BuzzFeed Daily newsletter!