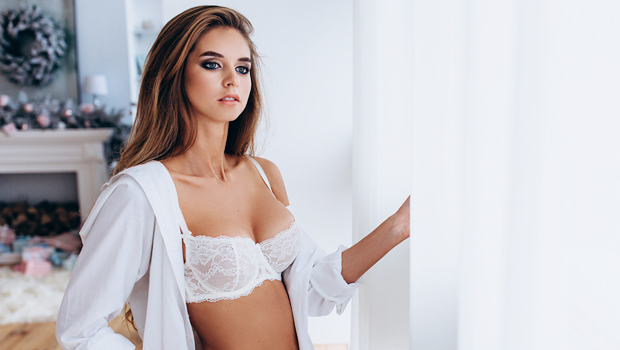 Image Credit: dimadasha/Adobe
If you purchase an independently reviewed product or service through a link on our website, we may receive an affiliate commission. For our affiliate policy, click here.
MoreShopping
Valentine's Day is right around the corner and we've rounded up seven amazing lingerie sets for you to spoil yourself or your partner with that are bound to make you look ultra sexy and feel most confident. Look your best, feel your best, and "wow" your partner (if you have one!)
We've scouted lingerie pieces that'll make a statement: this isn't your average red night slip.  Whether you're sultry or sweet, we've found a wide variety of lingerie sets to spice up your Valentine's Day or just give you that confidence boost you've been needing. Check our favorites out below!
1. RSLOVE Sexy Babydoll Lace Lingerie Set
Starting it off, we love his lingerie set because it's a bit unique. The high neckline of the top piece makes it a little different than your standard bra, but the cleavage cutout is totally sexy and flattering. It has a camisole-cut back, plus a tie at the neck for some added lift. The bottoms have a high cut at the hip, and a lace detailing in the back above the thong cut. Available in romantic colors from black to wine red, you're guaranteed to feel like a pin-up girl in this hot set! $19, amazon.com
Articles Trending Now
Trending Now
2. Avidlove Lace Lingerie Nightie 
If you're a fan of little dresses, then why not incorporate that into your evening wear? This adorable little nightie by Avidlove is great for throwing over your favorite bra and panties. It has an asymmetrical hem that elongates the leg, adjustable spaghetti straps, and a pretty floral lace texture on the bra cup. It has a hook closure at the cleavage so you can slip it on and off easily, and it's even a sexy evening outfit for pregnant women. Be sexy in a girly, flirty way with this cute nightgown. $17, amazon.com
3. SOLY HUX 4-Piece Satin Lingerie Set
Why settle for a 2-piece set when you could get 4 pieces? This 4-piece lingerie set from Soly Hux includes a belted robe, a lace bralette, lace thong panties, and super stylish silk booty shorts with lace trim. Wear all four pieces at once, or mix and match – whichever you prefer. The fabric is soft and lightweight so it's an ideal sleepwear outfit for summertime, and it comes in over 30 colors too! $29, amazon.com
Related Link
Related: 28 Best Nail Designs For Valentine's Day
4. SheIn 2 Piece Sexy Lace Bra & Panty Lingerie Set 
Since summer is all about bright, vibrant colors, it's all the more reason to add some pop of color to your underwear! This 2 piece lingerie set from SheIn is giving us major summer vibes in this lime green color, but it's also available in over 20 other bold and even more subtle options. The bralette back has a hook and eye closure with adjustable shoulder straps, and a delicate underwire to give you flexibility. The floral lace detail on the cup matches the trim on the panties, which is a strappy thong that can be worn underneath just about anything. $18, amazon.com
5. Wdirara 3 Piece Lingerie Set With Garter 
Nothing says "sexy" like a garter, and this 3-piece set from Wdirara has a hot one! It has floral lace trim at the bottom, which matches the material of the bralette and matching panties. It comes in this fire red color which is ideal for celebrating any anniversaries or even Valentine's Day, but it also is available in various other flattering colors. The garter can be easily removed or added depending on the occasion. Bonus – the individual pieces are all made of a stretchy, breathable lace fabric which makes them all comfortable enough to wear whenever and wherever. $20, amazon.com
6. TOMORI Sexy Ruffle Lingerie Set
Last but not least, give your S.O. a hint of what's to come by looking like a blushing bride in this white lingerie set by Tomori, which comes complete with a bra, underwear, garter belt, choker, and two leg bands. The many white ruffles will really make you feel like you're walking down the aisle…AKA, the hallway leading to your bedroom. $18, amazon.com 
Click to Subscribe to Get Our Free HollywoodLife Daily Newsletter to get the hottest celeb news.

Read The Full Article Here