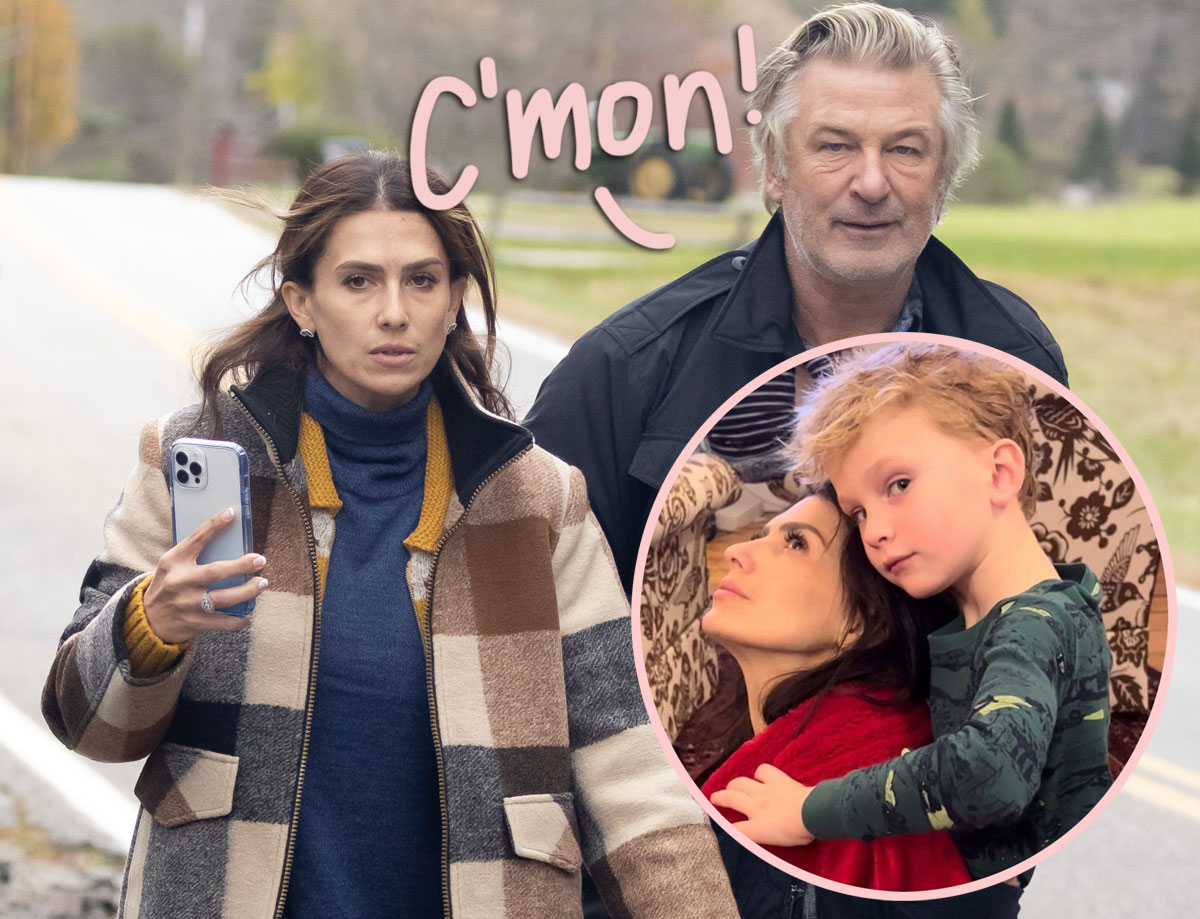 Of all the things Alec Baldwin had to worry about this week, we didn't expect it to be this…
The actor returned to Instagram over the weekend for the first time since being charged for the Rust shooting — with a very controversial photo!
On Sunday, the 64-year-old took to the 'gram with what he thought was a cute snapshot of his wife Hilaria Baldwin and their 6-year-old son Leo. In the picture, the young boy stands behind his mother with his arms on her shoulders to give her a back rub as she looks lovingly up at him. The sweet moment quickly turned sour as the photo was blasted as "sexually suggestive" by fans, mostly because of Alec's odd caption!
Related: Gerard Piqué Spotted With Irina Shayk Amid Shakira Breakup Drama!
Alongside the photo, the embattled star teased:
"The old 'let me give you a back rub' ploy."
Uhhh. Yeah, that is a bit strange…
Fans quickly flooded the comment section with a slew of negative responses, calling out the performer for his "f**king weird comment" that many found sexual. Take a look:
"That's a pretty f**king weird comment to make on a photo of your son and his mother "

"This caption is disgusting"

"Sexualizing children is always so weird but your own child? Yikes"

"Only ploy is your wife's accent"

"Does anyone else think this is creepy af with the caption?"

"Pic is sweet. Caption makes it weird."
Because of all the harsh chatter, the Boss Baby alum actually returned to the post to edit the caption so it would be more clear what exactly the "ploy" was, he wrote:
"The old 'let me give you a back rub' ploy.
Potato chips to follow."
Ch-ch-check out the updated post (below)!
The Here's The Thing podcast host went on to blast his haters in the comments, adding:
"I adjusted the text. I guess because…you know…there is so much of that Reddit trash out there."
If you didn't know, the 30 Rock alum and his wife have often been the subject of numerous conspiracy theories, largely originating on Reddit, which is why he has a clear bone to pick with the site!
Related: T.J. Holmes 'Was A Predator' Who Took 'Advantage Of' Young Intern
Whether it's clapping back at Hilaria's fake Spanish accent or accusing her of faking her latest pregnancy, there's always something to be said about this couple. In August, the Boston, Massachusetts native defended herself against a "psycho" rumor that her baby bump wasn't real, saying on IG:
"My friends made a good point about my belly. It kind of looks fake like I ate a ball."
The former yoga instructor continued:
"I guess the psycho conspiracy theorists online with way too much time on their hands have somewhat of a point here."
We'd think Alec would spend a little more time worrying about his legal issues than putting haters in their place, though! As we've been following, the Rust star and the film's armorer, Hannah Gutierrez Reed, were charged with two counts of involuntary manslaughter for the fatal shooting of cinematographer Halyna Hutchins in October 2021. Involuntary manslaughter carries a maximum sentence of 18 months in jail, but since there was a firearm involved in the incident, this makes the crime punishable by a mandatory five years. Santa Fe District Attorney Mary Carmack-Altwies said in a statement last week:
"On my watch, no one is above the law, and everyone deserves justice."
Luke Nikas, an attorney for Alec, has already called the charge "a terrible miscarriage of justice" against his client, telling Page Six:
"Mr. Baldwin had no reason to believe there was a live bullet in the gun — or anywhere on the movie set. He relied on the professionals with whom he worked, who assured him the gun did not have live rounds."
He added:
"We will fight these charges, and we will win."
In the meantime, perhaps he should think twice about what he posts online! Thoughts? Did you find the caption odd AF?! Let us know (below)!
[Image via Alec Baldwin/Instagram & MEGA/WENN]