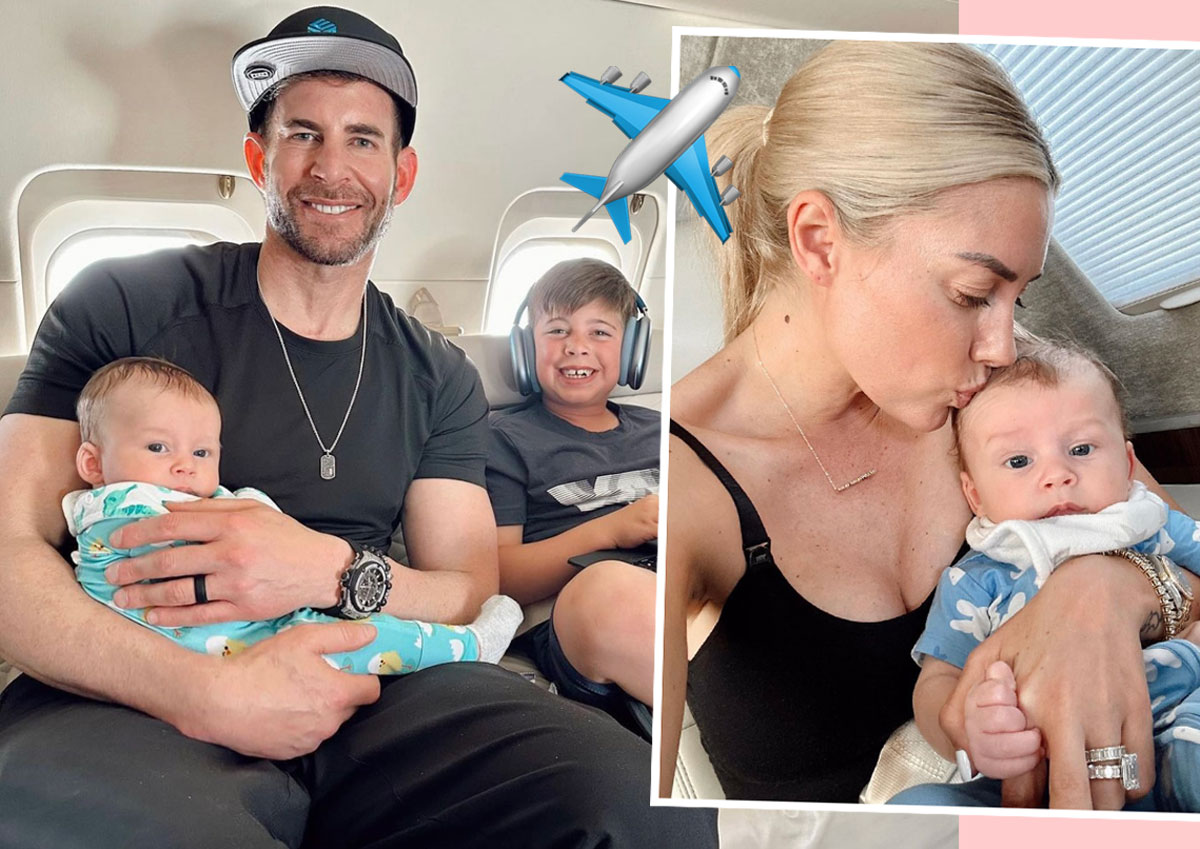 Heather Rae Young might regret sharing this mom tip because it did NOT go over well!
On Monday, the Selling Sunset star took to Instagram to share a big milestone in her new parenthood journey with her and her husband Tarek El Moussa's three-month-old baby boy, Tristan.
Sharing snapshots of a recent trip to Scottsdale, Arizona for their networking panel event, The Flipping Summit, Heather explained the couple wanted to take all their kids, including Taylor, 12, and Brayden, 7, whom Tarek shares with ex-wife Christina Hall, on the trip with them.
Related: Christine Quinn Shades The S**t Out Of Rival Chrishell Stause
Naturally, traveling with a newborn can be complicated AF! But luckily for her, she had the easiest time ever, she gushed:
"Our little traveling boy!! Took Tristan on his first flight ever with Tay and Bray so they could be with us at The Flipping Summit and see us in our element."
How'd it go so well? Well, the real estate agent shared her number one tip with followers, adding:
"Tristan did such an incredible job and mom-tip, I breast fed him on the way up and then again on the way down to help with ear popping- It worked perfectly and then the rest of the flight he just giggled, played and looked around and was so happy & didn't cry once… he loved the new environment"
She continued:
"He also slept the longest he's ever slept at the hotel and it was great because in between speaking or in between events I would rush back to breast feed him. He was such an angel. Proud mama moment"
Whoa! Sounds like it was a breeze! Honestly, good for them! We love that Tristan did so well, and we're glad Heather's no longer struggling to breastfeed! But she's definitely forgetting a major piece of the puzzle here: she was on a freaking private jet!
Related: LIB's Shayne Returns To Social Media With Shirtless Snap Amid Fan Concerns
Fans slid into her comments to express their frustration with her "tone death af" tip, saying:
"Of course it was GREAT. Try flying commercial "

"Love that it went well but many moms can't relate to your flight experience on a private jet….."

"Private jets do not count as 'traveling' on his first flight. Once you are surrounded by hundreds of people, petrified your child will scream his head off- is when you can say you traveled."

"Not all Mamas have the luxury of a private plane. But good for you and your 'tips' "
Others said the whole post was "zero percent relatable" and showed off "straight privilege," but so far, Heather hasn't responded to the backlash. Take a look at her full post (below):
Do you think fans have a reason to be so pissed off?! Let us know (below)!
[Image via Heather Rae Young/Instagram]