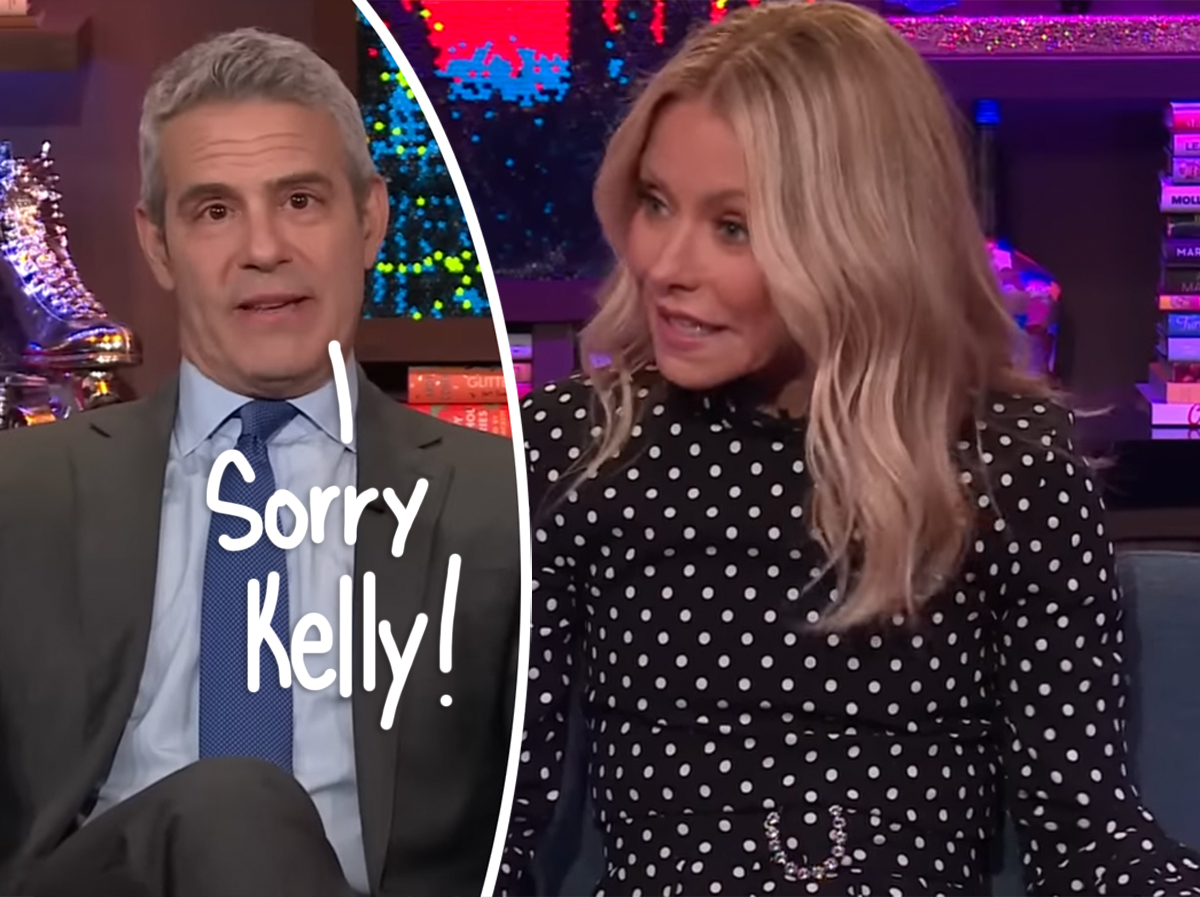 Andy Cohen knows now to double-check with Kelly Ripa about what she's doing right before he sends over some explicit content!
During her podcast Let's Talk Off Camera on Wednesday, the 52-year-old television personality recalled being on set for Live With Kelly and Mark when she suddenly received a message from her friend Andy. The contents of this text? Well, it ended up being a picture of one of his potential hookups' junk! No joke! And mind you, she was at work at the time. So not only was she caught off guard by the peen, but it turned out her executive producer got a shocking peek at it too! She told Andy on the podcast episode:
"So, my work iPad is open and I'm sitting here reading through my notes and ["Live" Executive Producer Michael Gelman] is over my shoulder trying to show me something. And suddenly a completely erect penis pops up."
Related: Switching Sides? Andy Cohen Defends Tom Sandoval Amid Online Hate!
OMG! She continued:
"Let's call him Bobby. It just says, 'Bobby's c**k,' and it's, like, a text from Andy Cohen, 'Bobby's c**k.'"
Talk about literally being not safe for work! As for why he had the d**k pic in the first place? Andy explained it came from a straight couple from Boston that he was hoping to have a "sex romp" with in the future. However, the threesome never ended up happening. For her part, Kelly shared that she was glad the ménage à trois didn't work out, mainly because she and hubby Mark Consuelo get concerned for the radio host's safety during hookups:
"Mark and I get very nervous with this stuff on your behalf. I'm constantly convinced that it's going to be a couple of serial killers. I've had this discussion with you many times, where I'm so afraid for your life."
Aww. That's sweet the couple is worried about their pal's well-being! Elsewhere in the podcast, the two touched on Andy's life as a parent to 4-year-old Benjamin and 1-year-old Lucy. He opened up about what he misses most now that he's raising two kids, saying:
"I miss sleeping and I miss walking around naked and I miss being the only one in my house. And did I say freedom? I do miss the freedom."
Andy insisted he doesn't "question" his choice to have kids "for a second." Nevertheless, he still cannot help but wonder sometimes what his life would have been like if his children weren't in the picture:
"I often think to myself, 'Well, what would I be doing if I didn't have kids?' And I think, 'Well, I would be masturbating and getting high.' I still masturbate and get high plenty with kids, so maybe I'm not missing that much."
You can always count on Andy and Kelly to be open and honest about their lives, even when it comes to what goes on in the bedroom, huh?! Reactions, Perezcious readers? Let us know in the comments below.
[Image via Watch What Happens Live with Andy Cohen/YouTube]