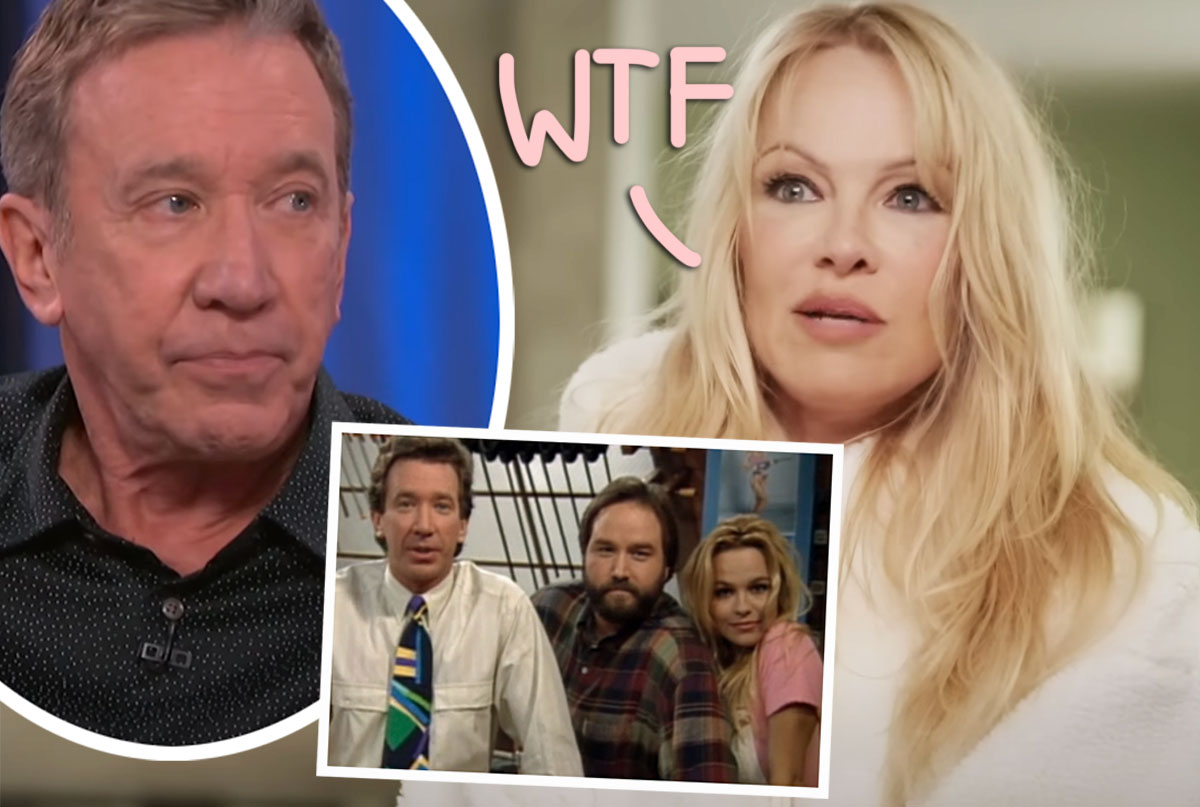 Pamela Anderson is opening up about a disturbing incident that she claims took place on the set of Home Improvement in 1991.
In a new excerpt of her upcoming memoir, Love, Pamela, obtained by Variety on Sunday, the actress revealed Tim Allen once allegedly flashed his penis at her while on the set of their sitcom —  when she was just 23! And what he apparently had to say for himself at the time is honestly so gross.
Related: Jeremy Renner Reveals He Broke More Than 30 Bones In Snowplow Accident!
If you didn't know, the pair starred in the ABC sitcom together for several years. It was one of Pamela's first acting credits. She played Lisa the Tool Girl before departing the series after two seasons to focus on Baywatch, which was becoming a global sensation at the time. Unfortunately, things got off to a very uncomfortable start for the young performer, as she detailed in her memoir:
"On the first day of filming, I walked out of my dressing room, and Tim was in the hallway in his robe. He opened his robe and flashed me quickly — completely naked underneath. He said it was only fair, because he had seen me naked. Now we're even. I laughed uncomfortably."
W.T.F.
Why would he ever think that was appropriate — especially on their first day of filming?! Not to mention Tim, who was 37 at the time, was the lead character of the show creating all kinds of disturbing power dynamics in the situation. He knew he had no right to be getting naked in front of her!
Related: Holly Madison Never Spoke To Hugh Hefner From Their Breakup To His Death
While it wasn't directly stated in the excerpt, Tim presumably thought it was "only fair" of him to flash Pam because of her Playboy modeling career (which turned her into a sex symbol). Still doesn't mean she wanted to see her co-worker's d**k!
Interestingly, the Last Man Standing star has already vehemently denied the alleged incident, declaring in a statement to the outlet:
"No, it never happened. I would never do such a thing."
Hmm. A classic he said, she said situation…
We'll have to wait to see what else is revealed in the full memoir, which hits shelves on January 31. It will drop alongside a Netflix docuseries titled Pamela, a love story, both of which are expected to address the Baywatch star's infamous sex tape scandal and the triggering Hulu series Pam and Tommy that premiered last year, among other things. Thoughts on this shocking claim, Perezcious readers? Sound OFF (below)!!
[Image via Hulu & Kelly Clarkson Show/People/YouTube]