View gallery
Image Credit: Paramount+
Rabbit Hole has been a thrilling roller coaster of twists and turns. Meta Golding has had a front-row seat to the ride. The actress plays Hailey Winton in the Paramount+ alongside Kiefer Sutherland and Charles Dance. HollywoodLife spoke EXCLUSIVELY with Meta about playing a character in a show where motives are always questionable.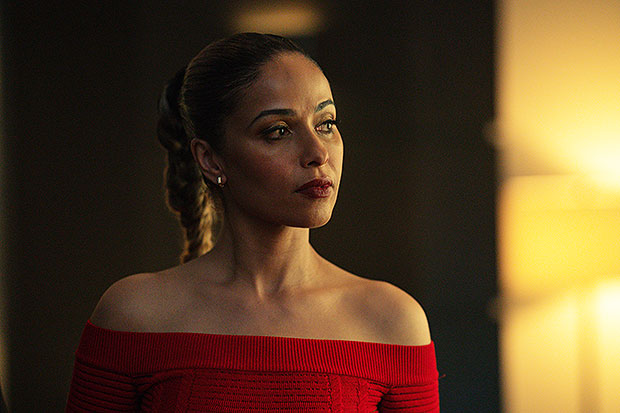 "I love playing a character that isn't just one thing. She's a lot of things. In the series, I'm able to show just so many different sides of her," Meta said. "Obviously, it's exaggerated, but nobody is all good or all bad. Especially in this world, I think the thing is ultimately what we're going to see is that Weir and Hailey and Ben are all sort of similar. Hailey's a little bit more street savvy, but ultimately, she's a manipulator and doing the best that she can. She was a really interesting person to play."
Articles Trending Now
Trending Now
When asked whether or not Hailey has good intentions, Meta responded, "I think from her perspective she's never trying to do anything bad. She's never trying to gain more power. She's trying to live a good, full life."
The actress stressed that the entire first season is a seesaw game of trust in many areas but especially between Hailey and Weir. "The whole show is about: can we trust technology and data mining, but it's also like, can we trust his father? Can she trust him? Is it better for her to be underground with these guys? It's all trust so it's that back and forth and tug and pull. In that, it can be very heartwarming, but it can also be a lot of arguing but funny. It's just people trying to figure out if they can trust each other."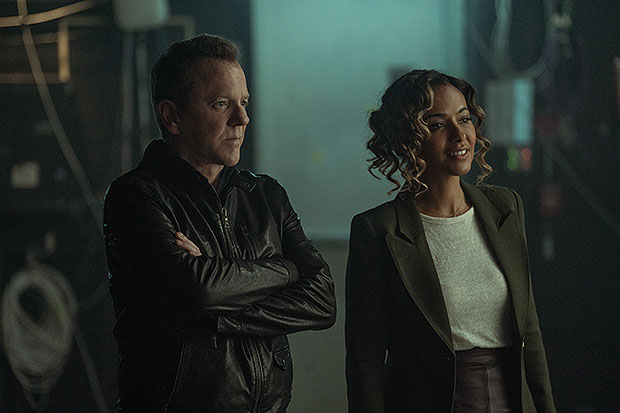 Kiefer Sutherland and Meta Golding in 'Rabbit Hole.' (Paramount+)
The thing about Rabbit Hole is you can never predict what's coming next, which makes it exciting for viewers. By the end of the season, Meta assured that there will be "payoff" for all the twists. "It's not one of those series where at the end, you're like, oh, that was a big dream, you know? All of the plot points mean something, and then you can actually go back. For people who really enjoy the show, they could go back to the first episode and get lots of Easter eggs," she told HollywoodLife.
More TV News:
Early on in the season, Weir's father, Ben, came into the mix. From the jump, he was distrustful of Hailey, but the feeling was mutual. "The actor, Charles Dance, has sort of perfected being terrifying. She knows that she's with dangerous people, and she's trying to stay alive. I think the great thing about Hailey is that she's a little street-smart. She knows she's got to be careful with and from the get-go her and Ben, Weir's dad, it's not like that's a match made in heaven. They're both on to each other." New episodes of Rabbit Hole premiere Sundays on Paramount+.
Related Link
Related: Paige Anne: 5 Things To Know About The 16-Year-Old 'Idol' Contestant Who Returned To The Show
Click to Subscribe to Get Our Free HollywoodLife Daily Newsletter to get the hottest celeb news.

Read The Full Article Here