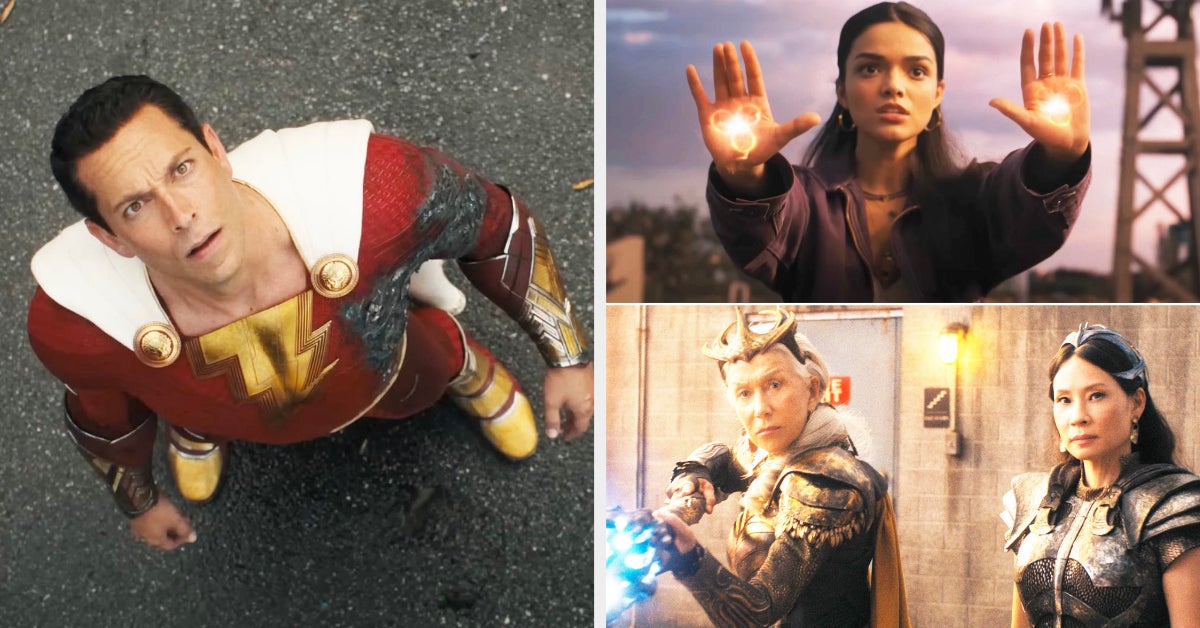 At San Diego Comic-Con 2022, Warner Bros. unveiled loads of new content for their upcoming movies Shazam! Fury of the Gods and Black Adam. The panel, which took place in the iconic Hall H, showed new trailers and footage as the casts and directors of these projects teased what fans can expect.
After the memorable panel, BuzzFeed caught up with Zachary Levi, Asher Angel, Jack Dylan Grazer, and director David F. Sandberg, who discussed reuniting on Shazam! Fury of the Gods and what to expect from this action-packed sequel.
Director David F. Sandberg, who also directed Shazam! in 2018, said getting to return to these characters and this story again has been amazing. "For most of the first movie, the family doesn't even know about Shazam and the powers. So now we actually get to see how the family functions together or sometimes doesn't function," David said. "You'll see them deal with a proper huge threat. The stakes are bigger, so the action's bigger."
Jack Dylan Grazer, who plays Freddy Freeman, echoed David's comments on the upcoming film, saying, "I don't want to say it's 'better than the first one,' but I think it's going to be more all inclusive. I think it'll be more emotional, definitely. The emotions behind why we're doing what we're doing is more explored."
Meanwhile, Zachary Levi, who plays Shazam, said that this is a character that has been "so fun" to play and he loves portraying a superhero who is a kid at heart. "I got a jackpot of a character," he said. "It's not just a normal superhero. He's a kid. He gets to have all that fun with it. I love it."
Now having played Shazam for two movies, Zachary said that he's loved adding himself to the character through improv on set. "It's allowed me to make the character more my own, and also help refine him and give him more texture," he said. "They've used a lot of the stuff that I've added and it's very satisfying."
With the sequel, all of the characters have grown up a lot, and it allowed the actors to explore different sides to them, especially for Asher Angel, who plays Billy Batson, and Jack Dylan Grazer.
"There's finally this arc that everyone's gonna see from Billy," Asher said. "Like, the first movie, you kind of got an understanding of who he is and his background, and now you're really gonna find out the next steps in his life."
"There's so many different layers to him. He's obviously gone through a lot of trauma in his life, and now he's finally at a place where he's stable and he's happy, and he's surrounded himself with these people that care about him and that's all he's wanted in his life. So it's quite the adventure for me to play."
Meanwhile, Jack explained that getting to play Freddy again was a dream come true and something he's been looking forward to since the first Shazam! He told BuzzFeed, "I was so happy about that. I was ecstatic. I remember walking out of the premiere for the first one and being like, 'I wanna play Freddy again. I want to be Freddy,' and then I got to."
Alongside the returning cast from the first film, Shazam! Fury of the Gods also welcomes some incredible new characters, in particular the daughters of Atlas, who are played by Helen Mirren, Lucy Liu, and Rachel Zegler.
"It was so cool because we had these three female characters and we were like, 'Let's try and get the best, the biggest actors we can,'" David told BuzzFeed. "And then, they all said yes. It was like, 'Let's try for Helen Mirren,' and she agreed to do it, which was a dream. Then, Lucy Liu and Rachel Zegler were such wonderful additions too."
Speaking about adding Helen Mirren, Lucy Liu, and Rachel Zegler to the cast, Jack Dylan Grazer said it just made the film "even better." He continued, saying, "It upped the stakes. It made it way more colorful, way more bright, and just brought a lot of joy to set."
In fact, the Shazam family — or the "Shazamily" as the cast and crew like to call themselves — are one of the reasons all of them feel this has been one of the best jobs they've ever had.
"You know, we have a lot of people in our cast and everybody loves each other, genuinely," Zachary said. "We all had barbecues together while we were shooting this last summer. Everybody coming over and swimming, like everybody's cool with each other, and it just feels good to be part of a cast like that. And our friendships off screen translate on the screen."
San Diego Comic-Con 2022 also marked the highly anticipated release of the first trailer for Shazam! Fury of the Gods, and getting to share that moment with 6,000 fans in the historic Hall H was something the cast and director won't forget.
Asher described the moment as "incredible," saying, "There's no other word to say. It's unreal to be [at Comic-Con]. Last time we were here was in 2018, so it's been a while. This is the start of something really special."
"I've been dying to show people some footage," David said. "We've been working on it for so long and like, I know all the cool stuff we're doing. So I'm just eager for people to see it and I want to let them see even more."
The moment in Hall H was an emotional one for Zachary Levi, who took some time after the panel to reflect on his career and how far he's come from doing smaller panels for Chuck at Comic-Con.
"After all the years, seeing all the wonderful fans who have supported my career, specifically at San Diego Comic-Con, is always amazing. To know that I've been doing this for 15 years, to go from Ballroom 20 with Chuck all the way up to Hall H with Shazam, I don't know, there's something…"
"I'm literally tearing up right now. There's something very humbling about it and very awe-inspiring. The things that I have dreamt of all paying off in even cooler ways than I ever could've imagined."
You'll be able to catch Zachary Levi, Asher Angel, Jack Dylan Grazer, and more when Shazam! Fury of the Gods hits theaters on Dec. 21, 2022.
And you can watch the first trailer that debuted at San Diego Comic-Con 2022 below:
View this video on YouTube
Warner Bros / Via youtu.be
TV and Movies
Get all the best moments in pop culture & entertainment delivered to your inbox.