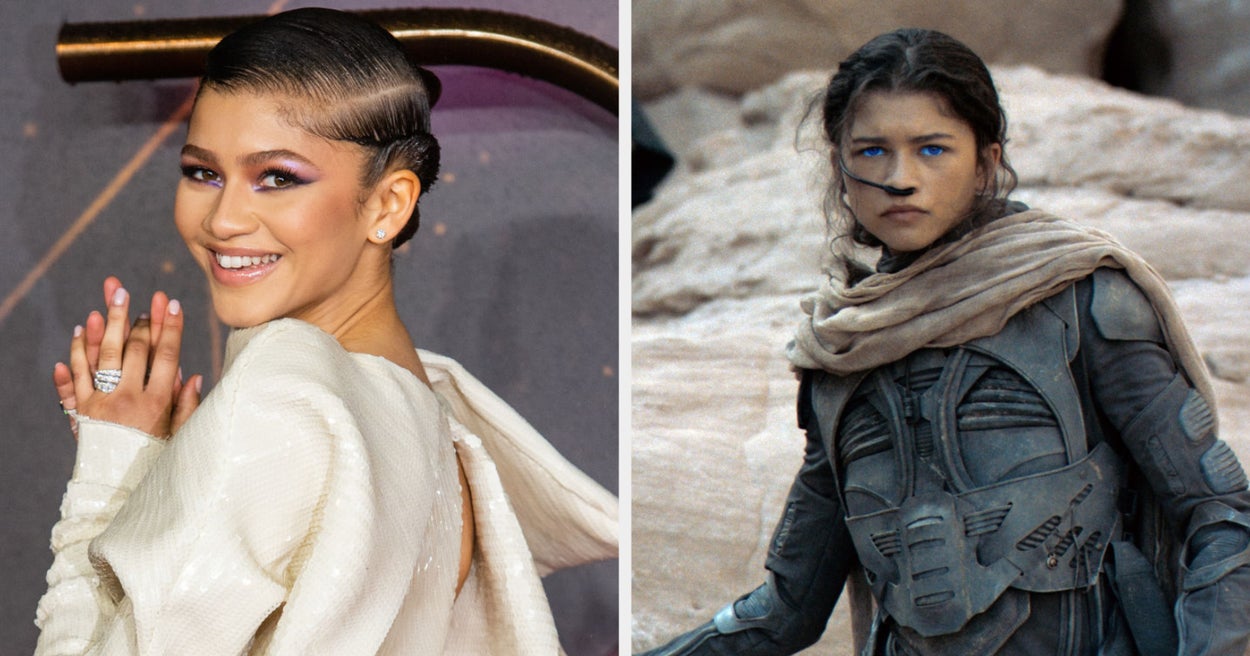 The sci-fi adaptation Dune hit theaters and HBO Max this weekend, starring indie darling Timothée Chalamet and Disney-star-turned-powerhouse Zendaya.
Warner Bros. / courtesy Everett Collection
At least…it seemed to star Timothée and Zendaya, based on the press tour, red carpets, photos, promo, etc…
David M. Benett/Dave Benett / WireImage via Getty Images
…When in actuality, Zendaya, who plays Chani, appears in seven minutes total of the film, a good amount of which is just glorified perfume ads of her face in the desert as Timothée's character Paul has visions of her.
Feeling led astray, people took to Twitter to voice their frustrations…
Like, really. They were not okay.
At all.
Like, if you went to the bathroom at the wrong part, you might have barely noticed Zendaya in the film at all.
Besides the last few scenes, most of Zendaya's appearances were basically just this:
this is literally all Zendaya does in her 2 minutes of screen time in Dune i'm not joking
The credits were longer than her appearance.
It doesn't even matter that she's barely in the first half of the book — WE WANTED ZENDAYA, DAMN IT!
Now see, all the Dune fans coming out like "well if you had read the book you'd know her character isn't…." I DON'T WANT TO READ THE BOOK I WANT TO SEE ZENDAYA WHAT'S NOT CLICKING STEVEN
We were led ASTRAY by this press tour.
It's not okay.
So I went into that new movie Dune expecting Zendaya to serve per usual the way they had her promoting it… just for her to have 10 minutes of screentime in a 2 hour movie #Dune
And it's not even the first time this has happened. 🙁
DUNE SPIDER-MAN: HOMECOMING 🤝 Press tours that imply Zendaya is a lead of the film even though she won't actually play a major role until the sequel
Even with her limited screen time, though, Chandi/Zendaya was one of the best parts of the film.
Top two best characters, for sure (tie between Zendaya and the planet).
Seriously, we need this sequel greenlit NOW.
Tom, do your thing. Avenge Zendaya's lack of screentime.
Tom Holland pulling up to Denis Villenueve's house after he finds out Zendaya only has five minutes of screentime in Dune
Meanwhile…I guess I'll see you in my dreams, Zendaya.
BuzzFeed Daily
Keep up with the latest daily buzz with the BuzzFeed Daily newsletter!