This content contains affiliate links. When you buy through these links, we may earn an affiliate commission.
The best office bookshelves can make or break a space. I speak from experience: right now, there is too little shelf space in my own office for all my books. Every available surface in it is covered. The bookshelves, of course, but also: part of my desk, half my couch, the closet, and oh yes, the floor. I'm half convinced that these towering piles will be the reason for my eventual demise one day: death by book avalanche may not sound exciting, but unless I acquire some new bookshelves, I may have to come to terms with it. Aren't I lucky, then, that there are so many great options on the internet for office bookshelf ideas.
After browsing Etsy and Amazon, I came away with a list of beautiful and functional office bookshelves that are as practical as they are aesthetically pleasing. Because everybody's office space is different, I searched for varied types of the best office bookshelves: large Beauty and the Beast-like bookshelves for the ones with a huge office space; smaller bookshelves for those with an office the size of a closet; and floating bookshelves for those whose office is also their bedroom/living room/kitchen. I also tried to find ones with extra storage whenever possible.
Ready to transform your working area with the best office bookshelf ideas? Read on. (And if you're the handy type who would rather build their own built-in bookshelves, I've got you, too.)
If your office is "whichever room in my home that is currently unoccupied," you'll need to be able to carry it with you. This lovely bookshelf with wheels will let you do just that. $80
If you have a sizeable office, you'll need equally sizeable office bookshelves. This stunning industrial bookcase has room for a lot of books. $1,760
The Goods Newsletter
Sign up to The Goods to receive emails about rad bookish items that will make your reading life a little better.
Thank you for signing up! Keep an eye on your inbox.
By signing up you agree to our terms of use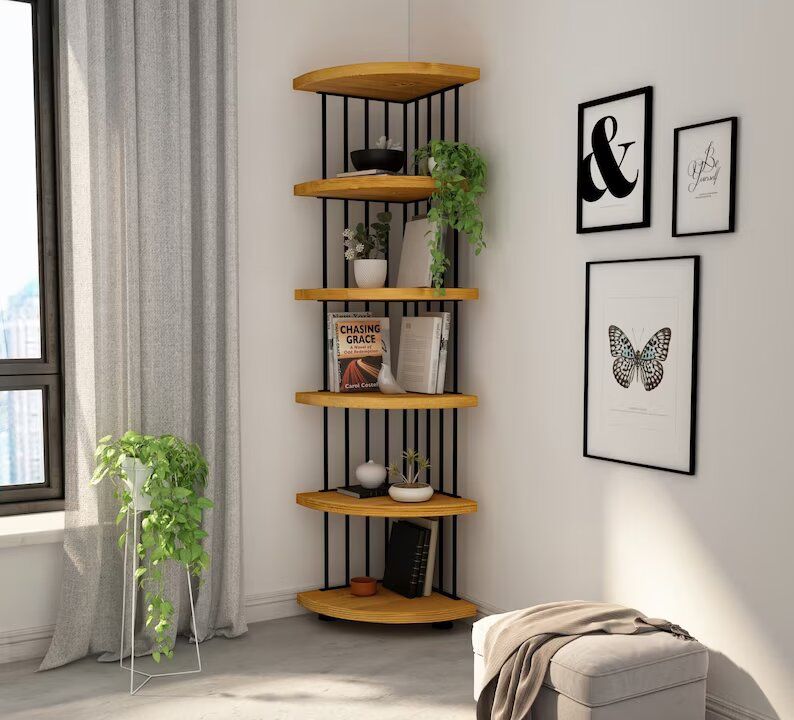 If room is at a premium, consider this corner bookshelf. Made from solid wood, it comes in different sizes and will fit your specific bookish needs. $450 and up.
Do you want to use the space under that standing desk, whiteboard, or cork board? Look no further than this small bookshelf with wheels. $69
If you're looking to maximize on your desk space, an expandable desktop bookshelf is a fantastic place to start. $24
Floating bookshelves are a splendid option if you're either short on space, or want to utilize every available surface in your home. $875 and up.
Sometimes it's hard to find the right bookshelf for an office with lots of corners. If that's the case for you, look no further than this beauty. $250
Congratulations! You now have enough office bookshelves. Time to organize and rearrange them!