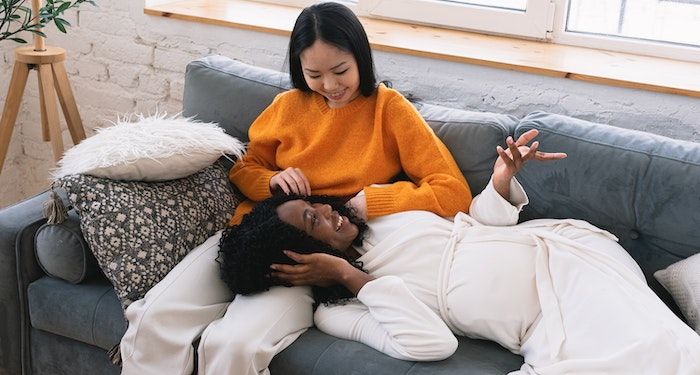 This content contains affiliate links. When you buy through these links, we may earn an affiliate commission.
Ah, romance. It makes me swoon and snort, sometimes in the same breadth. But what can I say? I absolutely love reading about other people falling in love. As we know, love goes beyond the relationships between two white, cisgender people (generally one male and one female). But that's the depiction considered to be the default (thanks, Nicholas Sparks).
Like many BIPOC readers, it was nearly impossible for me to find depictions of myself in romance novels until I read When Dimple Met Rishi by Sandhya Menon in 2018 when I was 24 years old. And no, I'm not counting Bollywood.
However, seeing myself in romance novels with two Indian characters is one thing. But what about romances between people from different races?
Interracial romance novels generally have a white partner and a partner of color. However, as great as those stories are, interracial romances are so much more diverse than that one depiction of love.
As such, I set out to find some excellent interracial romances between two people of color. These stories are not only sexy and fun to read, but also eye opening about issues within various communities of color, such as colorism and religious differences.
Kissing Books Newsletter
Sign up for Kissing Books to receive news, book recommendations, and more for residents of Romancelandia.
Thank you for signing up! Keep an eye on your inbox.
By signing up you agree to our terms of use
Either way, I hope you enjoy these incredible interracial romances.
Adult Interracial Romances
We can find love at any age and with anyone our heart desires. I really enjoyed these adult interracial romance novels because they depict people in various stages of their lives finding love.
This one is an adorable romance between Nikole Paterson and Carlos Ibarra. The two are strangers who meet at an ill-fated ballgame where Nikole's annoying boyfriend proposes to her using the scoreboard and she says no, so Carlos decide to help her out. Of course, sparks fly and what was supposed to be a hookup ends up being something more.
Rai writes great sizzling romances, and in The Right Swipe, she depicts the story of Rhiannon and Samson. Rhiannon revolutionized romance in the digital age, but in her actual life love seems to elude her. However, Rhiannon thought she found something special in her newest match, who woos her over the course of one night…only to ghost her…and then to resurface months later.
Jasmine's closest friend is the sexy Rahul, who's unfortunately off limits because she isn't one for relationships. But Rahul has been in love with her forever, and once he realizes she want him as well, sparks fly.
Grace has just completed her PhD and decides to go to Vegas to celebrate. She's not much of a partier, but ends up drunkenly marrying a women who's a complete stranger. This one act makes Grace reconsider everything in her life, including why her PhD doesn't make her feel fulfilled. Maybe there's more to life than a checklist.
Hold Me by Courtney Milan
A driven genius, Jay na Thalang never slows down. So when he first sees Maria Lopez, he immediately realizes that she's going to be a distraction. Maria has always been cautious, and now that her blog is becoming popular, she wants to keep her anonymity, even against the commenter who's been agitating her for the past few months. Little does she know, Jay is the commenter.
Young Adult Interracial Romances
I grew up reading young adult romances and am delighted that there are finally interracial romances featuring teens. High school is tough, and many go through it feeling alone. Stories about love between unlikely (and likely) teenagers is a great recipe for hope.
This book really doesn't need an introduction, but here it is. Natasha is a practical girl whose dreams come crashing down when her family is about to be deported. Daniel is a dreamer who has always followed the rules. But all of his obedience to his strict parents dissipates the second he sees Natasha. And suddenly, dreams replace rules.
Mei is 17 and should be in high school. However, she's actually a freshman at MIT and is on track to become a doctor, fulfilling the dreams of her strict Taiwanese parents. But Mei hates biology and happens to (maybe) love Darren Takahashi. The problem? Darren isn't Taiwanese.
This romance is literally out of this world. Roxy is a teen who's tricked into welcoming a controversial new student…who happens to be a Martian. The catch? The Martian is really handsome and gets along splendidly with Roxy.
Nozomi wants the perfect summer romance, not a fake one — which is unfortunately what she gets. Willow is the perfect girl who enlists Nozomi to make her ex jealous. Nozomi has her own plan to convince Willow that she's the one, but it of course backfires.
The Henna Wars by Adiba Jaigirdar, a Book Riot contributor
When Nishat comes out to her parents, she's informed that Muslim girls cannot be lesbians. But Nishat is determined to be herself, which becomes especially difficult after a friend comes back into her life, reigniting an old crush.
Interracial Romances in Other Genres
Romance novels aren't the only places to find interracial romantic relationships in fiction. Here are two books, one literary fiction and one murder mystery, that both feature interracial romances.
Memorial by Bryan Washington
Memorial is a literary fiction titles that is the sexy and profound story of Benson and Mike, who are struggling with figuring out exactly why they're together. Things come to a head when Mitsuko, Mike's mother, visits from Japan just as Mike heads back to Japan to reconnect with his estranged father. As fate would have it, Mitsuko and Benson are forced to become roommates while Mike learns more about himself in Japan.
This one is a murder mystery, but with a romance as the beating heart of it. Jim is driven to help out a Parsi family when two of their daughters die under mysterious circumstances. The last surviving daughter of the family, Diana, decides to help. But while Jim and Diana try to find the killer, they also find love for each other in a land of complicated loyalties.
You might also be interested in reading We Need Healthy Interracial Romance Books and 11 Young Adult Books About Interracial Couples.