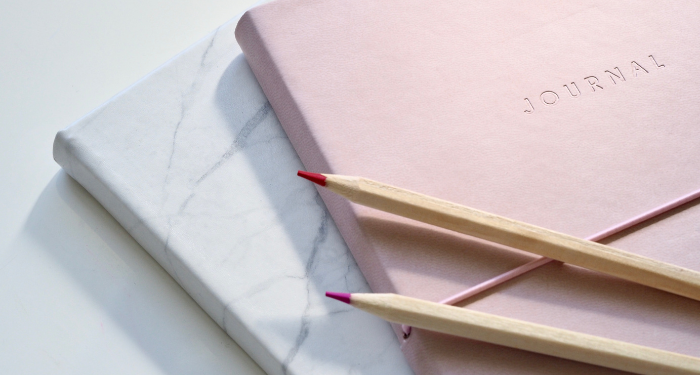 This content contains affiliate links. When you buy through these links, we may earn an affiliate commission.
It's a new year, and you know what time it is…it's time to start fresh with new bullet journals!
I am 100% guilty of buying new bullet journals with high expectations and then either never opening it or managing to do two to three months of bullet journaling before my creative juices run out. Bullet journaling can be intimidating — I can fully admit that. And I know, I know, I know that you don't have to be a master artist to bullet journal, but my wonky spreads and attempts to draw cute animals start to discourage me from continuing.
The great thing nowadays is that if your creative skills are a little lacking (talking about myself here), some talented creators have created pre-designed or pre-filled out bullet journals, so you don't have to create new spreads every month. These range from already colored in, and all you have to do is add your to-do's, to just enough on the page to get you started, and you can color or draw your own boxes. 
Oh, and we're in the digital age! So you don't even need to get a physical journal. If you have a tablet and a stylus, a digital journal may be a great option for you. And if you need some tips with accessories to go along with your new bullet journal, we've also got you. 
What are you thinking? Hardcover or softcover? Personalized or "generic"? Blank or pre-filled? The choice is up to you — here are some of your best options to kick off 2023 with a new bullet journal!
Blank Bullet Journals
I suppose it's only fitting to start this list off with the "Official Bullet Journal" created by Ryder Carroll from Leuchtturm1917. Whether you're new to the world of bullet journaling, a.k.a. "BuJo," or a seasoned user, you can't go wrong with the original. $28
If you're interested in learning more about the process or how to organize your journal effectively, Carroll's book The Bullet Journal Method: Track the Past, Order the Present, Design the Future is a great reference to have, too.
This spiral-bound option also comes with a transparent cover so you can be extra creative with your new bullet journal's first page. $14 for two.
If you use bullet journals for school or if you want to keep different subjects separate, single-volume personalized bullet journals are great for keeping your thoughts and notes organized. And they also look amazing when purchased as a set. $20 each.
Talk about a new bullet journal that is completely unique to you. Submit a photo of your choice and choose between three background options. This shop also has an amazing commitment to the planet — for every product you buy, a tree is planted in your name. P.S. Be sure to choose the dotted paper as the option when you order! $30
If you're looking for an easy option that doesn't take up much space, these travel bullet journals are great options. The craft paper cover lets you get creative and the sewn binding makes it easy to lay each spread completely flat. $18 for a pack of 12.
Made with sturdy leather covers, you can trust that these bullet journals can withstand a little tossing around in a backpack or bag. $26 for a set of two.
Pre-Filled Bullet Journals
This undated journal makes it easy to jump into journaling no matter the time of year. Everything is pre-designed and ready for you to color in and make your own. Bonus! This journal also has a beautiful "Books to Read" and "Reading Log" spread. It starts at $43 for non-personalized versions, and up to $55 for personalized journals.
For a journal with a beautiful minimalist design, this pre-made bullet journal has all your spreads and boxes already labeled and finished — all you need is to start filling in your 2023 plans. $28
The creator also makes a spiral-bound version of the bullet journal with unlabeled spreads. You don't have to build any boxes or checklists, but you can label them as you wish — adds some extra wiggle room if you want a unique or very personalized spread. $33
Alexandra's pre-made journals are all hand-made using thick paper (perfect for markers to watercolors) and specially bound so that the book lays completely flat. The spreads are thoughtful, including an expense tracker and "Memories in Polaroids." Starts at $40.
Digital Bullet Journals
For a minimalist version of a digital journal, this planner comes with 70 templates, over 21,000 stickers, and a variety of color palettes to completely make these spreads your own. The user experience is also super easy to follow if you are a beginner in bullet journaling or digital journaling. $14
Let your creativity shine! The spreads you can create with this digital journal are stunning, and the 3D stickers help to create depth and space. If this color palette isn't quite your jam, the creator has several you can choose from. $22
So, now you've got the journal — what about those accessories or inspo we promised? Check out these lists curated by other Rioters: