This content contains affiliate links. When you buy through these links, we may earn an affiliate commission.
Yay for May! May is one of my favorite months of the year. The weather is typically very nice throughout the month (though it can get a little hot here in the South), everything is green and growing, and flowers are blooming. I am also, somehow, celebrating my 40th (!!!) birthday this month and my husband and I's 14th wedding anniversary (22nd dating anniversary!). If anything, the month is getting a bit too packed with holidays and celebrations, but I won't complain.
Speaking of being too packed, it was so tough to narrow this list of May children's book releases down to these 12 incredible books. For my top 12 May children's book releases, families of all types are a common theme. There are picture books about cousins, aunts, grandmothers, and found families, middle grade novels about surviving war with siblings, grieving a sibling's death, and divorce.
Several of these May children's book releases would also make excellent summer reads as kids get out of school for summer break, with books featuring swimming lessons, vacations, and summer camps. It's an excellent month for reading, and I hope you find some new reads to add to your TBR on this list of May children's book releases.
May Children's Book Releases: Board Books
Every Body: A First Conversation About Bodies by Megan Madison & Jessica Ralli, illustrated by Tequitia Andrews (May 9; Rise x Penguin Workshop)
I love the First Conversations series, and this latest addition tackles the theme of body liberation. Each page celebrates bodies with straightforward, informative text and vibrant illustrations that show a variety of bodies. "Every body can be healthy," the second page says. "Every body, all the time, deserves love and care!" Madison and Ralli destigmatize the portrayal of fat bodies, pushing against stereotypes surrounding fatness in the media, medical professions, and society. All bodies can be healthy, including fat bodies and disabled bodies. Health looks different for every person, and every person's body is beautiful and deserving of respect. This board book is also available in picture book format, though I tend to prefer the board books. They're sturdier and thus more easily shared with younger kids!
May Children's Book Releases: Picture Books
When You Can Swim by Jack Wong (May 2; Orchard Books)
This stunningly illustrated and lyrical picture book portrays all the natural places the protagonist can swim in once she learns how to swim. From diving off bridges to splashing in waterfalls to exploring underwater life at the ocean, new worlds and experiences open up when you can swim. Each illustration depicts bodies of all races, ages, and abilities enjoying a natural water source. In the author's note, Wong describes his uncomfortable experiences learning to swim at a pool as an immigrant kid in Canada and how he came to love swimming as an adult by exploring lakes, ponds, rivers, and more. In nature, he learned to love swimming, and these illustrations show the joy that can be found in these places for everyone. My daughter is taking swim lessons this summer, and she was so excited to read this one! She's been asking me about all the places we can swim together when she learns how to swim.
The Kids Are All Right Newsletter
Sign up to The Kids Are All Right to receive news and recommendations from the world of kid lit and middle grade books.
Thank you for signing up! Keep an eye on your inbox.
By signing up you agree to our terms of use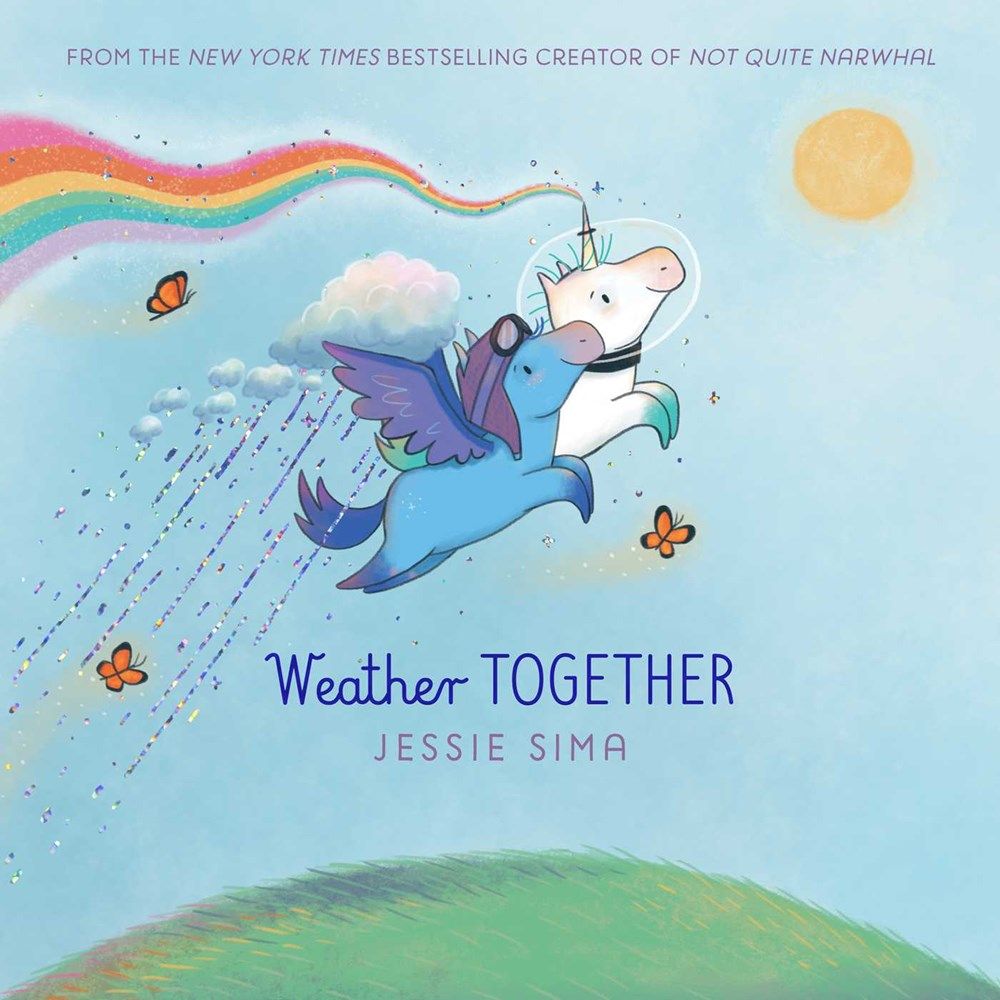 Weather Together by Jessie Sima (May 2; Simon & Schuster Books for Young Readers)
Sima returns to her beloved characters Nimbus and Kelp (Not Quite Narwhal, Perfectly Pegasus) in this sweet new picture book about dealing with sadness and depression. No matter how lovely the day or how much fun they have together, Nimbus often has a cloud that follows her. She tries to ignore the cloud and continue having fun with Kelp, but instead of growing smaller, the cloud grows bigger and bigger until one day it erupts into a huge storm, and everyone notices. Nimbus runs away, needing to be alone with her stormy cloud. In the woods, she discovers the only way to stop the storm is to get to know her cloud better and to accept it as a part of herself. But will Kelp be okay with her cloud? It turns out being a good friend isn't just about playing well together, but also about listening and respecting people's feelings.
Maribel's Year by Michelle Sterling, illustrated by Sarah Gonzales (May 9; Katherine Tegen Books)
In this lyrical, beautifully illustrated picture book, Maribel remembers what each month is like in the Philippines and thinks about what her father might be doing after she and her mother move to America. Papa will join them when he's able, but in the meantime, Maribel reminisces about the Philippines, desperately missing her father and her home country, but also learning to love her new home, too. The illustrations are warm and immersive, and Sterling's seasonal remembrances are evocative and poetic. It's a heartwarming, tender story about finding home. I read this one online and can't wait to purchase a print copy!
Grandma's Tipi by S. D. Nelson (May 9; Abrams Books for Young Readers)
Award-winning Souix author and illustrator S. D. Nelson's newest picture book explores a contemporary Lakota girl's daily life as she spends the summer with her grandmother (Unci), uncle — who is a limb amputee and wears a prosthetic — and younger cousin, and learns to love her family's tipi. The tipi has been passed down through the generations, and now it's Unci's turn to teach Clara and her cousin about its significance. On the first night after the tipi is made, the extended family gathers beneath it, and Unci tells stories about their past and about Mother Earth and Father Sun. As the weeks pass, the girls continue to sleep in the tipi, and they're taught how to roll it up in the summer to let air in, and their uncle paints their spirit pictures on the fabric. It's a lovely and joyful picture book with warm, welcoming illustrations.
Summer is for Cousins by Rajani LaRocca, illustrated by Abhi Alwar (May 16; Abrams Books for Young Readers)
This energetic, cheerful picture book is another perfect read for the summer. Ravi is so excited about spending the summer at the lake house with his cousins like they do every year. Everyone has grown bigger, and now Ravi isn't the youngest anymore since one of his aunts has had a new baby. Ravi especially loves hanging out with his oldest cousin Dhruv, but is worried that Dhruv won't want to hang out with Ravi anymore. What's one thing that can bring the cousins together? The perfect summer treat — ice cream! This picture book is one big summery smile. It's so much fun!
Oh No, the Aunts Are Here by Adam Rex, illustrated by Lian Cho (May 23; Chronicle Books)
It's that time of year when a young girl's multitude of aunts descends upon her home in a cooing, overly-enthusiastic storm. The aunts hug her too tightly, insist on dragging her to a quilt show, and bombard her with questions. Yet in an absurd dream, the young girl realizes that the aunts will always have her back, though she's still quite relieved when they finally leave. Unfortunately, now the uncles are coming. Adam Rex is well known for his comedic picture books, and this one is one of my favorites. I am an aunt (and great aunt) to a dozen plus niblings, and I can only hope I inspire such delight and dread in every single one of them.
May Children's Book Releases: Middle Grade
Ellie is perfectly happy with going mostly unnoticed. She likes being in the background of her best friend Abby's exploits, though she is beginning to have more than just friendship feelings for Abby. She enjoys quiet time with her fish, though it is admittedly a bit too quiet since her dad left and her grandfather died. She really just wants to read comics, hang out with Abby, and help at a local bakery. She has no aspirations for infamy. Unfortunately for Ellie, when an earthquake strikes her small town, she suddenly has the ability to bring anything back to life. When a video of her doing so goes viral, her contented, quiet life is suddenly over. This is such a delightful, heartwarming, and funny middle grade novel.
The Witch of Woodland by Laurel Snyder (May 16; Walden Pond Press)
In Snyder's newest, magical middle grade novel, 13-year-old Zippy prepares for her bat mitzvah while exploring Jewish witchcraft. Zippy has always loved witches and collects anything witch-related. Her family rarely goes to the synagogue, so she's taken aback when her mother tells her she'll be having a bat mitzvah. Witchcraft and Judaism collide when Zippy accidentally summons a winged being called Miriam while speaking a Hebrew word. Now Zippy is suddenly fluent in Hebrew and can play the piano. Zippy tries to help Miriam recover her memories; meanwhile, she's had a falling out with her best friend Bea at middle school. This is an inventive, nuanced novel that middle grade readers of all ages will love.
Clementine by Ann Hood (May 23; Penguin Workshop)
Since her younger sister Halley's death, Clementine hasn't been the same. She feels numb to the world and would rather sleep the days away than attempt to function and make friends at her new school. Clementine misses the days at the Montessori school that she and her sister attended, but that's where her sister died, and they don't have a 9th grade class anyway. She's tried therapists and been to meet-up groups of people like her, but nothing seems to penetrate her despair. As time passes, however, with her mother's support and with some effort, Clementine begins to participate in the world once more, though not without dipping back into depression again. This is a realistic and moving exploration of grief and depression. I really enjoyed the audiobook narrated by Sara Matsui-Colby.
Second Chance Summer by Sarah Kapit (May 23; Henry Holt and Co.)
Maddie and Chloe have been best friends since kindergarten, but when Maddie's dyspraxia leads to an embarrassing moment during a middle school play that goes viral, she and Chloe stop hanging out. Chloe has everything going for her: she's thin, popular, and starring in a streaming series. But she's also struggling with the onset of her period, and her realization that she's attracted to girls. Chloe thinks Maddie must be jealous of her stardom, though secretly she's a bit jealous of Maddie and her open-hearted two moms. Maddie thinks Chloe is embarrassed by her and doesn't want to be friends with a neurodiverse fat girl. Both love theater more than anything, and when they're assigned the same cabin at theater camp, they're going to have to confront one another, especially if the camp's Wicked performance is going to succeed. The book alternates between both character viewpoints. I don't think I've ever read a middle grade novel with dyspraxia rep, and it's so cool to see that here. It's such a fun, high-drama read.
In the Tunnel by Julie Lee (May 30; Holiday House)
This searing historical fiction navigates between two timelines in its exploration of the Korean War. It opens in 1952. Sixteen-year-old Myung-gi has joined the South Korean army in the hopes of finding his Ahpa, who was forcibly recruited by the North Korean army years earlier. Myung-gi is trapped in an enemy tunnel on the border after an explosion. While waiting for what seems like inevitable death, he remembers his childhood in North Korea and the events leading up to the war. At first his family had rejoiced at the end of Japan's imperial rule, but that joy turns to worry as tensions rise between America and Russia, with Korea stuck in the middle. Ahpa smuggles books for Myung-gi to read, and he criticizes the current government, which necessitates their need to flee their North Korean home and find refuge in South Korea. Before they make it, however, Ahpa is taken by the Red Army, and Myung-gi, his sister, and his mother have to flee the country on their own. This is a beautifully written and important middle grade about a little covered war.
If you'd like to read about more new children's book releases, check out my list of February children's book releases, March children's book releases, and April children's book releases. If you want to check out even more May children's book releases, sign up for the twice weekly The Kids Are All Right newsletter, where middle grade author Karina Yan Glaser and I review new children's books and books on a theme.
And you can find a full list of new releases in the magical New Release Index, carefully curated by your favorite Book Riot editors, organized by genre and release date.