This content contains affiliate links. When you buy through these links, we may earn an affiliate commission.
I adore romance novels. I read them by the boatload and find nothing more satisfying than reaching the end of a couple's (or group's) story. Then laughing and sighing and groaning and nail biting alongside the main characters as they deal with the emotional evolution of falling in love, and the personal growth that makes them the best person for their partner or partners. I pick them up because I can read without fear of tragedy, and because love stories are just…well, great.
But I know there are other people who don't feel the same way. And to you I say…sorry, bud. Maybe you're not into love stories in general, or maybe you just haven't found the right romance novel for you. Maybe you're looking for something that has magical writing, or realistic characters, or a plot beyond the people falling in love. And guess what? There are a lot of romances with one or all of those things! You can bask in the glory of an amazing sentence and root for someone whose life was a mess pulling themselves together. You can go on adventures or solve a mystery or just live life with the main characters — all while they're either reluctantly or delightedly falling head first in love. 
Why would you deprive yourself of such joy?
Here are 25 books that are such great examples of the romance genre you can't help but love them. 
This is where I always start out with non-romance readers. Some might say this isn't technically a Capital-R Romance because the main character doesn't meet her final love interest until almost halfway through the book, but everything about it screams romance. The main character, Feyi, is dealing with an extended period of grief after the loss of a partner and is managing it the only way she can: lots of sexual partners and no emotional attachment. When a "friend" (her word, not his) invites her to the islands for an extended visit, it's there she meets a man she can't stop thinking about. Do you like mess? This is the mess for you, written in Emezi's enrapturing writing style.
Kissing Books Newsletter
Sign up for Kissing Books to receive news, book recommendations, and more for residents of Romancelandia.
Thank you for signing up! Keep an eye on your inbox.
By signing up you agree to our terms of use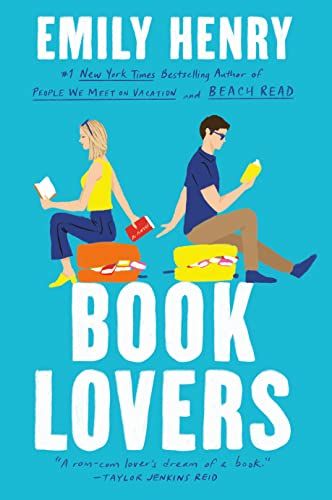 Emily Henry is probably one of those authors whose books you've seen in Target and airports, or on tables at the front of Barnes & Noble. Her first adult romance, Beach Read, was a runaway hit, drawing in readers of all types. But in my opinion, this is her best work. Starring two New York Book People who find themselves in the same small town, Book Lovers is a love letter to books, writing, bookstores, readers, and, well, book lovers. (Also, if you like audiobooks, Julia Whelan's narration is top notch.)
If your grievance about sports romance is the fact that the author knows nothing about sports, let me introduce you to KD Casey, whose knowledge of the game is lovingly scripted into every catcher's mitt and easter egg in this book, and all the rest. I have referred to this book as "the baseballiest of all baseball books" and I stand by that statement. It also features a main character who is dealing in solitude with terrible anxiety, and much of the story has as much to do with how he works through that as how he finds his way back to the romantic relationship at its center. 
Thirsty by Mia Hopkins
Some people are put off by contemporary romance because every other person is a billionaire and nobody is dealing with actual real-life crises. Well, Thirsty is the solution. Both of the main characters — one of whom is doing relatively well for herself but not well enough, the other of whom has only recently gotten out of prison and has extreme financial anxiety — feel like real people dealing with real things, but that doesn't mean they don't have time to fall in love. And the other two books in this series, Trashed and Tanked, don't hold back from exploring how normal people with extreme setbacks might be able to come out on the other side. 
Some people don't want to read romance because they don't want to be surprised by sex. There are a lot of choices a reader can make to ensure they're reading closed door or non-explicit romance, and one of those is to pick up a romance centering a character who is asexual. (Bear in mind, an asexual character doesn't always mean the book has no sex, but in this case, it does.) Joy is head over heels in love with her BFF, but can't bring herself to admit it. When he invites her out to a lake house for a long weekend, she thinks it's finally time — until he reveals that it's to meet the new woman he's dating, and to keep her friend busy. Cue shenanigans. 
In addition to everyone being a billionaire, it seems like everyone is in the utmost state of perfect health. So how about a romance in which the main character starts her own toilet paper company because the stuff that was out there just wasn't working for her issues with a chronic digestive illness. (The author has Crohn's, but I don't remember a specific illness being named in the book.) The fact that she has to go into business with her ex-boyfriend and they have to all deal with that fallout is just a bonus. 
An audiobook narrator who wrote a romance novel about audiobook narrators and narrates it? You want this.
Take The Lead by Alexis Daria (February 13)
I read the original edition of this book several years ago and to this day my review is simply: "I'm crying. Why am I crying?" There are some books I might try to reel you in with topics and hooks and "not like other girls books" but this one? It's just that spectacularly written. It doesn't matter that it's trope-filled goodness, the perfect reality show story for any romance reader to love. It's just…that good.
Maybe you don't read romance because there isn't enough horror? Here, have a haunting. 
Whitney and her sister inherited a haunted B&B, and they've reached their last resort: calling in the Ghost Punters. But that reality show is anything but real, which doesn't turn out so well when it turns out their ghost is. And a man from Whitney's past is here to film it all. 
Speaking of ghosts. This Victorian-era historical romance also includes a haunting, and there are definitely some frightening moments. But alongside the parts you definitely want to read with the lights on, you get to experience the slow romance of Alva, the titular widow, and Sebastian, the lovable genius who wants to meet her ghost. 
One thing that sets this romance aside from so many others is the amount of time each of the characters gets by themselves. There are a lot of romances in which the characters spend a lot of time in each other's pockets; they meet and can't stop being around each other, or are trapped together for whatever reason. What about the opposite of forced proximity? (Forced distance? Maybe.) The other thing that sets this book apart is that it is a historical romance set in China, featuring a Chinese woman who has been adopted by a British Emigre, and a Black American sailor-scientist trying to establish a telegraph line.
This is one of the greatest books ever written, and I intend to stand by that. Not romance. Book. It spans a large number of years, starting out with Ox, the narrator, meeting Jack when they're both very young. You want a slow burn? Watch these two kids grow into themselves, living for themselves and each other, until they can acknowledge their roles as soulmates as adults. I don't even know if I'm describing it well, but you just have to read it. 
Intrigue? Drama? Danger? History? You get all of those with the books in The Loyal League. In the first one, Elle Burns (inspired by Mary Bowser, a real life spy for the Union), must partner with a Pinkerton detective to infiltrate a Confederate household. They don't get along. So that's fun. This trilogy gets better and better with each book, so definitely check out A Hope Divided (my favorite of the three) and An Unconditional Freedom. 
The Tenant by Katrina Jackson
I know, statistically, there aren't as many haunted romances as there seem to be in my list, but this one in particular stands out for me — in part because Katrina Jackson is one of my favorite authors and she put her foot into this story; in part because the person doing the haunting is also a protagonist. I'm not going to tell you how that works; you just have to check it out.
There are people who think a romance novel featuring an aromantic protagonist is an oxymoron, but Anna Zabo shows how possible it is. Zavier doesn't experience romantic love like other people, but he can still care about people and have successful relationships. Zabo is the type of writer who will make you care about anything they put to paper, including drumming. 
I had to pick a Talia Hibbert book, so I picked this one. It probably has the most Feelings. And Feelings are something Talia does pretty magnificently overall.
We meet Laura in the first Ravenswood book, A Girl Like Her, through her horrible husband. When she takes off and hides away where she thinks no one will find her, she doesn't expect to find solace in the arms of a man she spent one magnificent summer with as a teen.
This book is about love. Love of self, love of family, love for a partner, love of your work. Anna loves her music, but it doesn't love her. She loves her boyfriend, but he wants to take time apart. She loves her family, and falls deeply into the role of caretaker. Anna doesn't put herself first, but maybe, someday, she will. And Quan will help with that.
Two surgeons butt heads so hard they have to go to couple's therapy about it. This is one about Big Feelings and love languages, while also being about the pain of relationships while in the medical profession. 
Sarah MacLean has taken the Regency romance and built an empire. In the series that starts with Bombshell, we meet a group of women who have the capability to make things happen, whether legally or…less so. They've established their own sort of sisterhood, determined to help those who are unable to help themselves, and then a man comes in and messes that all up. 
Look. The vibes in this book are just perfect, okay?
Fine, I guess I'll tell you what it's about, too: A stolid baker and his sunshine nemesis have bakeries right across the street from each other. This was done on purpose: she wanted to prove to the man who heavily dissed her baking on a competition show that she could succeed, and she wants him to see every single second of it.
Lucy Parker is great at combining comedy and grief, and is so good at that grumpy/sunshine vibe. A+ character creation.
Roan Parrish is a master of her craft, who will make you feel things no matter what kind of story she's writing. Best Laid Plans offers compelling characters and catalyzing events that bring the perfect amount of joy and wonder to life. 
As a fat Black woman, it's a bit of a minefield to read books about fat Black women. This one is a safe space. Yes, it's about fitness, and the main character's fitness journey, but it's approached in a way that is joyful and body positive. Also, I just want to be Britta's friend. 
If you want to read something that digs into the social inequalities and life experiences of Indigenous Americans, you can still read something that has an HEA! This is the first in a trilogy of books about Native people living in the city and on the rez, and the different issues they have to endure. 
Do you know how hard it was to pick a Beverly Jenkins book? The Queen of Words, First of Her Name, has been writing historical romance centering Black characters since 1995. By her own admission, Something Like Love is her favorite book, so why not start there? You'll learn more about the history of Black people in the United States than you ever did in school, and you'll have fun doing it. 
Best friends Liza and Jo are doing their best to make ends meet in Manila. One a sales clerk, the other a sex worker, they find themselves wondering what they really want from life and each other when one of them has the opportunity to change her life and that of her family's forever.
There are so many reasons people are averse to reading romance, from a lack of interest in sex to some misgivings about the quality of the genre as a whole. Take a chance on one of these books, and then check out some other romance content around the site.
Do you like fantasy? Here's some fantasy romance.
Now that you're a romance reader, subscribe to the Kissing Books newsletter and listen to When In Romance for more recs.