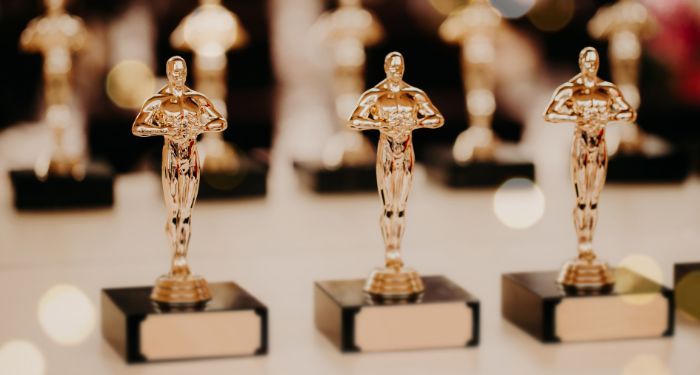 This content contains affiliate links. When you buy through these links, we may earn an affiliate commission.
The 95th Academy Awards will be held on Sunday, March 12. As is the case every year, and has been the case since the first Academy Award ceremony (also known as "the Oscars") in 1929 — which honored films released in 1927 and 1928 including Sunrise: A Song of Two Humans, based on the short story "The Excursion to Tilsit" by Hermann Sudermann — quite a few of the nominees are extremely bookish! I've got a round-up of the nominated films that are adaptations, ranging from comics and classics to war novels and shocking fictional tales about real people. 
A note on what counts as an adaptation: you may have noticed that several movies that are not based on books or remakes were nominated for best adapted screenplay, including Glass Onion (which does have a distinctly Agatha Christie feel). This is because sequels qualify for that category instead of original screenplay, for…reasons.
Below you can find the trailer for each movie as well as a link to the book it's based on and the details of which Oscars it's nominated for. I believe this is every bookish Oscar nominee, but it's entirely possible I've missed one. If so, mea culpa, please forgive me!
All Quiet on the Western Front
This German film is based on the 1929 German World War I novel, previously adapted in 1930 in America; that version won the Oscars for Outstanding Production and Best Director.
Nominated for: Best Picture; Best Adapted Screenplay, Edward Berger, Ian Stokell, and Lesley Paterson; Best Cinematography; Best International Feature Film; Best Original Score; Best Production Design; Best Visual Effects; Best Sound; Best Makeup and Hairstyling
The Batman
Batman: Year One by Frank Miller and David Mazzucchelli
While not a direct adaptation, the connection to this comic — about, well, Batman's first year in the suit — is clear in the movie.
Nominated for: Best Makeup and Hairstyling; Best Sound; Best Visual Effects
In Reading Color Newsletter
A weekly newsletter focusing on literature by and about people of color!
Thank you for signing up! Keep an eye on your inbox.
By signing up you agree to our terms of use
Black Panther: Wakanda Forever
Like The Batman, Black Panther: Wakanda Forever is not a direct adaptation of any particular comic, but both World of Wakanda and Shuri by Nnedi Okorafor and Leonardo Romero are obvious inspirations, focusing largely on the women of Wakanda.
Nominated for: Best Supporting Actress, Angela Bassett; Best Original Song, "Lift Me Up"; Best Costume Design; Best Visual Effects; Best Makeup and Hairstyling
Blonde
Blonde by Joyce Carol Oates
I can't imagine why anyone would watch this movie or read this book, both of which draw attention to society's mistreatment of Marilyn Monroe by perpetrating it, but the movie is in fact based on the book so it belongs on this list.
Nominated for: Best Actress, Ana de Armas 
Guillermo del Toro's Pinocchio
Like the Disney feature from 1940, which won the Academy Awards for Best Score and Best Original Song ("When You Wish Upon a Star"), Guillermo del Toro's Pinocchio is based on the 1901 novel.
Nominated for: Best Animated Feature Film
Ivalu
Ivalu by Morten Dürr and Lars Horneman
A non-superhero graphic novel nomination! This one is the story of a girl whose sister is missing.
Nominated for: Best Live Action Short Film
Note: I could only find a French edition of this title and do not know if it's otherwise been translated from the original Danish.
Living
In this classic novella, a high court judge lives and dies of a terminal illness. The movie appears to semi-modernize the story, moving it from 19th century Russia to 1950s England.
Nominated for: Best Adapted Screenplay, Kazuo Ishiguro; Best Actor, Bill Nighy
Mrs. Harris Goes to Paris
Previously adapted in 1992 starring Angela Lansbury (and not eligible for the Academy Awards, as it aired on TV), this charming movie is based on the even more charming novel by one of my favorite largely forgotten novelists. (The original UK book title is Flowers for Mrs. Harris.)
Nominated for: Best Costume Design
Women Talking
This novel is about a group of Mennonite women who discover that the demons attacking them in their dreams are actual men who've been drugging them, and what they do when they find out.
Nominated for: Best Picture; Best Adapted Screenplay, Sarah Polley
It is an unfortunate reality that the Oscars are still so white, and books by authors of color that are adapted as movies and nominated for Academy Awards are few and far between. It is encouraging to see screenwriters of color, including Kazuo Ishiguro, author of Klara and the Sun, nominated for awards, but we can't pretend that there is anything resembling equity yet, although we are seeing more adaptations of works by women (even if most of them are white).
Want more Oscar-nominated book adaptations? Check out the books behind four Academy Award–winning films.