There are so many book recommendation apps and platforms out there, like Goodreads, Storygraph, and more. Sometimes it's hard to figure out which ones are worth checking out and which ones are better left undownloaded. Likewise is an app that promises to learn your taste to give better recommendations for TV, Movies, Books, and Podcasts. Through swiping through media ala a dating app, users manually adding favorites, and the online community of recommendations, the app hones in on what you like to recommend your "next favorite." But does it live up to what it promises? I tested it out.
Signing Up
Signing up is fairly typical. You enter your email, set up a password, and can optionally add your birthday, gender, and phone number. Then, you pick which content areas you want to add to your profile: TV & Movies, Books, or Podcasts. You can do any combination of the three if you're, say, not a podcast listener but are in the market for books and TV recs. 
I focused on books, since that's what I was most interested in to start. Once you select the content type, then it has you answer a few questions about what type of books you like in pretty broad categories like classics, romance, horror, thrillers, etc. Then, it has you add your top 10 books so it can start learning your tastes. It does pre-populate some books in the genres you selected, but, for me, none of my favorites appeared on that screen (probably because I picked a few different genres), so I entered them manually by typing the book into the search bar. Once you pick 10, the app will recommend people with similar tastes to follow if you'd like, but it's not required.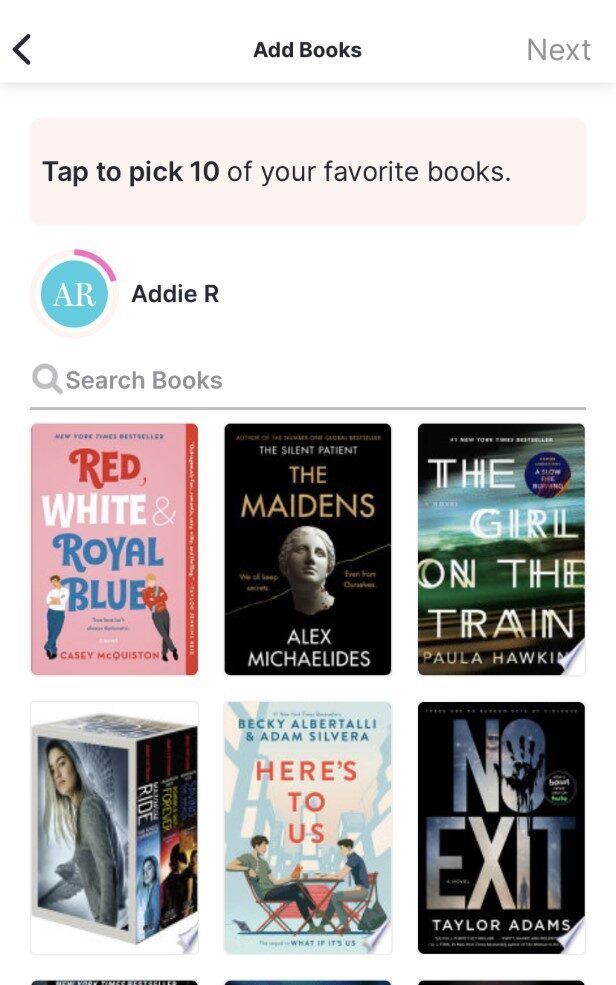 One important thing: it's entirely free to use the app and all of its features. There aren't any paywalls, surprise fees, or anything like that lurking in the background.
Book Deals Newsletter
Sign up for our Book Deals newsletter and get up to 80% off books you actually want to read.
Thank you for signing up! Keep an eye on your inbox.
By signing up you agree to our terms of use
A Tour of the App
Then, it's onto the "today" tab of the app. This is where the swiping starts. Every day, 10 recommendations are populated based on your reading tastes. If you're not interested, you swipe left. If you are, you can mark it as "read" or save the book onto your "saved" list to come back to later. One sort of annoying thing at this part is some of the recommendations are just user-made or app-generated lists rather than books, so you really only get six or seven books to sift through and the rest are lists to check out. While you're swiping, you can click on a book to read its synopsis if you're curious.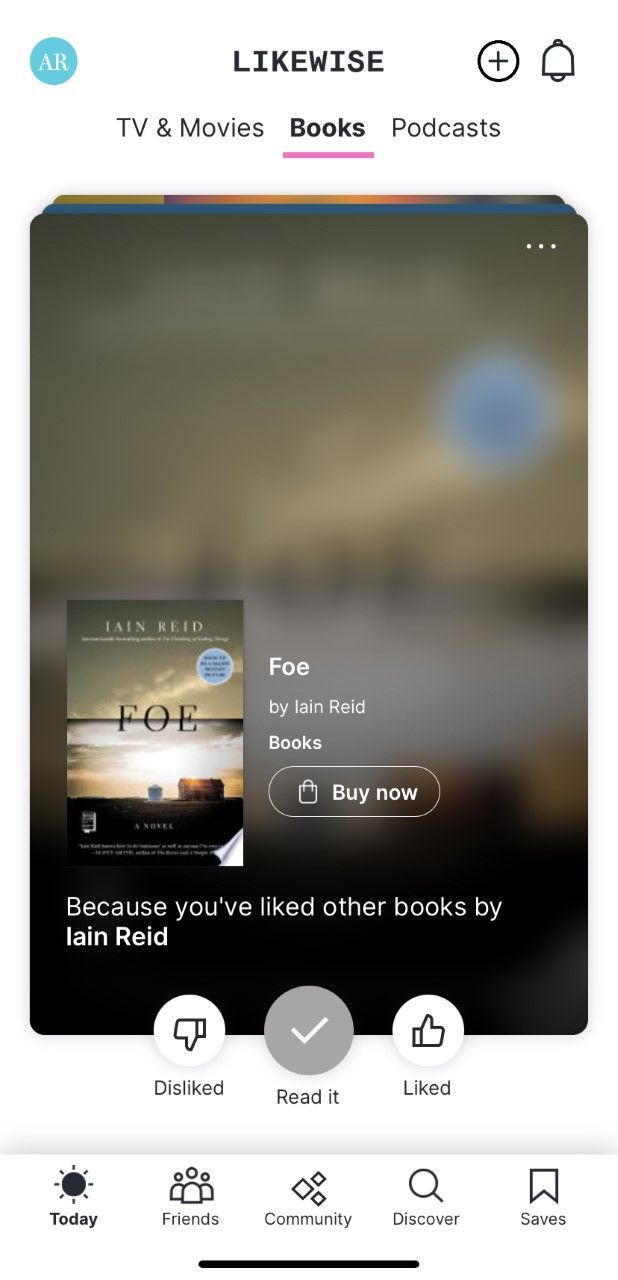 When you mark a book as "read," the app has you rate it either a thumbs up or a thumbs down, too. I wished for more of a degree variation of like to dislike, like a star rating or maybe like a "like it" vs. "love it," because there were a few books that popped up that I thought were fine, but I didn't love them, and I feel like it would feed the algorithm better to have a bit more understanding of how much I actually liked a book. 
I will also point out that it takes a while for the algorithm to understand your tastes. I marked liking mostly horror, thrillers, and mysteries — and a Colleen Hoover book showed up in my first set. There are also sponsored books in these, so it sometimes feels like you're not getting the full 10 promised, since those and the lists take up some of your picks. The app, too, has multiple versions of a lot of books, so I got a repeat of a book I had already marked as one of my favorites because the app doesn't categorize all of them as the same book.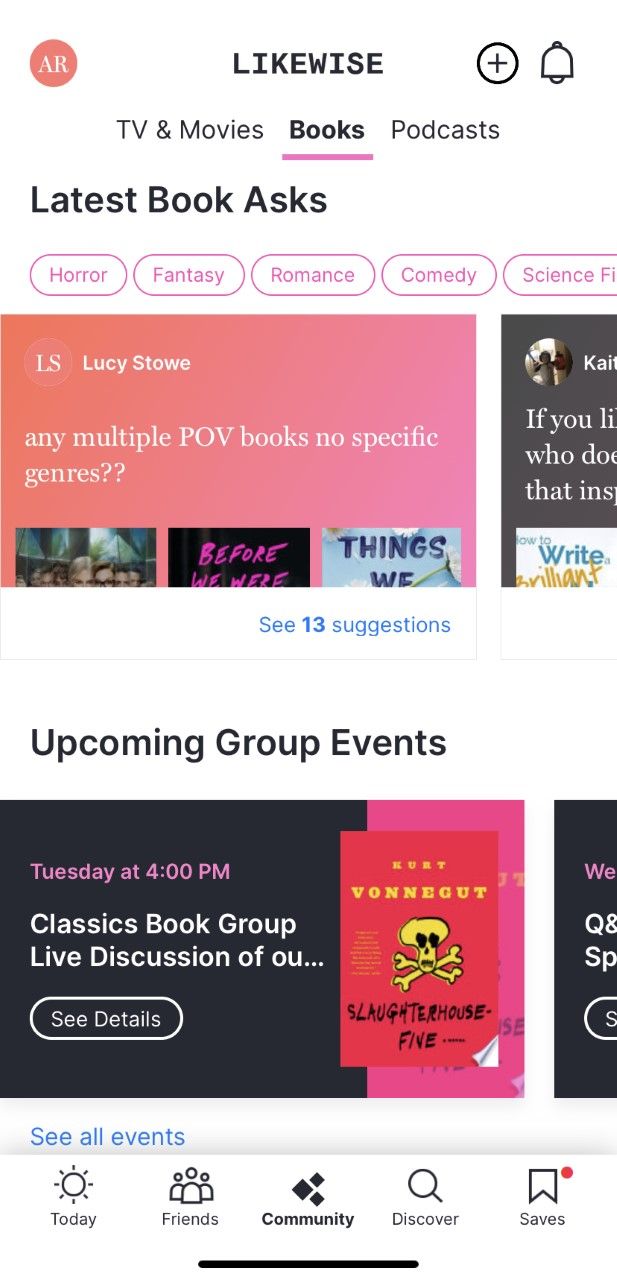 The "friends" tab is where anyone you follow pops up. It will show you if they rate books, create lists, recommend something, or ask for recommendations. If you have a bunch of friends using the app, I could see how this would be like a more interactive-friendly version of Goodreads.
Then, the "community" tab has user-posted lists, requests for recommendations, in-app events like Q&As with authors or reading discussions, and different groups you can join for more niche discussion, questions, and chatting. This feels like a very community-centered app, which can be fun if that's what you're wanting. As you explore these, you can rate books you come across as read or mark them to your saved list, so the app learns your taste better.
On the asks (recommendation requests) you encounter, you can add suggestions fairly easily and comment or like recommendations made by other users. The app does a pretty good job keeping the asks that you see first tailored to your tastes, but you can explore further or filter by genre to get more specific.
The "discover" tab gives you a "you may also like section" to hone in on your taste, trending lists posted by users or other medias like publishers or websites, and a list of trending books if you want to stay on top of what's popular.
On your "saves" tab is where you'll find the books you marked as "saved" and also where you can create your own lists to share. These can be public or private, but you don't have any control who these get pushed out to beyond that.
You can also sign up for Likewise's newsletters if you want recommendations sent straight to your inbox.
So, that's the gist of how the app works. Let's talk about what's working and what could use some improvement.
The Not-So-Good Things
As I touched on before, for an app that wants to learn your reading tastes, the limited amount of books in your "today" tab every day feels counterintuitive. If it really wants to get an understanding of what you like, say the way TikTok does, then it would make more sense to have more books in that portion to get more data from users. The fact that some of these very limited options are taken up by lists or sponsored books just narrows it down further.
In the same vein, having multiple versions of the same book show up was a bummer, since it took out yet another of my limited swiping options. This is the feature that I find the most unique about the app, so I was disappointed in how few things I got to swipe through every day.
I also was wishing for more variance in the rating system. Even if it was changed from the two like or hate options to four options (for example hate and dislike vs. like and love) that might allow the algorithm to better understand users' tastes. I was caught sometimes when faced with a book that I didn't necessarily dislike but I didn't love either.
The Good Parts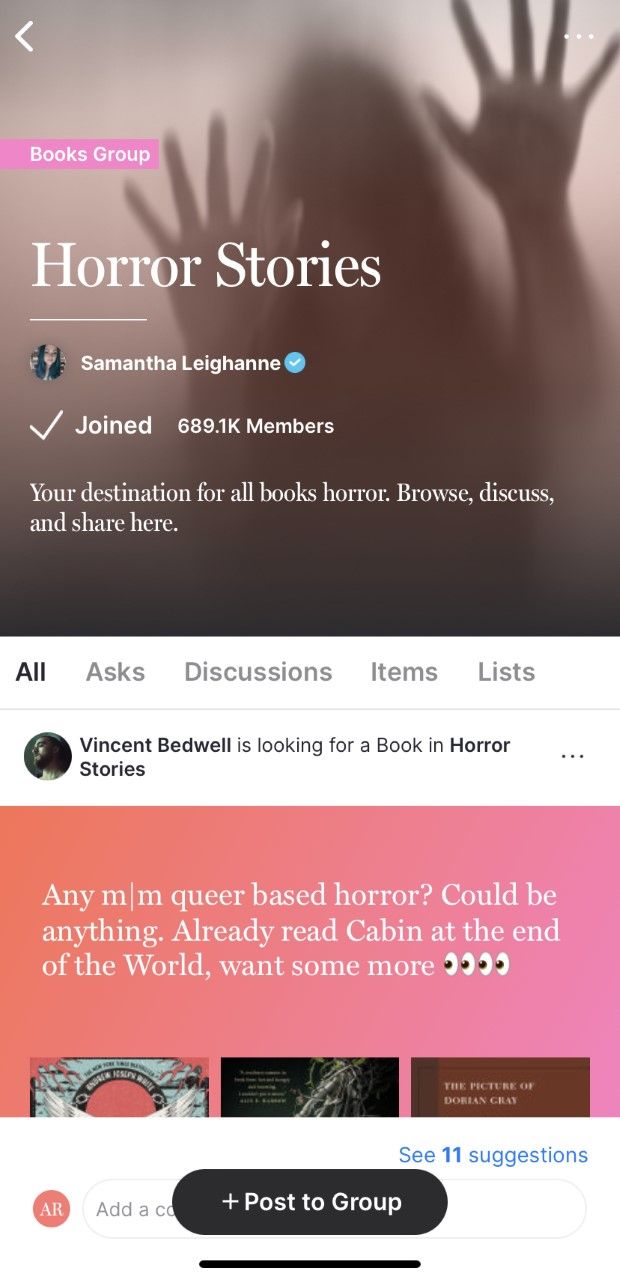 I think the community-building on the app is really good. Where apps like Goodreads are clunky and hard to navigate, this app makes it super easy to create lists, share recommendations, and suggest books to other readers who are looking for something specific. You can easily follow someone, like a list, join a group, or attend an event and make some friends.
The interface is easy to work with, if a bit slow at times, and I didn't notice any missing books in their catalog when I was adding favorites or creating lists either.
And, it's free! In a world where apps like this are often paid, it was refreshing to get to try out something new without putting a dent in the bank account.
In Conclusion
Overall, I think it's a fun idea and great for those looking to make or find a bookish community for themselves!
If you're in the market for book recommendations and don't want to have to train an algorithm to catch onto your tastes, why not try Book Riot's Tailored Book Recommendations (TBR) service?
After filling out a survey about what you're looking for, a professional bibliologist will do their digging to find three books suited to exactly what you're looking for. With options to get the recommendations delivered digitally to your email or to have physical copies shipped to your home, there's an option perfect for everyone!