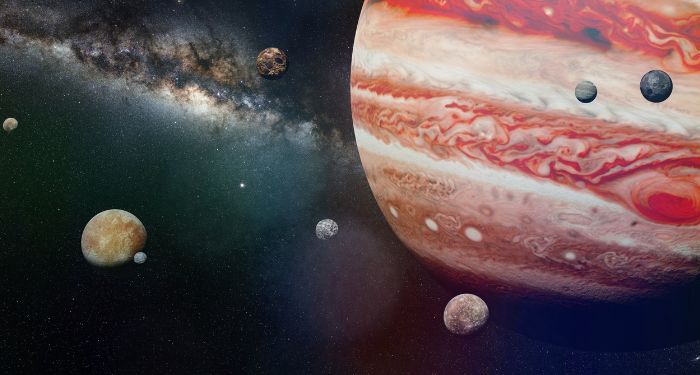 This week, U.S. Poet Laureate Ada Limón in conjunction with the Library of Congress announced that NASA's Europa Clipper will be launching on its mission in October 2024 with "In Praise of Mystery: A Poem for Europa." The poem, written by Limón, will travel 1.8 billion miles through the galaxy. It will be engraved on the space craft.
There has long been speculation of life on Europa beneath its ice-covered ocean. Whatever that life might look like is yet to be known, but the mission will provide vital information about the moon's inhabitants, culture, terrain, and potential for supporting life. The Europa Clipper is expected to land on Jupiter's moon in 2030.
More, you can have your name included as part of the mission. Anyone who'd like to sign the poem as it hurtles through space may do so at NASA's Mission in a Bottle website. Every name included before December 31, 2023, will be engraved on a microchip to accompany the poem.
"Writing this poem was one of the greatest honors of my life, but also one of the most difficult tasks I've ever been assigned," Limón said at an event held at the Library of Congress to announce the project. "Eventually, what made the poem come together was realizing that in pointing toward other planets, stars and moons, we are also recognizing the enormous gift that is our planet Earth. To point outward is also to point inward."
NASA has launched similar projects before, allowing anyone who wished to send their name into space to do so with Artemis I and several Mars spacecraft. The current Mission in a Bottle efforts are similar to the Golden Record sent aboard the Voyager, which sent into space an array of sounds and images from across the globe into space.
Today In Books Newsletter
Sign up to Today In Books to receive daily news and miscellany from the world of books.
Thank you for signing up! Keep an eye on your inbox.
By signing up you agree to our terms of use
"Ada Limón is a brilliant poet whose work often connects readers with the natural world, so her Poem for Europa is powerful in communicating our human instincts for art, science and exploration," said Librarian of Congress Carla Hayden during the announcement of the initiative. "Sending a poem into space on a mission to explore our solar system is an incredible opportunity for us all to reflect and sign on to Ada's poem as a 'Message in a Bottle' from Earth."
Find below the announcement of the program, where Limón unveiled the poem and performed it.
Find more news and stories of interest from the book world in Breaking in Books.