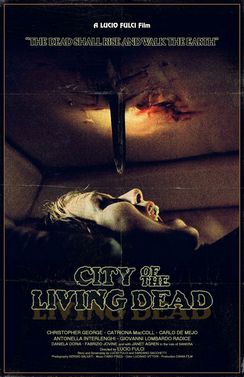 City of the Living Dead – Género: Terror Pais: Italia Duración: 92 minutos Director: Lucio Fulci Guión: Lucio Fulci Reparto: Christopher George, Catriona MacColl, Antonella Interlenghi, Carlo De Mejo, Giovanni Lombardo, Venantino Venantini, Daniela Doria, Fabrizio Jovine, Michele Soavi, Luca Venantini, Enzo D'Ausilio, Luciano Rossi, Janet Agren, Lucio Fulci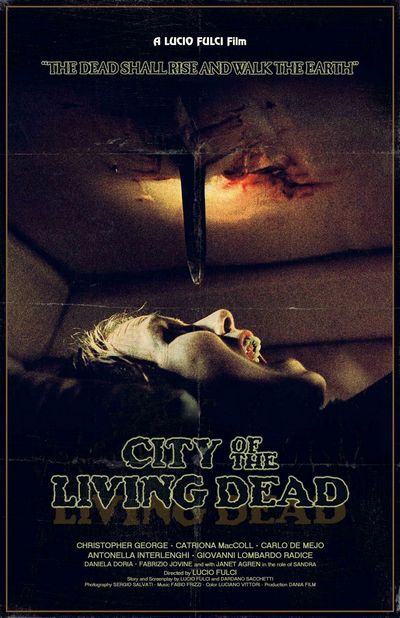 VALORACION: –


RESEÑA:
En el pequeño pueblo de Dunwich, en Nueva Inglaterra, un sacerdote se suicida ahorcándose en el cementerio de la iglesia, lo que de alguna manera abre las puertas del infierno permitiendo que los muertos se levanten. Peter, un reportero de la ciudad de Nueva York, se une a una joven vidente, llamada Mary, para viajar al pueblo donde se asocian con otra pareja, el psiquiatra Jerry y la paciente Sandra, para encontrar la manera de cerrar las puertas antes del Día de Todos los Santos o los muertos de todo el mundo se levantarán y matarán a los vivos.
City of the Living Dead
CRITICA: …
FICHA TECNICA:
Calidad: 1080
Audio: Italiano – Ingles (Dual seleccionable)



SUBTITULOS
****
—
TRAILER

COMPARTE ESTE ARTICULO! – MIRA ABAJO LOS COMENTARIOS.
ADVERTENCIAS Y REGLAS antes de comentar en BLOGHORROR
• Comentar con respeto y de manera constructiva.
• No se permiten links de otros sitios. 
• Tratar de hablar de la pelicula en cuestión, salvo ocasiones especiales. Nada de interminables debates políticos, religiosos, de genero o sexualidad *
• Imágenes están permitidas, pero siempre con moderación y que no sean demasiado grandes.
• Los comentarios de usuarios nuevos siempre son moderados antes de publicarse.
• Por ultimo, las reseñas y criticas en BLOGHORROR pueden contener humor negro-ácido, que de ninguna forma debe ser tomado en serio! y que tienen como fin el puro entretenimiento satírico.
• Disfrute su estadía 😉
Continue Reading