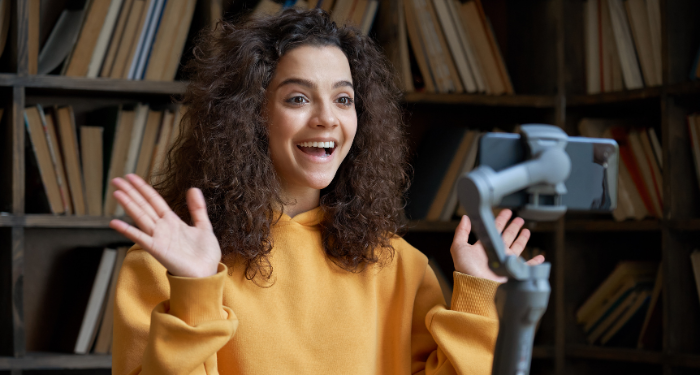 This content contains affiliate links. When you buy through these links, we may earn an affiliate commission.
Earlier this year, I wrote a piece exploring what had happened to vlog adaptations of books. In it, I said that I had not been able to find any new ones since the launch of Rational Creatures in 2019. When the post ran, I saw some comments by people who were upset, or simply confused: they had, in fact, watched or even made vlog adaptations of books since 2020.
On one hand: I don't love being wrong. Who does? On the other hand: you mean to tell me that there are more vlog adaptations of books for me to enjoy? Including one based on one of my favorite books by one of my favorite authors, and another one in my own language, from my own country? I didn't waste time being upset, I was too busy being elated instead. So, partly as a correction to that piece, and partly because I want to share the wealth (I know I'm not the only one who has trouble navigating the tricky YouTube algorithm), I set out to include some new LIW, or literary-inspired web series. What do I mean by "recent"? From 2020 forward.
Note: only a couple of these are adaptations in the form of vlogs. I expanded my parameters somewhat, so that if they give off a similar vibe (say, if it's in the form of videocalls), they make the cut. If they're in the form of a regular TV show (think Headless from Shipwrecked Comedy, which I talked about in my previous post), I didn't include them. But if you want more LIWs, regardless of the format, be sure to check out the LIW Database, run by Jules Pigott (Twitter username @rainydayjules): this website, and especially its timeline, was a lifesaver in the compilation of this post.
Furthermore, as much as I looked, I couldn't find any recent-ish so-formatted web series adapted from books by authors of color. The closest is El Gaucho Martin Fierro, an Argentine classic by José Hernández, an author and politician who (as far as I've been able to find) was white. Hopefully, if vlog adaptations of books do make a comeback, classics by authors of color will also get their time in the spotlight.
Public History (2019-2021)
Yeah, yeah, I know I said I would only include vlog adaptations of books from 2020 onwards. But this one was first launched in December 2019, so I consider it close enough. And, I mean… an adaptation of David Copperfield by Charles Dickens in the exact vlog format that went viral with The Lizzie Bennet Diaries? How could I not include it?
Book Deals Newsletter
Sign up for our Book Deals newsletter and get up to 80% off books you actually want to read.
Thank you for signing up! Keep an eye on your inbox.
By signing up you agree to our terms of use
Public History has two seasons, with 35 and 45 episodes respectively. Because the episodes are so short, you'll find yourself finishing the whole thing in a matter of hours.
Tincho Fierro (2022-2023)
El Gaucho Martín Fierro (English edition here) is widely considered to be the great Argentine classic. An epic poem starring Martín Fierro, a gaucho facing governmental oppression, it launched in vlog format in 2022. It is in Spanish, with English subtitles.
It's one 25-episode season, with bonus musical content. Like with Public History the episodes are really short — and therefore easy to marathon.
Lear (2020)
When you first read King Lear (or watched it onstage) did you find yourself screaming into a pillow, or are you normal? This 16-episode web series, told entirely through videocalls between the characters, will bring that urge back — so make sure to keep a pillow handy. The episodes range in length from less than a minute to almost five.
Fair is Foul (2020)
More Shakespeare, more videocalls. And! More importantly, more witches. An adaptation of Macbeth from the perspective of the three witches. I may or may not have watched this one wearing the witch hat that I use as a Halloween decoration. At only eight episodes long, plus extras, this is the shortest web series listed, but the episodes run considerably longer than those of the previous series.
Rational Creatures, season 2 (2022)
When I wrote my previous piece on the subject, I did mention Rational Creatures: an adaptation of Jane Austen's Persuasion partially told through vlogs. But did you know that there was a second season of this web series in 2022? This season is 12 episodes long, and they range from two to over 10 minutes.
Are you in the market for more literary adaptations, even if they aren't in the form of vlogs? Here are some manga adaptations and adaptations that you can stream right now.