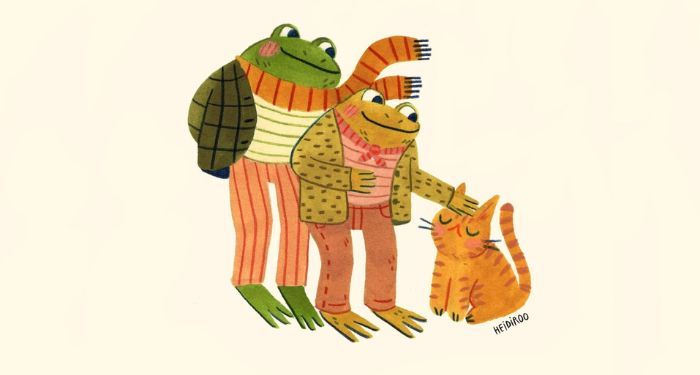 This content contains affiliate links. When you buy through these links, we may earn an affiliate commission.
If ever there were a classic of childhood literature that remains an unproblematic favorite, let it be Frog and Toad. Many love this story of friendship, and many others have reclaimed this as a queer classic, noting that Frog and Toad's subtext is far more romantic than platonic. Earlier this year, Apple TV+announced they were developing the books as an animated series, and fans of the series should be excited to learn that the project has the approval of the Lobel family — among the executive producers are Adrianne Lobel and Adam Lobel, daughter and son of Frog and Toad creator Arnold Lobel.
Frog and Toad are as opposite as can be. Or are they? As the series progresses, these two seemingly opposite characters end up to have far more in common with one another than they don't. Kindness, generosity, and loyalty outweigh the differences in how Frog and Toad approach other aspects of their life, and creator Lobel claimed both characters were parts of himself.
These childhood stories are gentle reads, packed with everyday, simply adventures made grand because of the characters. Generations of readers have fallen in love with Frog and with Toad, and many have taken to honoring them creatively. Find below a roundup of some of the most fun, unique, and sweet Frog and Toad gifts for fans of the stories.
Polymer clay earrings are, unquestionably, the best earrings because they can include intricate designs and they are not heavy to wear. So, with these Frog and Toad earrings, expect to be complimented all day long. $30.
Same though: I choose crumbs with bums over steaks with fakes any day. This Frog and Toad snarky tee can be yours for $26. There are a few other funny Frog and Toad takes in this shop, too.
The craftsmanship on these handmade Frog and Toad toys is outstanding. Grab the set for $95.
These mini Frog and Toad plushes are too much to handle. Pop one or both of them on your desk for the best co-working duo you can imagine. $15 and up.
If you love the design and want it on a T-shirt, you're in luck.
This is such a sweet card. The listing notes it as for Valentine's Day, but you could easily give this to anyone you love at any time. $6.
Don't you want to crawl into this print and enjoy strawberries with Frog and Toad? $4.
And if you haven't yet, you'll want to bop on over to this quiz to discover whether you're more of a Frog or more of a Toad.