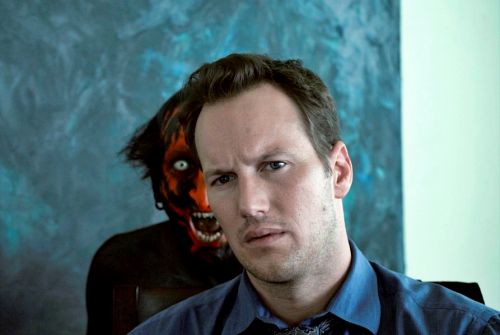 Insidious 5 finaliza su filmación, para entrar en la dulce etapa de post-producción, con un estreno previsto para el mes de julio de 2023.
La película de terror producida por Sony Pictures es dirigida por Patrick Wilson, que ha finalizado su rodaje en estos días.
Tras protagonizar las dos primeras películas como Josh Lambert, en 2020 supimos que Patrick Wilson volvía a la franquicia como director de la próxima quinta entrega. La película se rodó bajo el título provisional de Fear the Dark, pero en este momento la quinta entrega de la franquicia Insidious aún no tiene título oficial. Estén atentos para saber más cuando lo sepamos.
'Insidious: Chapter 5' continuará con los Lambert diez años después de la última película.

"Josh Lambert (Wilson) se dirige al este para dejar a su hijo Dalton (Simpkins) en una idílica universidad cubierta de hiedra. Sin embargo, el sueño universitario de Dalton se convierte en una pesadilla cuando los demonios reprimidos de su pasado vuelven repentinamente para atormentarlos a ambos."
Este será el debut de Wilson como director. Scott Teems (Halloween Kills) ha escrito el guión basado en una historia del cocreador de la franquicia Leigh Whannell (El hombre invisible).
Las dos primeras películas de Insidious fueron escritas por Leigh Whannell y dirigidas por James Wan, centradas en la familia Lambert y sus terroríficas luchas en las profundidades de The Further. La película más reciente de la franquicia, Insidious: La última llave, se estrenó allá por el 2018 con unas valoraciones mixtas y un 73/100 aquí en BlogHorror.
La fecha de estreno de Insidious 5 es el 7 de julio del 2023.
COMPARTE ESTE ARTICULO! – MIRA ABAJO LOS COMENTARIOS.
ADVERTENCIAS Y REGLAS antes de comentar en BLOGHORROR
• Comentar con respeto y de manera constructiva.
• No se permiten links de otros sitios o referencias a sitios de descarga. 
• Tratar de hablar de la pelicula en cuestión, salvo ocasiones especiales. Nada de interminables debates políticos, religiosos, de genero o sexualidad *
• Imágenes están permitidas, pero siempre con moderación y que no sean demasiado grandes.
• Los comentarios de usuarios nuevos siempre son moderados antes de publicarse.
• Por ultimo, las reseñas y criticas en BLOGHORROR pueden contener humor negro-ácido, que de ninguna forma debe ser tomado en serio! y que tienen como fin el puro entretenimiento satírico.
• Disfrute su estadía 😉
Continue Reading