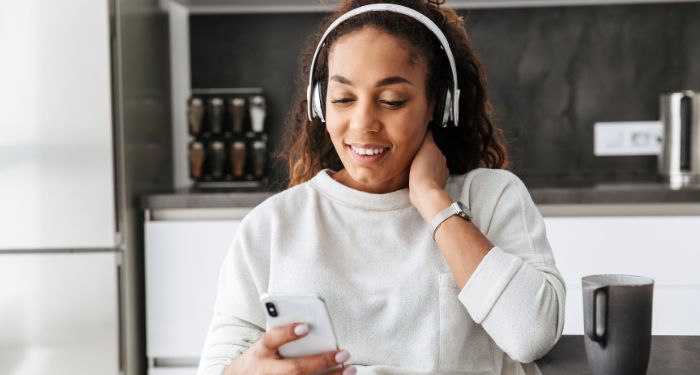 This content contains affiliate links. When you buy through these links, we may earn an affiliate commission.
I've been a hardcore audiobook listener for years. I'd say that about 80% of my reading is done in audio. I don't need to tell you about the benefits of audiobooks, and I'm certainly not going to argue whether or not it counts as real reading. 
No. Today I'm here to discuss a much more pressing matter. 
This is a plea specifically to the audiobook engineers who work in my favorite genre: the food memoir. 
Please, I am begging you, stop removing recipes from the audiobooks. 
I have two major interests: books and food. I like to listen to books while I cook. I like to read about food. I like to listen to books about food and hear the gentle rhythm of a recipe read to me as I complete a task or as I drift off to sleep. 
Audiobooks Promotions Newsletter
Sign up for Audiobooks Promotions to receive special offers, new products, and interesting listens from the world of audiobooks!
Thank you for signing up! Keep an eye on your inbox.
By signing up you agree to our terms of use
There's something soothing about listening to a recipe. The staccato ingredients and then the instructions to fold gently or to warm until the sauce coats the back of a spoon. It's reassuring and satisfying in the same way that watching an artist work, or rather obviously, watching a cooking show chef finish pulling together a dish is. 
But more importantly, recipes in food memoirs are often plot points. Recipes reveal a lot about the writer. Is the recipe, handed down, say, from the author's grandmother, simple or elaborate? Does she skip steps because she assumes the cook will have seen her make them? Or does she write paragraphs about what the texture of the dough will feel like? Does her casserole use a can of soup or a homemade bechamel? 
The first audiobook I ever listened to on my own was Garlic and Sapphires by Ruth Reichl. My mom offered me access to her Audible account to sweeten the deal when I had to use the push mower on our nearly-an-acre plot over summer break in high school or college. I loved hearing Reichl's stories as she sneaked into famous restaurants in disguise so she wouldn't get preferential treatment as a reviewer. I sped through the rest of her books that summer, going from the polished voice of a professional audio reader to Reichl's flat, comforting voice in her memoirs about her childhood and early career. While each chapter of Garlic and Sapphires ended with Reichl's review of a New York restaurant, her more personal memoirs were punctuated with the recipes of her life. 
In Comfort Me with Apples, Reichl explains that her mother was, well, experimental, in the kitchen, and young Ruth was often worried when Miriam Reichl presented the odd looking results to guests. One recipe, the supposed result of a grocery shopping mishap, became one of Miriam's greatest masterpieces. Reichl tells the story of the creation, and includes the recipe for curious readers. You may not want to serve a corned beef with a can of spiced peaches, but you can imagine, to the ounce, how Miriam made her dish, and, if you're very brave, you can taste it yourself. 
So of course I am disappointed when I download, say, Reese Whitherspoon's memoir and cookbook, Whiskey in a Teacup: What Growing Up in the South Taught Me About Life, Love, and Baking Biscuits, excited to hear her peppy voice read the recipes that raised her. "Baking biscuits" is in the subtitle! But instead, I get a truncated book that includes a sentence or two about each recipe and an instruction to download the PDF. Witherspoons book is 304 pages, but the audio is under three hours. I understand that it's heavily illustrated, but surely some recipes would have padded out that time? 
Then there was another recent favorite. This is a bit of a cheat, as Michelle Huneven's Search: A Novel is, as the second subtitle suggests, a novel, but it's also a lovely fictional send-up of the food memoir genre. I gleefully downloaded the audio, excited for any book with "with Recipes" promised on the title page, only to hear that I would be expected to find a PDF with the recipes on the publisher's website. 
The PDF with recipes is there, at the very bottom of the page, if you click through to the discussion guide, but when I read the book close to it's release, the discussion guide hadn't been posted yet, and I found myself emailing the publisher in the hopes of getting access to the recipes for Curtis' Mom's Buko Pie and Amira's Grandmother's Lamb Nihari. Even now, it took me a bit to find as I was expecting to find a link for recipes alone. 
For Whiskey in a Teacup, however, the only file available to download for the "unabridged" audio is the cover image. I love to read about a search with recipes, but I'd rather not have to search for the recipes. (Sorry, the joke was right there, even if it's a bad one.) 
So, audiobook engineers, hear my plea: please start including recipes in your food memoir audiobooks. Let audio readers experience the whole book without a lot of unnecessary legwork. Let authors share the smells and tastes of their lives with everyone who cares to pick up (or download) their book.