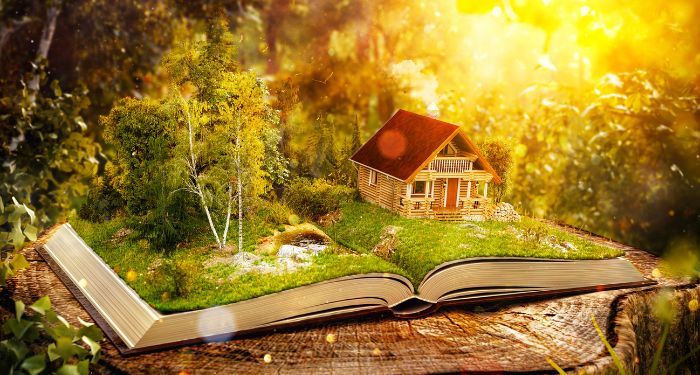 This content contains affiliate links. When you buy through these links, we may earn an affiliate commission.
The book The Princess Bride by S. Morgenstern doesn't exist.
Sure, you may have read the book The Princess Bride: S. Morgenstern's Classic Tale of True Love and High Adventure, (The "Good Parts" Version) by William Goldman, or watched the movie adaptation. Each version uses a frame narrative with the narrator skipping to "the good parts." Still, some readers search for The Unabridged Princess Bride in person and online. Ironically, an abridged audiobook exists, furthering the myth that Goldman's full novel is the "abridged" version.
The Princess Bride is a hilarious example of metafiction: fiction about writing fiction or satirizing its conventions. I'm glad no "unabridged" version exists. The book narrator omits tedious scenes, like Buttercup packing a suitcase. He also offers asides to readers about the cultures of the fictitious countries Florin and Guilder. In a fairy tale like this one, hints provide worldbuilding without overwhelming the story.
In Octavia E. Butler's dystopian science fiction and fantasy novels Parable of the Sower and Parable of the Talents, Lauren Olamina founds a new religion called Earthseed. Its religious text, quoted throughout both novels, is also titled Earthseed. The fictional religion says humans will outgrow Earth and populate other planets. Earthseed draws on fears of climate change and societal collapse. No wonder some readers assume the Earthseed book is real.
Book Deals Newsletter
Sign up for our Book Deals newsletter and get up to 80% off books you actually want to read.
Thank you for signing up! Keep an eye on your inbox.
By signing up you agree to our terms of use
Sometimes, nonexistent books become so popular, authors try to set the record straight. In Rosemary's Baby, the 1967 horror novel by Ira Levin, All of Them Witches by J. R. Hanslet is a nonfiction book with profiles of infamous witches. It's an important plot device that doesn't exist outside of Levin's novel. Many fans wrote to Levin for help finding copies of this nonexistent book. As Levin wrote back apologetically to one fan: "you are one of a number of people whom I have unwittingly sent on a wild goose chase." The rock band All Them Witches is named after the fake book.
John Green created an entire FAQ page on his website for An Imperial Affliction by Peter Van Houten. In Green's YA novel The Fault in Our Stars, Hazel Grace's favorite book is An Imperial Affliction, which inspires her to visit the Netherlands and meet Van Houten. Green said at least one interviewer assumed Van Houten was real. Green made up both Van Houten and An Imperial Affliction, which he has no plans to write himself. It's not his style. He imagined it as a mash-up of Infinite Jest and The Blood of the Lamb.
I try not to guess authors' intentions. Still, I think the title An Imperial Affliction may also be a play on The Emperor of All Maladies by Siddhartha Mukherjee, a Pulitzer Prize-winning nonfiction book about cancer.
The title of Louise Erdrich's 2021 novel The Sentence works on multiple levels. Tookie, the protagonist, is an Indigenous woman who gets a job in a bookstore after getting out of prison. Within the book, The Sentence is also the title of a nonfiction book that's important to a customer, Flora. This is another excellent example of metafiction. Tookie also provides lots of lists recommending real books, including Asleep by Banana Yoshimoto. So, I understand if you initially assume the nonfiction book The Sentence is real, too. By the end of Erdrich's novel, it's clear that it's not and why.
There are several books within books that I wish were real. One example is Jacob Wrestling from I Capture the Castle. In Dodie Smith's coming-of-age novel, Cassandra Mortmain lives in a run-down castle with her family in 1930s England. Her father, James, hasn't written anything since his Modernist book Jacob Wrestling, an ambitious prose and poetry hybrid. The title — a reference to Jacob wrestling with an angel in the Bible — has many potential symbolic meanings, from faith to sexuality. The real Modernist poets used Biblical images in innovative ways, so the possibilities implied here are intriguing.
I also wish Randolph Henry Ash and Christabel LaMotte, the fictional Victorian poets in Possession by A. S. Byatt, were real. Ash may be based on Alfred, Lord Tennyson, or on Robert Browning. LaMotte may be inspired by pre-Raphaelite poet Christina Rossetti or by Browning's wife, Elizabeth Barrett Browning. I was fascinated by the romance between these fictional poets and wished I could read more of their poetry and letters.
Even when I wish I could read these books in full, I understand why they don't exist. The real authors may not want to write their entire, hypothetical books. Books within books are often thumbnail sketches for settings or characters when the full text would be too repetitive or ambitious to write. They serve important purposes in the main narratives and allow authors to experiment outside their usual genres. Like many other aspects of fiction, readers imagine them alongside writers. What's omitted is just as important as what's included.
Do you also have favorite fake books? Take some time to dive into our lists of novels, nonfiction books, and whole categories that don't exist but should.