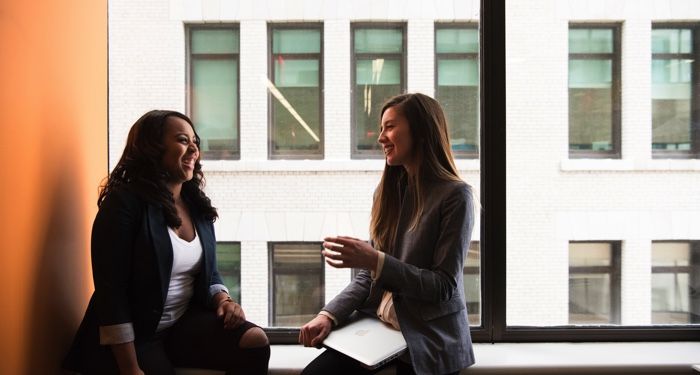 This content contains affiliate links. When you buy through these links, we may earn an affiliate commission.
It's a common assumption that books nerds are bad at talking to people. I will neither confirm nor deny that for myself, but let's just say I wish this article had been around my first week of college.
If you've ever struggled through small talk, you may have reverted to the classic line "what's your favorite book?" And don't get me wrong, it's a great question. But what if they list a book you've never heard of, or worse, a book you hate? That's not exactly going to stimulate interesting literary conversation.
But never fear! I've survived through awkward encounters with strangers talking about books so you don't have to! I've pretty much perfected bookish small talk and even have some great questions you can use in case of emergency — like being trapped in an awkward encounter with a stranger. There's really no end to the wonderful conversations that can be had about books, and I'm excited to share them all with you.
So, in no particular order, here are the 10 best bookish conversation starters.
1. What was your least favorite book you had to read in school?
Here's a secret for you: People love to complain. Everyone has a book they had to read for school that just wasn't their jam. Odds are that you also had to read that book, or are at least familiar with it. Now you've got a great opening to talk about other classics, or school, or pretty much anything. You're welcome.
Book Deals Newsletter
Sign up for our Book Deals newsletter and get up to 80% off books you actually want to read.
Thank you for signing up! Keep an eye on your inbox.
By signing up you agree to our terms of use
2. What was your last five star read?
If you are talking to a fellow reader and want to get to know their taste in books, this question is going to be your bread and butter. They will likely gush about the book for a while, which gives you plenty of time to think of another question and/or a response. And you also get insight into what they like as a reader. Chances are you'll also probably walk away with a wonderful new recommendation.
3. What was your favorite book/series as a kid?
Oh, nostalgia. I have very fond memories of the books I read as a kid. I'm sure you do, too. In fact, I'm fairly sure everyone does. Plus, there's nothing funnier than ranting about Warrior Cats and The 39 Clues as adults. Sometimes you just gotta let those controversial opinions loose after all these years.
4. What's your favorite format to read in?
Not only can you tell a lot about a person by how they read their books, but you also might get some recommendations for books you might not normally stumble across. A fun bonus question for those audiobook fans out there: Whose your favorite narrator? Trust me, some of us have opinions on the matter.
5. What's your most read book?
Some people aren't rereaders, and will tell you so with this question. Others you can learn a lot about by which books they keep coming back to.
6. Which book has been on your To Be Read pile the longest?
As much as I would love to lie and say that I get to every book I say I'm going to read, I don't. In fact, most people don't. It's a sad fact that will have you both lamenting all those unread books and commiserating with each other.
7. Do you have any Auto-buy authors?
There are some authors whose books I will buy every single one of. Mine are Becky Chambers, Sarah Gailey, and N.K Jemisin. Getting to know who some of their favorite authors are is a great way to get to know someone. And probably find a new favorite author of your own.
8. Which book do you recommend the most often?
I'm sure I'm not exaggerating when I say that everyone has a book or two they wish everyone on earth had read. I will talk about mine for literal hours. It's a great way to get a new friend to express their literary opinions.
9. How do you organize your book shelves?
Lot's of people have very strong opinions when it comes to book organization. And as a bonus, the person might give you a tour of their bookshelves, which is the ultimate gateway to further bookish conversation.
10. Do you buy collectors editions?
Some people, I won't name names (me), love to get multiple editions of the same book. For others, it takes a lot to buy a second copy if they already own the book. This is a great way to get insight into the person's favorites, and a sneaky way to find out if they are a reader or a book buyer, because those things aren't always one and the same.
When in doubt, don't just ask about what their favorite book is. It's a question that reeks of desperation. And it's largely unhelpful in carrying the discussion along. If you really find yourself in trouble, just start talking about what you're reading and let them ask questions or remark on it. You got this!