It's that time again to make the 2022 list. I was able to interview a lot of new directors' writers' actors' producers' artist's musicians' singers, and more. I was able to watch some amazing films. It was a good year for Horror. It was a stressful chaotic year for some of us, and we strived to work and take care of everything we have to take care of. Movies are a form of entertainment, relief, an escape for some people. We saw a variety of horror films. Could we also once again THANK SHUDDER!!! Thank you, SHUDDER. Thank you to the writers and all the Pod casting folks out there that bring all the imagination. The topics varied with everything from mental health, women's rights, struggling, immigration, life, abortion, soul-altering moments. It was quite an impactful year for horror. Horror is one of the most versatile genres. It allows you to feel everything and nothing at all. It brings you into darkness and fury, and light with madness. That's horror. So, let's discuss The Best Horror of 2022. This is my opinion and what I thought. I added a few honorable mentions.
Have a safe and Happy New Year. Here's to positivity and making good stuff happen. "May Your Nightmares Inspire You" ALWAYS!
In 2022, we saw… The Black Phone, Terrifier 2, Orphan: First Kill, Halloween Ends, The Texas Chainsaw Massacre (2022), X, The Invitation, They/Them, Prey for the Devil, Watcher, You Won't Be Alone, Umma, The Long Night, No Exit, Bodies Bodies Bodies, Men, NOPE, Speak No Evil, The Cellar, Incantation, Pearl, Mr. Harrigan's Phone, BEAST, PIGGY, Fresh, The Requin, Hatching, Choose of Die, Master, The Privelege, Crimes of the Future, La Llorona, Something in the Dirt, Old Man, The Twin, Room 203, Unhuman, FireStarter, The Weekend Away, Shattered, Immanence, Mid-Century, Hellraiser (2022), Night's End, Studio 666, Shark Bait, Torn Hearts, War Hunt, Those Who Walk Away, SLAYERS, Possession, The Sleep Experiment, DIG, My Best Friend's Exorcism, The Munsters, Slash Back, Bunker 717, Morbius, Barbarian, Werewolf by Night, What Josiah Saw, The Menu, The Sadness, Nanny, Soft & Quiet, You Are Not My Mother, Glorious, and more.
Streaming services like SHUDDER, Amazon Prime, HBO Max, Hulu, Tubi have all provided various horror films, and series for fans.
I also wanted to talk about a few of the Horror-related highlights from 2022. The conventions, events, Halloween parties, location visits, and more.
The first thing that stands out was my undecided impromptu visit to Buffalo Bill's House: The Silence of the Lambs Film Location located in Perryopolis, PA. It was quite an amazing experience. It was one of the most memorable experiences for me this year. The home is owned by Chris Rowan. It's beautiful, and filled with art by some of the most talented artists you can imagine.
The Skate or Die Film Festival was incredible. It was such an amazing variety of films. The team worked so hard.
Panic Fest as always was wonderful. A few events and conventions including Monster-Mania 52 really stuck out, and the Horror Sideshow Market. The Rocky Horror Picture Show with the live shadow cast at Frank Banko Alehouse Cinema located at Arts Quest/Steel Stacks has been one of my favorite events. The cast puts all the heart and soul into each performance. They are so dedicated.
Another incredible event was held at Gallows Hill Spirits Co., the Day of the Dead celebration hosted by Reverend Bea. The Halloween Costume party held at Gallows was such a blast. The owner Bob Piano truly goes above and beyond with everything at Gallows from the service to the spirits. gallowshillspirits.com/ Gallows also host Game Night's on Thursday's and much more.
One of my favorite books I read this year was Salt Bowl Death by Cypher LX. You can also check out Christmas Evil by Cypher LX.
SALT BOWL DEATH
"In 1876 on the Salt Flats of Utah, a prehistoric bacterium came to life when it entered the bloodied wounds of a small posse of lawmen and spread like wildfire. Two years later, the territories are overrun with the walking dead. Salt Bowl Death begins with a bounty hunter called The Reaper by those who have encountered him. Dressing in all black and riding a steed with a hellish spirit, The Reaper cuts down the undead population…for a price. No normal person feels at ease around him, whether it's due to his reputation or the fact that he keeps his face covered. The town of Fortuna, Arizona becomes the one place where he finds that he is not alone in his quest. Ann is a Soiled Dove traveling with her best friend. Both have secrets that they are running from and they will have to face them head on when they reach the town of Fortuna. Abandoning their previous occupation, they have begun taking payment for eliminating the infected from each town they pass through. Along the way, they are always preceded by a Marshal who claims to be hunting the women down for unspeakable crimes. When Ann and her companion meet The Reaper, questions arise, secrets are revealed and destinies collide. All the while, they fight off the flesh eating creatures that roam the town at night."
The Mahoning Drive-In Theater hosted quite a few amazing films and events this past year. Mahoning Drive-in Theater 635 Seneca Rd, Lehighton, PA 18235. Mahoning's Camp Blood Slasher event was great. The team decorated sets and there were games. It was a blast.
Paranormal Pizza located in Bethlehem, PA was a fun horror inspired spot that I found. They serve all vegan options. Another Horror-inspired spot is Nicolosi's Pizzeria and Restaurant owned by Jayson Anastasi and Dylan Walenciak is the Manager. He creates some amazing pizzas. I discovered this place thanks to the talented Mr. Joe Scrizzi.
Reaper's Revenge Haunted Attraction was quite the highlight this past year. I was able to talk with Jen Marino and Kelley Michael. I've heard nothing but all positive comments regarding Reapers. The Waldorf Estate of Fear was ICONIC as always.
THE BEST HORROR OF 2022. 
Bones and All – What a perfect film.
Love blossoms between a young woman on the margins of society and a disenfranchised drifter as they embark on a 3,000-mile odyssey through the backroads of America. However, despite their best efforts, all roads lead back to their terrifying pasts and a final stand that will determine whether their love can survive their differences.
Old Man – Directed by Lucky McKee, and starring Stephan Lang. Do I truly need to say anything else?! No.
After a lost hiker stumbles into the cabin of an eccentric old man, it becomes clear that one of them is hiding a terrifying secret.
SMILE – After witnessing a bizarre, traumatic incident involving a patient, Dr. Rose Cotter starts experiencing frightening occurrences that she can't explain. Rose must confront her troubling past in order to survive and escape her horrifying new reality.
Night's End – If you ever need an exorcism or someone to take you on a paranormal journey, do your research.
An anxious shut-in moves into a haunted apartment, hiring a stranger to perform an exorcism which quickly takes a horrific turn.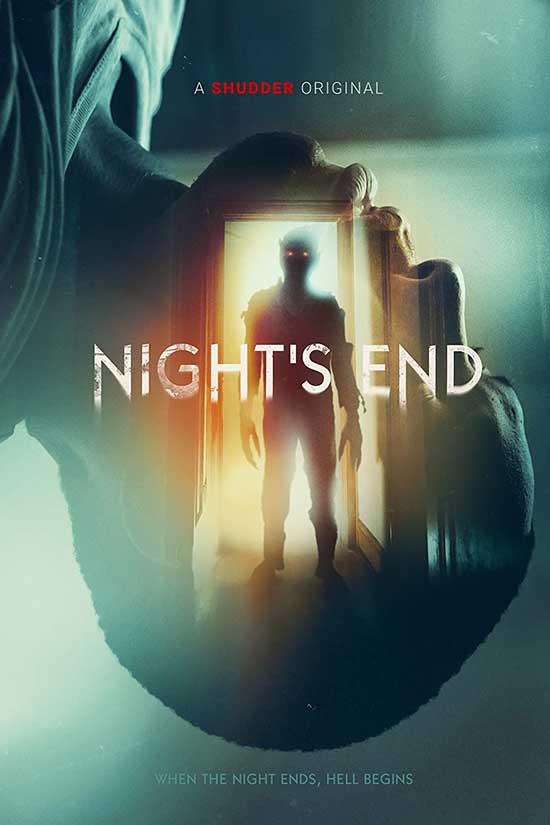 We're All Going to the World's Fair – Directed and written by Jane Schoenbrun, this movie was dark and fascinating.
Late on a cold night somewhere in the U.S., teenage Casey (Anna Cobb in her feature debut) sits alone in her attic bedroom, scrolling the internet under the glow-in-the-dark stars and black-light posters that blanket the ceiling. She has finally decided to take the World's Fair Challenge, an online role-playing horror game, and embrace the uncertainty it promises. After the initiation, she documents the changes that may or may not be happening to her, adding her experiences to the shuffle of online clips available for the world to see. As she begins to lose herself between dream and reality, a mysterious figure reaches out, claiming to see something special in her uploads.
HELLBENDER– A lonely teen discovers her family's ties to witchcraft.
Hellbender was one of my favorite films from 2022. John Adams, Zelda Adams, and Toby Poser made this beautifully ethereal film that just stood out. It gave a different variation of witch's and witchcraft. People are so much more than one thing in life.
SALOUM- This was one of those films that you just had a blast watching. It was wild.
Shot down after fleeing a coup and extracting a drug lord from Guinea-Bissau, the legendary mercenaries known as the Bangui Hyenas — Chaka, Rafa and Midnight — must stash their stolen gold bounty, lay low long enough to repair and refuel their plane and escape back to Dakar, Senegal. When they take refuge at a holiday camp in the coastal region of Sine-Saloum, they do their best to blend in with their fellow guests; including a mute named Awa, with secrets of her own, and a policeman who may be on their tail, but it's Chaka who happens to be hiding the darkest secret of them all. Unbeknownst to the other Hyenas, he's brought them there for a reason and once his past catches up to him, his decisions have devastating consequences, threatening to unleash hell on them all.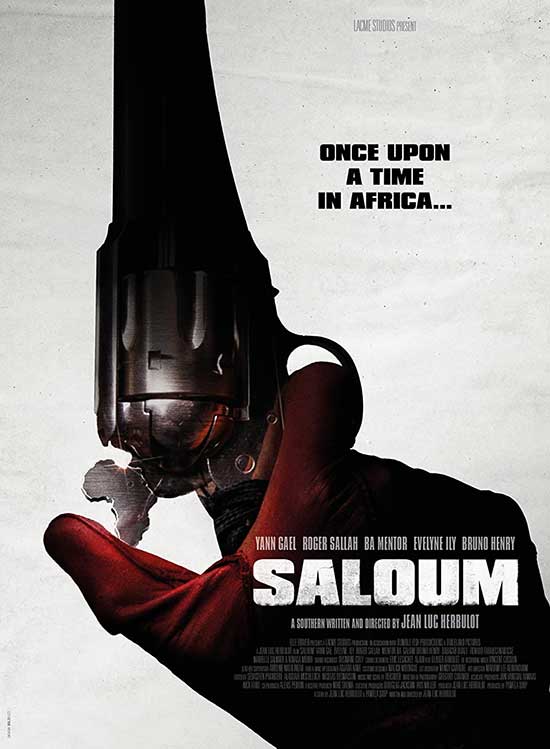 PIGGY –  Piggy is one of those films that impacts you in about ten different ways. Be kind to one another.
Sara is an overweight teen who witnesses a stranger kidnap a clique of girls who bully her on a regular basis. When police start asking questions, Sara keeps quiet as she's torn between revealing the truth or protecting the man who saved her.
A WOUNDED FAWN – Written by Travis Stevens and Nathan Faudree, and directed by Travis Stevens. A Wounded Fawn was executed perfectly.
Inspired by surrealist art and Greek mythology, A Wounded Fawn follows the story of Meredith Tanning (Sarah Lind, Jakob's Wife), a local museum curator who is dipping her toe back into the dating pool, only to be targeted by a charming serial killer (Josh Ruben, Scare Me, Werewolves Within). When a fateful romantic getaway between the two becomes a tense game of cat and mouse, both must confront the madness within him.
OFFSEASON – This was one of my favorite films from 2022. The cast, the cinematography, that Alfred Hitchcock homage and visuals. It was a great movie.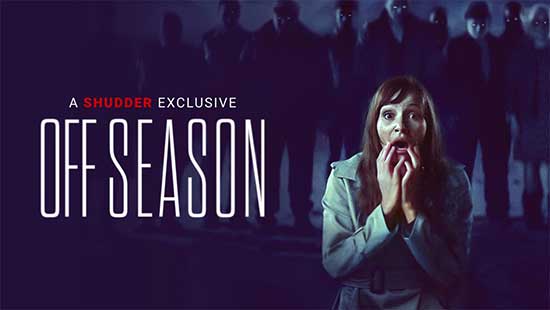 Upon receiving a mysterious letter that her mother's grave site has been vandalized, Marie quickly returns to the isolated offshore island where her late mother is buried. When she arrives, she discovers that the island is closing for the offseason with the bridges raised until Spring, leaving her stranded. One strange interaction with the local townspeople after another, Marie soon realizes that something is not quite right in this small town. She must unveil the mystery behind her mother's troubled past in order to make it out alive.
CHRISTMAS BLOODY CHRISTMAS – Joe Begos gave us a Christmas movie. I mean, come on! I will say what I've been saying. If Silent Night, Deadly Night threw a party, and invited Die Hard and RoboCop… Joe Begos said, NOPE! Hold my beer! I'm going to make it better. I'll be waiting for the sequel and maybe Tori will get her own record store/ vigilante store or something?!
It's Christmas Eve and Tori just wants to get drunk, and party, but when a robotic Santa Clause at a nearby toy store goes haywire and begins a rampant killing spree through her small town, she's forced into a battle for survival.
HYPOCHONDRIAC– This film was so effective. It was terror and beauty in all the perfect ways.
Will, a young Hispanic gay potter, is one gregarious guy. His boss is terrible, but he's got a great boyfriend and a great job. Unfortunately, behind that veneer is a dark past of violence and mental illness that he is desperate to keep hidden. When his bipolar mother comes out of the woodwork after ten years of silence, he begins exhibiting unexplainable symptoms and spirals into an obsession, determined to solve this mystery of his own.
SISSY – This movie made me want to hug my family and friends. The cast was amazing. It was a memorable movie.
SISSY stars Aisha Dee and Barlow as Cecilia and Emma, who had been tween-age BFFs who were never going to let anything come between them — until Alex (Emily De Margheriti) arrived on the scene. Twelve years later, Cecilia is a successful social media influencer living the dream of an independent, modern millennial woman, until she runs into Emma for the first time in over a decade. After reconnecting, Emmy invites Cecilia on her bachelorette weekend at a remote cabin in the mountains, where Alex proceeds to make Cecilia's weekend a living hell. Sissy is written and directed by Hannah Barlow and Kane Senes. Official Selection, SXSW 2022 (A Shudder Original)
TERRIFIER 2 – Art the Clown returned and it was gorier, wild, fun, awesome special effects. Damien Leone and his team rocked this movie. Will there be a part 3, Damien Leone did mention it.
Resurrected by a sinister entity, Art the Clown returns to Miles County to terrorize a teenage girl and her younger brother on Halloween night.
Blood Relatives – So, Noah Segan wrote, directed, and starred in Blood Relatives. It was heartwarming, funny, dark, and JOSH RUBEN was involved as the Renfield for Francis. It was great to see a more humanized vampire. A man who may have been around forever but still can't figure some things out.
Francis, a 115-year-old Yiddish vampire, still looks 35. He's been roaming American backroads in his beat-up muscle car for decades, keeping to himself, and liking it that way. One day, a teenage kid, Jane, shows up. She says she's his daughter, and she's got the fangs to prove it. They go on the road, deciding whether to sink their teeth into family life.
NIGHT SHIFT – This MOVIE was great. I didn't have to do a lot of lap top yelling while watching this movie. The cast wasn't massive but it was effective. The story was great. It was terrifying.
After a break-in occurs during her first night on the job, the lone night shift janitor must fight to survive when she becomes the target of the masked intruders.
REVEALER – Revealer was a beautiful reminder of how versatile Horror can be.
Tensions rise when a stripper and religious protestor are trapped together in a peep show booth and must come together to survive the apocalypse in the 1980's Chicago.
ALONE WITH YOU – This movie makes you question everything. It was beautifully made.
As a young woman painstakingly prepares a romantic homecoming for her girlfriend, their apartment begins to feel more like a tomb when voices, shadows, and hallucinations reveal a truth she has been unwilling to face.  
MONSTROUS– Christina Ricci was awesome in this film.
A terrifying new horror awaits Laura (Christina Ricci) and her seven-year-old son Cody when they flee her abusive ex-husband and try to settle into a new life in an idyllic and remote lakeside farmhouse.
THE BETA TEST – This movie was such a mind-fuck of a movie.
A married Hollywood agent receives a mysterious letter for an anonymous sexual encounter and becomes ensnared in a sinister world of lying, infidelity, and digital data.
Bitch Ass – I was able to watch BITCH ASS thanks to a film festival. This was a fun movie directed by Bill Posley and starring Tony Todd. It was written by Posely and Jonathan Colomb.
A gang initiation goes wrong when a group of four recruits break into a house of horror, as they're all forced to play deadly games for their lives. Win and you live-lose and you die.
Bitch Ass is a 2022 American crime horror film directed by Bill Posley and starring Tony Todd. It is Posley's feature directorial debut 
The Rotting of Casey Culpepper– This film was heartbreaking and perfect.
SYNOPSIS: A girl battling leukemia and her single father fall into a well of paranoia when the girl experiences visions of a tumor-covered creature.
Resurrection – This movie was so beautiful and surreal. It was one of those films that you watch, and you must watch it again.
RESURRECTION which had its world premiere at the 2022 Sundance Film Festival. Margaret (Rebecca Hall) leads a successful and orderly life, perfectly balancing the demands of her busy career and single parenthood to her fiercely independent daughter Abbie. Everything is under control. But that careful balance is upended when an unwelcome shadow from her past, David (Tim Roth) returns, carrying with him the horrors of Margaret's past. Battling her rising fear, Margaret must confront the monster she's evaded for two decades who has come to conclude their unfinished business. RESURRECTION will be released by IFC Films in theaters and on-demand August 5th. SHUDDER will be the exclusive streaming home in November 2022. 
 Shakespeare's Sh*tstorm –Directed by the legendary Lloyd Kaufman.
Terror Trips – Director/writer, Jeff Seeman's first feature with a great cast, a fascinating story and some wild special effects.
Six friends start a business, providing guided tours to the shooting locations of the world's most famous horror films, until they find the one spot where the horror is real.
THIS IS GWAR – This legendary group finally got a great documentary.
The powerful story of the most iconic heavy metal/art collective/monster band in the universe, as told by the humans who have fought to keep it alive for over thirty years. 
Honorary Horror Mentions:
ALLEGORIA
American Carnage
The Black Phone
Cursed Films by Jay Cheel and Brian Robertson
The Nudels of Nudeland by Tim Chizmar
The Blood of the Dinosaurs
Benjamin Dutill's PodCast – The Horror Heathen – South Jersey
The Sound by Jason-Christopher Mayer – This film needs to be a feature.
WHO INVITED THEM?
AUGUST WILSON'S FENCES STARRING TONY TODD for Pennsylvania Shakespeare Festival 2022. Tony Todd and this incredible cast delivered a performance of a lifetime.
Wednesday on Netflix
What's next in 2023? Horror films coming out in 2023.
Subspecies 5 – 2023
M3GAN – 01/13/2023
Last Voyage of the Demeter – 01/27/2023
Knock at the Cabin – 02/03/2023
SCREAM 6 – 03/31/2023
Renfield – 04/14/2023
Evil Dead Rise– 04/21/2023
Insidious 5 – 07/07/2023
The Haunted Mansion – 08/11/2023
The NUN 2– 09/08/2023
The Exorcist – 10/13/2023 – Reboot – Directed by David Gordon Green
SAW 10- 10/27/2023 DID SOMEONE SAY JIGSAW!!! Tobin Bell returns.
Salem's Lot is TBA in 2023
The Strangers is TBA in 2023
Dark Harvest is TBA in 2023
The Boogeyman by Stephen King is TBA in 2023.
FEAR – 01/27/2023
Winnie The Pooh: Blood and Honey – 02/15/2023
Meg 2- The Trench– 2023