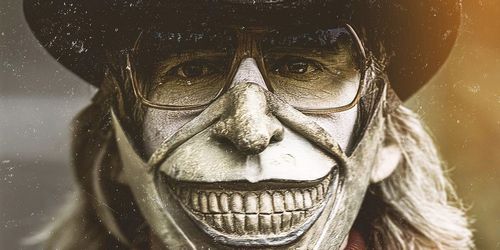 El dúo de Sinister y Doctor Strange, Scott Derrickson y C. Robert Cargill, regresan al terror con su nueva película The Black Phone para la Blumhouse.
Se trata de una adaptación del relato corto de Joe Hill. The Black Phone llega a los cines el viernes 4 de febrero de 2022, y el tráiler oficial muestra una aterradora actuación de Ethan Hawke como el sádico "Grabber".
Ataviado con una serie de espeluznantes máscaras -¡diseñadas por Tom Savini y su equipo! – y escoltado por globos negros, el "Grabber" de Hawke roba a los niños de las calles, al igual que Pennywise. Su última víctima es un niño de 13 años que se encuentra encerrado en la guarida del sótano del Grabber, pero un poco de ayuda de las víctimas anteriores del asesino puede permitirle sobrevivir a su aterradora experiencia.
Ethan Hawke (Sinister) y James Ransone (Sinister, It: Chapter Two) encabezan el reparto, que también incluye a Jeremy Davies ("Hannibal"), Mason Thames y Madeleine McGraw.
El guión de la película es obra de Derrickson y C. Robert Cargill (Doctor Strange, franquicia Sinister), basado en el premiado relato corto de Joe Hill extraído de su bestseller del New York Times 20th Century Ghosts.
COMPARTE ESTE ARTICULO! – MIRA ABAJO LOS COMENTARIOS.
ADVERTENCIAS Y REGLAS antes de comentar en BLOGHORROR
• Comentar con respeto y de manera constructiva.
• No se permiten links de otros sitios. 
• Tratar de hablar de la pelicula en cuestión, salvo ocasiones especiales. Nada de interminables debates políticos, religiosos, de genero o sexualidad *
• Imágenes están permitidas, pero siempre con moderación y que no sean demasiado grandes.
• Los comentarios de usuarios nuevos siempre son moderados antes de publicarse.
• Por ultimo, las reseñas y criticas en BLOGHORROR pueden contener humor negro-ácido, que de ninguna forma debe ser tomado en serio! y que tienen como fin el puro entretenimiento satírico.
• Disfrute su estadía 😉
Continue Reading