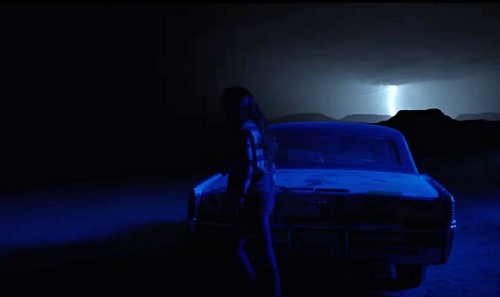 El director de terror Eduardo Rodríguez (Fright Night 2, El Gringo, Curandero) vuelve con The Darkness of the Road, una nueva propuesta de género protagonizada por la protagonista de Contracted y Dementia: Parte II, Najarra Townsend.
Townsend interpreta a una madre soltera que conduce con su hija por una carretera desolada en un desierto sin luna. Tras encontrarse con una joven autoestopista en una gasolinera, la madre se da cuenta de que su hija ha desaparecido. Mientras la buscan, una fuerza despiadada comienza a atormentar a las dos mujeres, desentrañando un mundo de terror al que deben sobrevivir si quieren descubrir la aterradora verdad que hay detrás de la desaparición de la hija.
The Darkness of the Road (La Oscuridad del Camino) se va a estrenar en formato físico y digital el 14 de diciembre de la mano de Uncork'd Entertainment.
Protagonizada también por Leah Lauren y Johnny Whitworth ("Los 100", Empire Records), la película parece ser un recordatorio de que no debes levantar a nadie en la carretera.
COMPARTE ESTE ARTICULO! – MIRA ABAJO LOS COMENTARIOS.
ADVERTENCIAS Y REGLAS antes de comentar en BLOGHORROR
• Comentar con respeto y de manera constructiva.
• No se permiten links de otros sitios o referencias a sitios de descarga. 
• Tratar de hablar de la pelicula en cuestión, salvo ocasiones especiales. Nada de interminables debates políticos, religiosos, de genero o sexualidad *
• Imágenes están permitidas, pero siempre con moderación y que no sean demasiado grandes.
• Los comentarios de usuarios nuevos siempre son moderados antes de publicarse.
• Por ultimo, las reseñas y criticas en BLOGHORROR pueden contener humor negro-ácido, que de ninguna forma debe ser tomado en serio! y que tienen como fin el puro entretenimiento satírico.
• Disfrute su estadía 😉
Continue Reading