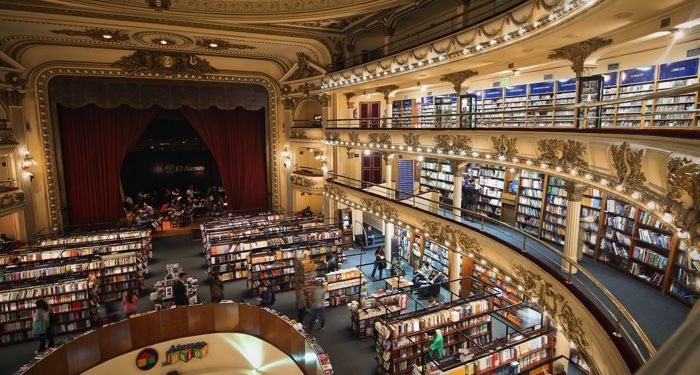 Libraries are essential to bookworms. Aside from free access to books, they act as community centers and safe spaces for many who crave for quiet refuge for reading and other educational activities.
But as much as they are a lifesaver, libraries are affected by budget cuts and librarian salary slashes, which greatly diminishes the services they can offer to their patrons and communities. At the height of the pandemic, though, many finally realized libraries' importance in their distance-learning education. Libraries gave free access to books and internet to students from low-income backgrounds. They also provided computer access to those who don't have them. One of the most intriguing developments, though, is that some libraries now have recording studios, which are great for podcasting or song recording.
And that's all the more reason to have more of them.
In recent years, there was a phenomenon of converting old buildings into public libraries, and some into commercial bookstores. The owners probably realized the value of education and the long-term impact of abandoned buildings to the environment. From big-box stores and schools to banks and gymnasiums, almost all abandoned buildings can be easily converted into libraries and bookstores, given that they have solid structures.
Let's roam around the world and discover old buildings that were turned into stunning community libraries (and bookstores). In this list, churches, industrial buildings, theaters, and banks were given impressive facelifts.
Check Your Shelf Newsletter
Sign up to receive Check Your Shelf, the Librarian's One-Stop Shop For News, Book Lists, And More.
Thank you for signing up! Keep an eye on your inbox.
By signing up you agree to our terms of use
An Abandoned Brick Factory Turns into a Library in Ankara, Türkiye
In Ankara, for some unknown reason, people had been discarding their old books, which city garbage collectors put aside. Word spread that the mountain of books is piling up, and people got interested in donating. With the amount of books that they had — 6,000 at the time — the local government thought of building a library by converting an old brick building in the sanitary department office.
The library became popular among children and cyclists, and a full-time librarian was also hired to manage it.
And Old Bank Building Becomes an Airy Library in Alabama
An old bank building, which was built in the 1900s, was converted into a community library for a town of less than 200 residents. Fifth-year architecture students of Auburn University breathed a new life to this old building; they made the place cozy by installing new materials while also preserving the old brick building's elements. The converted place, though small, looks airy and warm.
The building was donated by a family for this particular purpose.
Old Dutch Church Becomes a New Library
In The Netherlands, a 19th century church was turned into a community library. It boasts sliding bookshelves that can be moved if more space is needed. And because the bookshelves are portable, the place looks, spacious, airy, and well-lit.
The church's old structure was enhanced with new elements as to design and establishments: restaurant, meeting spaces, and halls.
Old Industrial Building Transforms into a Library in Netherlands
An old industrial building — a locomotive shed — was transformed into a library in The Netherlands. Coincidentally, it sits near railroad tracks.
The developers retained its industrial look and installed tables and reading chairs. Now, it resembles that of a school gymnasium. But the place doesn't only house a library; it also has offices, cafes, and rooms for exhibitions. With the library's modern aesthetic, it looks more like a commercial bookstore situated in a busy area such a marketplace or a town square.
Frisco Public Library in Texas Finds a New Home…in an Old Rockets Building
The Frisco Public Library in Texas is getting a new building this February. The Beal building, its new chosen home, used to be a factory for rockets, of all things.
The new location will incorporate reading rooms, a place for kids and toddlers, stairs or seats for additional reading spaces, and more.
An Abandoned Walmart Store Transforms into an Award-Winning Library
In McAllen, Texas, an abandoned Walmart store was converted into a huge library in 2011. The place feels a lot like a bookstore than a library, really, and because of the impressive design, it received the 2012 Library Interior Design Awards. Its tall ceiling makes it airy, well-lit, and inviting.
The library was supplemented with classrooms, computer laboratories, reading areas for adults and teenagers, and meeting spaces.
A Bookstore Takes Center Stage at a 100-Year-Old Theater
A 20th century-era theater building was converted into the spacious bookstore El Ateneo Grand Splendid in Argentina. The developers kept the old elements of the original building such as the stage, the painting overhead, and the aesthetic. To cap it off, the warm lights add to the cozy and mythical feel. There are also seats beside the terraces that overlook the shelves, if you want to cozy up and sample a book.
The place feels majestic and dreamy, as though you're being transported to 1919 again.
Old Cathedral Houses a Bookstore
An old cathedral in The Netherlands was transformed into a bookstore. All of the elements of the cathedral remains intact such as the columns, paintings, sculptures, and the tall-glass windows. And because of the high ceiling, the place looks airy, neat, and out of this world.
There are three floors of shopping space for customers. There's also a café and bar attached to the bookstore for when you want to take a sip after a tiring shopping spree.
Abandoned buildings are not only wrinkles in a developed city, but they're not environmentally friendly as well. It's a good thing that most of them have been converted into new spaces for learning, recreation and more, whether that's libraries or bookstores, instead of wasting away into oblivion.