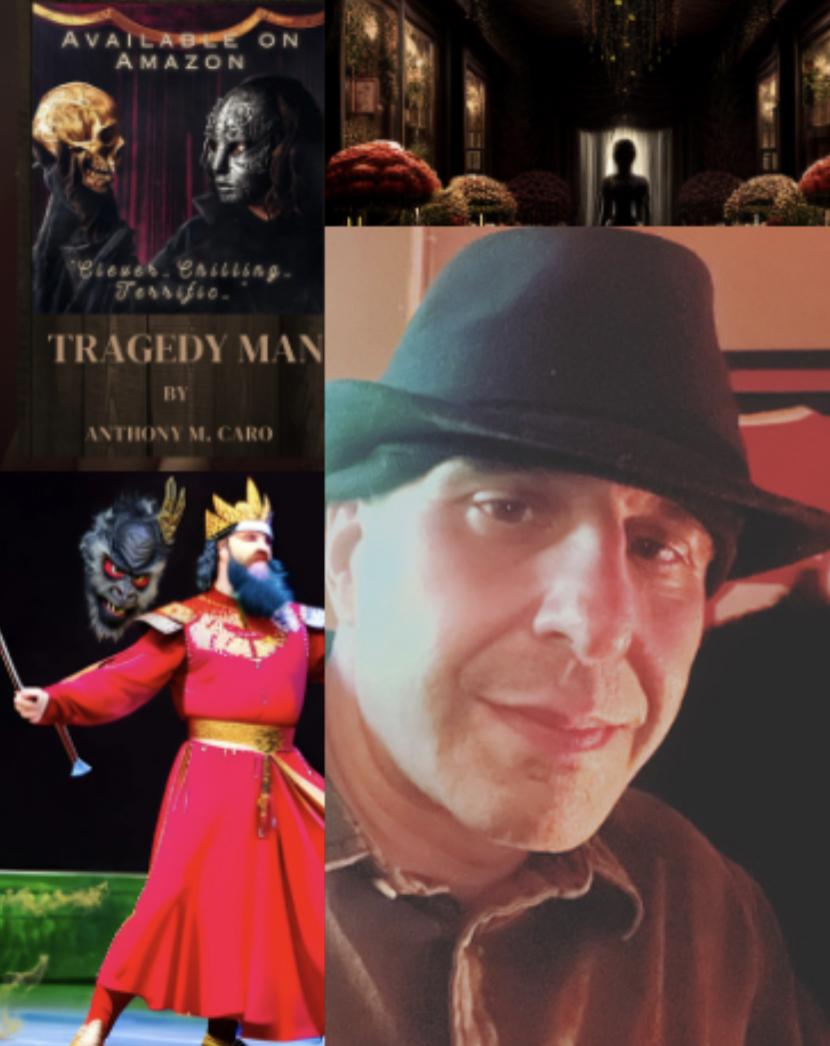 How is the buzz going with your upcoming horror anthology Tragedy Man?
Better than expected! The book has been available for pre-order for about a month, and it entered the Top 100 for horror anthologies on Kindle and the Top 200 for horror anthologies in all formats. Horror fans are reacting to the buzz.
What do you attribute to the interest?
Tragedy Man is different from a short story collection. The book follows a portmanteau structure where five actors participate in improvisation performances that unfold into horror tales. That's a unique hook that draws interest.
I've also spent time creating short promotional videos with A.I. I dug the old, creepy horror movie radio spots back when they were big. The promo videos I made give narrated insights into what to expect from the anthology. Admittedly, those videos were fun to create.
Is Tragedy Man a pure homage to classic anthology films?
In some ways, yes. When I was younger, I would watch the classic Amicus anthology films when they'd pop up on late-night television. I found the idea of using a framework to connect made the proceedings more compelling. Other anthologies, one that went from one story right into the next with no connection, seemed like watching a triple feature of disparate short subjects. There's a reason why Tales from the Hood continues to pick up new fans while Cat's Eye seems forgotten.
What made you set Tragedy Man in the 1970s?
I wanted to revisit a world that continues to fade into the past. I tried to recreate a time, place, and culture going the way of the Old West. I mean, in a few generations, there won't be anyone with first-person memories of "what was." All you'll have left are stories about the past made by people who rely on what they read in a book or watched on YouTube.
Ironically, watching old horror films gives you insights into the past. The world seemed so much smaller 30 years ago and beyond. Watching an Amicus or Hammer film lets you peer into British culture circa the 1960s and 1970s.
Tragedy Man takes place in the early 1970s and mainly focuses on North Jersey/New York City life. Some tales deal with folks who are utterly down and out, and other stories peer into the troubled "sweet life" of high society. What they all have in common is their tales are tragic. And horrific.
Were there any challenges with putting the book together?
Yes, and the challenge comes from my initial approach to the stories. When I was very young, I was an avid reader of D.C. Comics' old horror anthologies, like House of Mystery, House of Secrets, and my favorite, Ghosts. I also appreciated Marvel, Atlas, and Warren's Bronze Age anthologies. I was a huge fan of Creepy. The comic book writers set up simple, outlandish stories – sometimes preposterous ones, but always with a cool, ironic ending. Sometimes, the stories would be a bit juvenile and utterly illogical. I tried my hand with an utterly outlandish plot with the story "Nothing Funny About This Night Train Trip!" I'm not writing for eight-year-olds, though. I came up with a wild premise and traveled down a path that reveals why the outlandish isn't what it seems- to the dismay of the main character.
Did anything else inspire Tragedy Man?
Yes – real life. "Home Movies" is a violent crime story that captures a more realistic portrait of the sleazy adult film world of 1973. Much of that era ended up romanticized. Life in Time Square from the late 1960s to the late 1980s was far more brutal than people realize. "Coin Toss" gives you ideas about how NYC hustlers tried to make money without really working – to often tragic ends. "Not-So-Dead Flowers," like "Coin Toss," draws inspiration from the classic paperback pulp short story collections of the 1970s and 1980s. That story is the inverse of "Coin Toss," as the protagonist becomes a victim of her own success and to supernatural entities with a grudge.
The big out-of-left-field inspiration would be – of all things – game shows. The glory days of classic game shows won't ever get their due. So much of their broadcast history disappeared when networks taped over the disposable entertainment to save money on videotape. In "The Upbeat and Swinging History of Doctor Faustus," a retired game show host wants to live on in people's memories by accepting a genuinely bad deal playing Marlowe's tragic figure on stage. Yeah, he ends up regretting that one.
Why did you choose tragedies as the focus of the actor's improvisations?
A tragedy, like a horror story, is all about suffering. Unlike many horror stories, dramatic tragedies are very character driven. The characters and their circumstances lead them down a path of suffering and tragic outcomes, sometimes deserved, sometimes not. The horror element may infuse the story with fantastic or over-the-top violent elements, but seeing human beings suffer to tragic ends can be far more unnerving. Hopefully, there are lessons to learn from a tragic tale. Ask MacBeth.
Where can we learn more about the making of Tragedy Man?
I invite everyone to listen to me muse about the book (and more) on the September 3rd live stream of the HORRORific podcast. I'm sure everyone will have a good time listening to the show.
Where can readers purchase copies of Tragedy Man?
Right now, Tragedy Man is exclusive to Amazon. The anthology is available in softcover and hardcover. E-book fans can purchase the Kindle version.
One day I'll get some good people together and release a pretty wild audiobook.
Read The Full Article Here