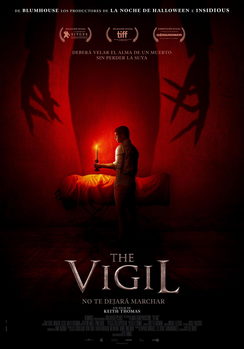 THE VIGIL – Genero: Thriller – Terror Pais: USA Duración: 88 minutos Director: Keith Thomas Guion: Keith Thomas Reparto: Fred Melamed, Dave Randolph-Mayhem Davis, Menashe Lustig, Malky Goldman, Nati Rabinowitz, Moshe Lobel, Spencer Zender, Dun Laskey, Hershy Fishman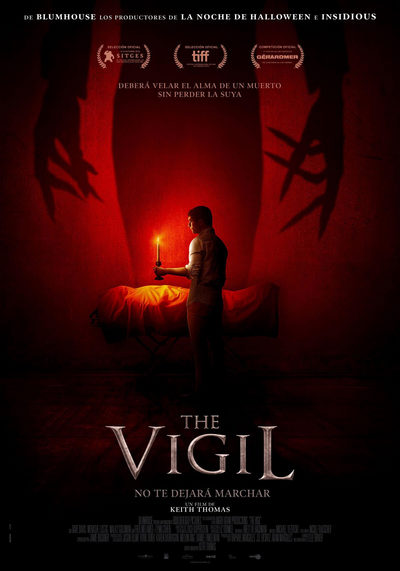 VALORACION: (71/100)


RESEÑA: Con pocos fondos y habiendo dejado recientemente su comunidad religiosa, Yakov acepta de mala gana una oferta de su antiguo rabino y confidente para asumir la responsabilidad de un "shomer" de la noche a la mañana, cumpliendo la práctica judía de vigilar el cuerpo de un miembro de la comunidad fallecido. Poco después de llegar a la casa en ruinas del recién fallecido, Yakov comienza a darse cuenta de que algo esta muy, muy mal y su culo se llena de preguntas..
THE VIGIL

CRITICA: Interesante propuesta de terror 'minimalista' de Keith Tomas, que busca generar el terror mediante una premisa simple, pero efectiva.
No hay muchas películas de terror que involucren el judaísmo, así que eso ya la hace interesante de buenas a primeras. Keith Thomas propone visualmente unos elementos cautivadores, como ese cadáver tapado por una sabana blanca y una vivienda pesimamente iluminada, dos elementos que unidos son perfectos para meternos en situación, y la película logra aprovecharlo en cierta medida, sobretodo en la primera mitad del metraje.
Hay momentos de terror en el que el director juega con sutileza, sin mostrar en exceso, que están bien ejecutados, y la atmósfera, la fotografía conseguida y los sonidos, ayudan a acrecentar el terror de esos momentos. Sin dudas, la primera mitad del metraje es lo mejor de la película. Sin embargo, esto no logra mantenerse mucho más allá.
El film cae en un bache, cuando el cadáver y la oscura vivienda pierden el factor sorpresa, y la historia se retuerce. Es como si la película, a nivel argumental, no diese más de sí. El terror con sutileza de Thomas está mucho mejor manejados que los momentos en donde la historia obliga a crear un mayor clímax de suspenso, tensión y terror. Ahí es donde la película, sobretodo en el último tercio, no logra ser tan competente, cuando esos elementos propuestos y referenciados en la primera mitad hacen acto de presencia. Faltó más 'punch', mucho más.
Lo mismo podríamos decir de los elementos de terror psicológicos, no tan bien sobrellevados, quizás por la falta de pericia del actor Dave Randolph-Mayhem Davis, que nunca llega a adueñarse realmente del papel protagónico para hacernos sentir la aflicción del protagonista.
The Vigil es una interesante propuesta, tiene momentos de terror y suspenso para destacar con su horror atmosférico y elementos religiosos, pero no logra redondear realmente una buena película de terror. ¿Recomendable? Probablemente, pero comienza mucho mejor que como acaba. Nos vemos en la próxima, amantes del horror.
CAPTURAS
TRAILER

FICHA TECNICA:
Calidad: 1080
Audio: Ingles



SUBTITULOS 
Aporte de Fhercho, el Peter Sutcliffe de los subtitulos
*****
—
COMPARTE ESTE ARTICULO! – MIRA ABAJO LOS COMENTARIOS.
ADVERTENCIAS Y REGLAS antes de comentar en BLOGHORROR
• Comentar con respeto y de manera constructiva.
• No se permiten links de otros sitios o referencias a sitios de descarga. 
• Tratar de hablar de la pelicula en cuestión, salvo ocasiones especiales. Nada de interminables debates políticos, religiosos, de genero o sexualidad *
• Imágenes están permitidas, pero siempre con moderación y que no sean demasiado grandes.
• Los comentarios de usuarios nuevos siempre son moderados antes de publicarse.
• Por ultimo, las reseñas y criticas en BLOGHORROR pueden contener humor negro-ácido, que de ninguna forma debe ser tomado en serio! y que tienen como fin el puro entretenimiento satírico.
• Disfrute su estadía 😉
Continue Reading